Posted by Aaron Barton on Jun 6th 2021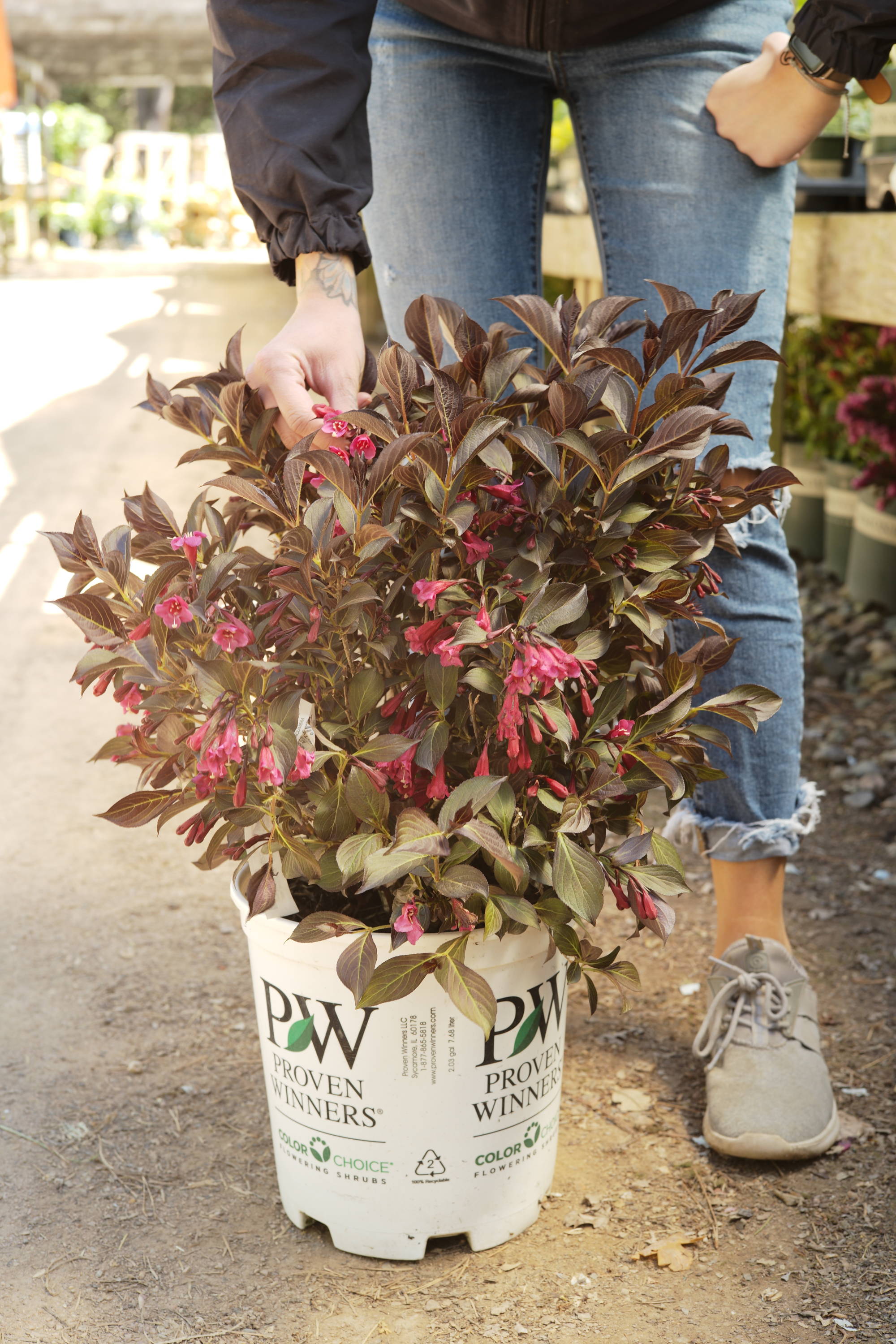 There are endless possibilities with herbaceous perennials in the garden, but don't forget the important role shrubs play in livening up any cultivated space. Shrubs are an excellent way to draw attention to certain areas, create a backdrop for plantings, help anchor your garden design, or even steal the show. Weigela are great choice for any garden, providing color, texture, abundant flowers, and a range of size options.
Weigela (why-GEE-la), of the Honeysuckle family, Caprifoliaceae, is a deciduous shrub native to parts of eastern Asia, spanning a large range of appearances, while also touting especially prolific blooms, enveloping the plant in an explosion of color. Weigela generally grow up to 8-10 feet round depending on the variety. However there are also dwarf varieties, such as 'Crimson Kisses,' which will only grow up to about three feet around. Weigela also provide an array of foliage colors, from solid green of 'Pink Poppet', to green and white variegated leaves of the dwarf variety 'My Monet,' to the deep purple leaves of 'Dark Horse' Weigela. Where Weigela truly shine is when they are in bloom.
Weigela shrubs flower on old growth (growth from last season), first blooming in mid- to late-spring, densely shrouding the plant in color, and again in late-summer to early fall, albeit more sparsely in their second bloom. Weigela blooms are tubular, five-lobed flowers, generally one to two inches long, ranging in color from deep red, to light pink, to white, and even yellow on some varieties. These tubular flowers provide an excellent source of nectar, making them a favorite for our hummingbird friends.
While they will tolerate part-shade, Weigela will bloom most prolifically and have the most vibrant foliage color in full sun environments, preferring to be planted in an area with moist, well-draining soil. Be sure to apply a balanced slow-release fertilizer in the early spring, such as Osmocote or Espoma's Plant Tone. Mulch to keep moisture in and weeds away. When planting new Weigelia or other shrubs, make sure to amend your soil with Tonkadale's Premium Compost or Planting Mix. While light pruning can be done in early spring, save any sizeable pruning until after the plant is done blooming to avoid removing buds.
Happy Planting!
---