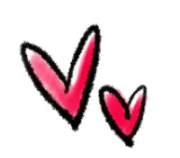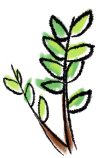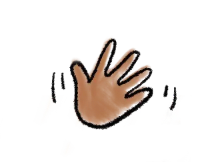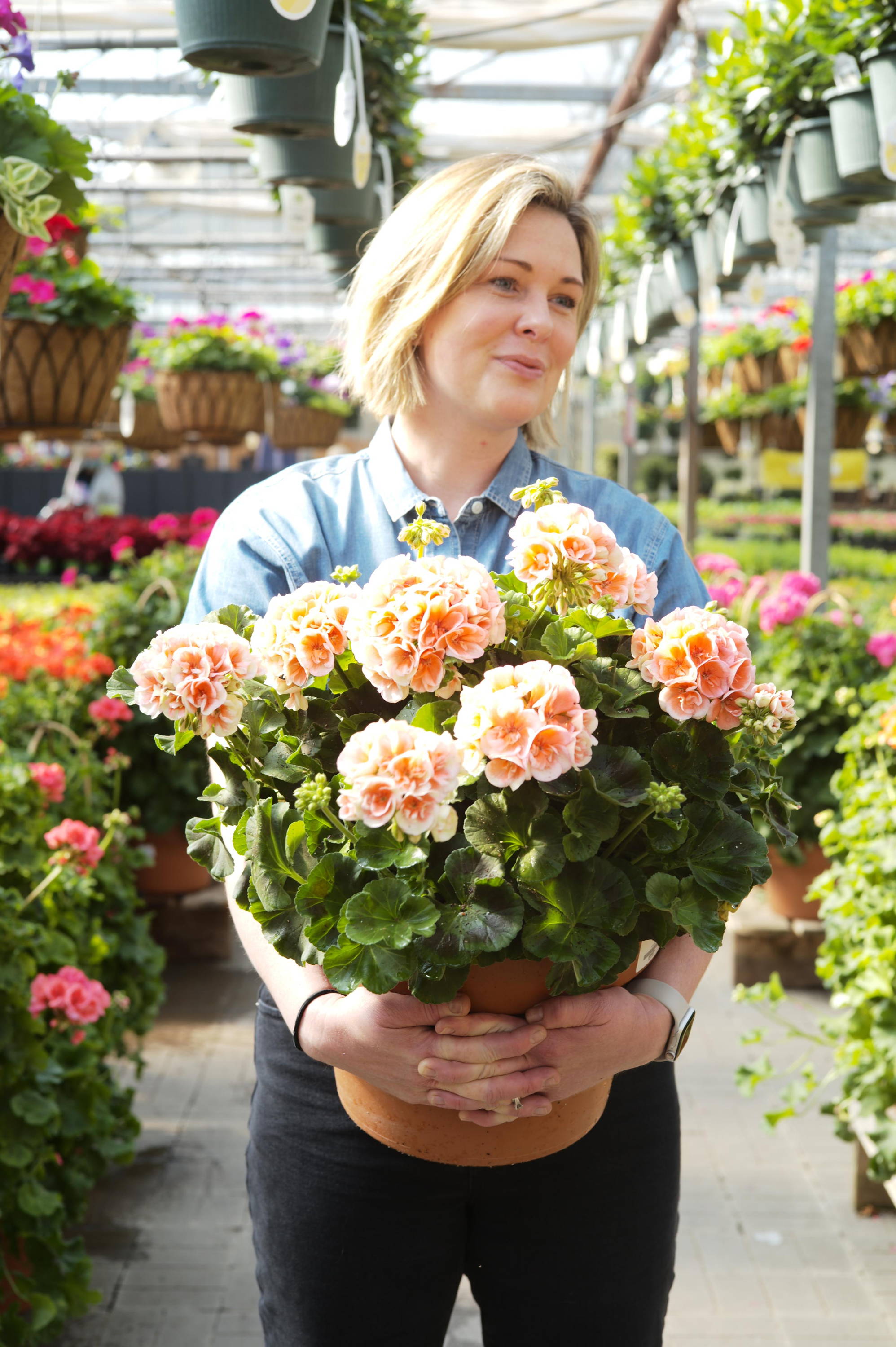 Favorite Plant: Hands down Bromeliads! They are super easy care to brighten any room indoors or a shady spot outside. Next is Asparagus fern, the little black dress of annuals - sun or shade, wet or dry - this one is a survivor that performs under any condition.
I have been with Tonkadale since I was a little girl, working in the greenhouse planting plugs of impatiens for 50 cents per flat. This is where my love of plants was born. I studied horticulture and biology at the University of Wisconsin-Madison and returned to Tonkadale upon graduation. I have performed nearly every task there is to do at Tonkadale with the exception of cleaning the boilers (thank you facilities) and changing the toilet paper (I can never figure out where the little key is). In 2016, I had the honor of purchasing Tonkadale from my grandparents and I am humbled and honored to continue to tend to their legacy. Outside of work I love to spend time with my family, travel and visit plant stores, go to our family cabin, vintage shop, and play with our new griffon puppy, Zinnia. I also love to spend time in my garden (always).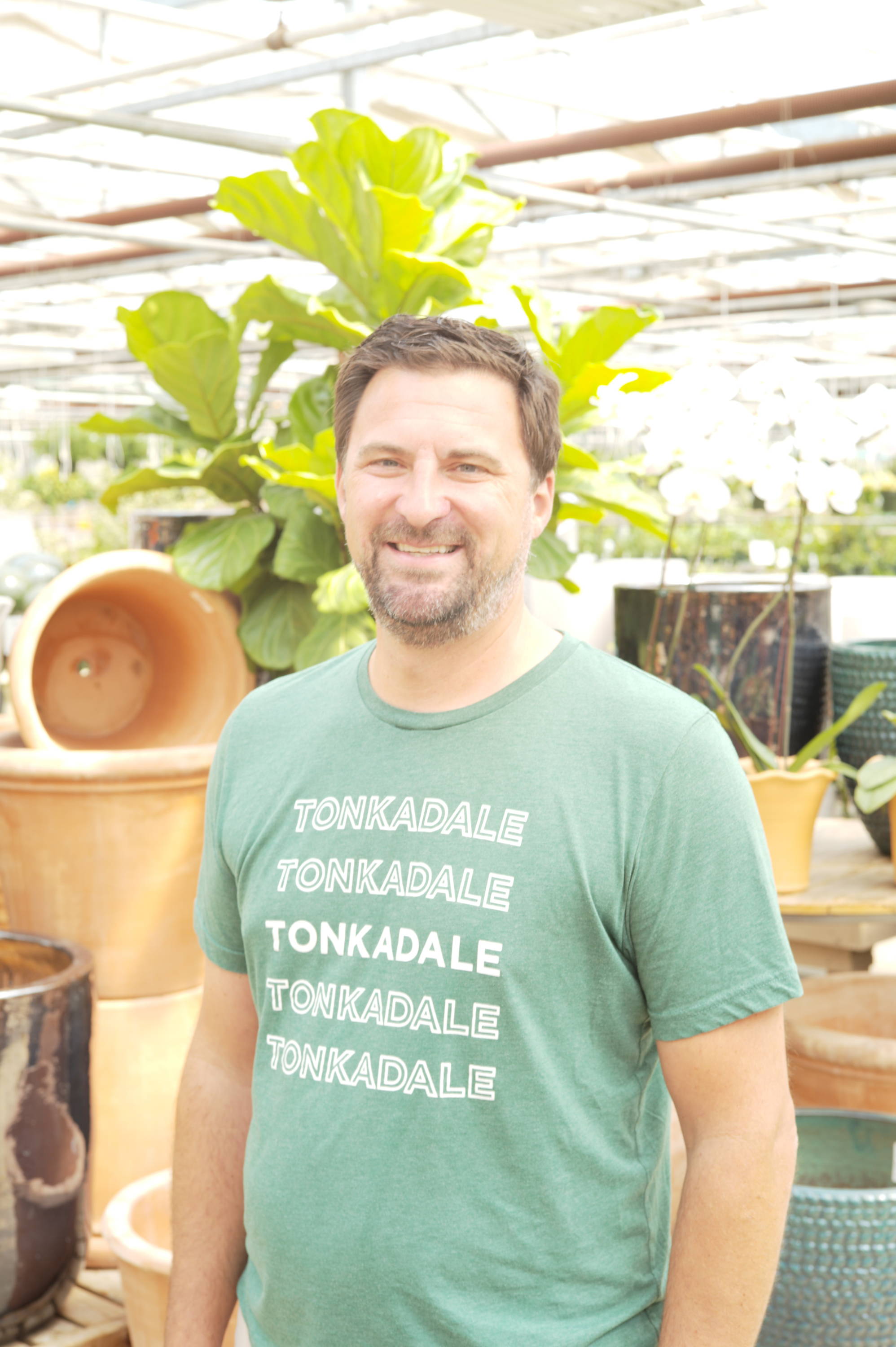 Favorite Plant: Rubber Tree for its ease to take care of and the first plant that my wife (Jessie) ever gave me. Sadly, I can't remember what happened to it but know I kept it alive for at least 5 years!
My first trip to Tonkadale was in 2002 to buy river rock to install a flag pole at my parents house nearby. I knew Jessie was working and thought it would be a good excuse to see her during the summer after our Freshman year at University of Wisconsin. We started dating a few months later and I became more involved with Tonkadale when Jessie purchased the business in 2016. When not working my day job in commercial banking, I oversee the finance and accounting functions, as well as some speical projects. Enjoy spending time at the cabin, hunting, fishing and watching my kids' activities.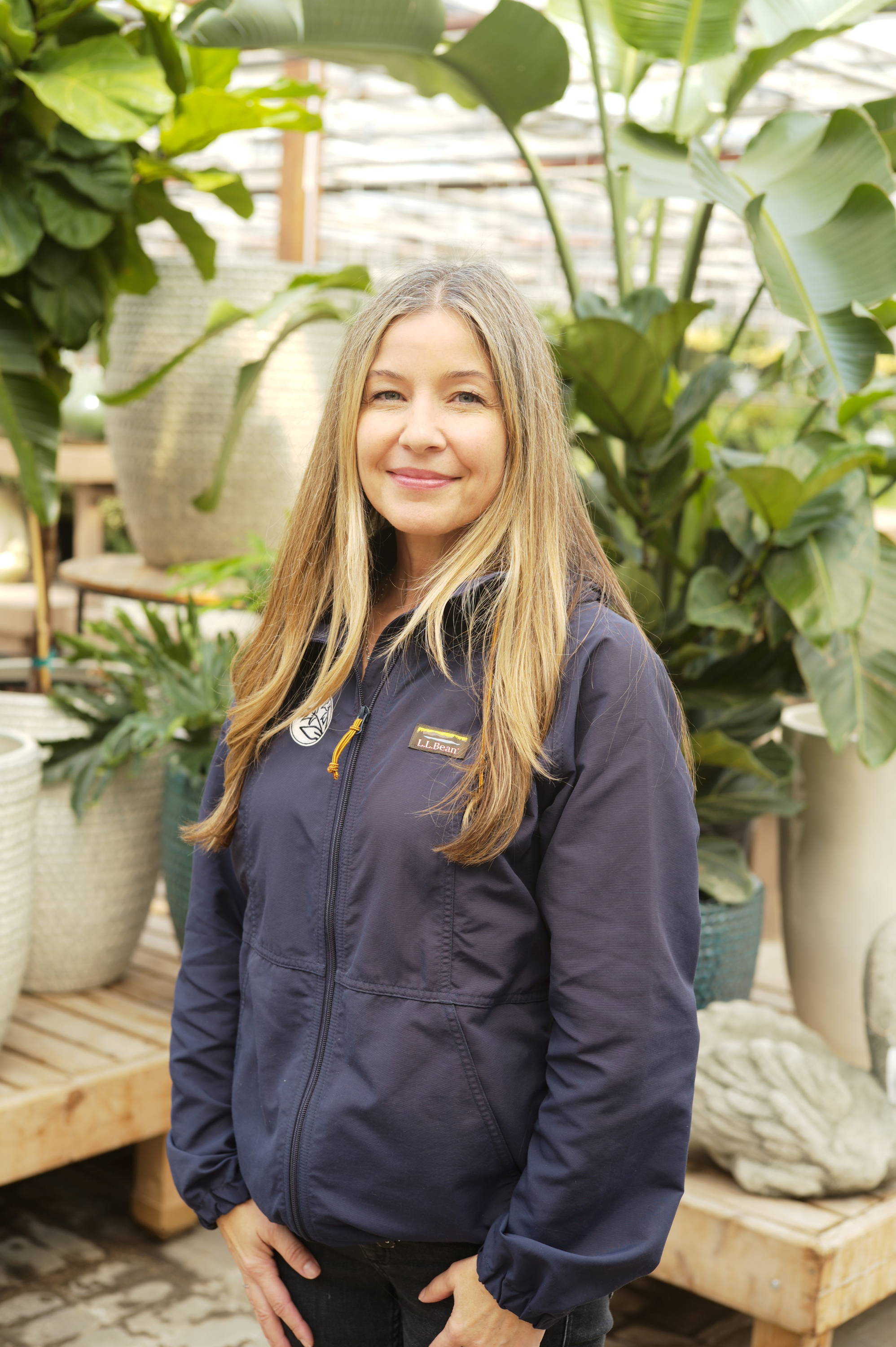 Favorite Plant: My favorite houseplants are Hoyas. They are easy to care for and lovely when they bloom. Hoyas have great diversity of leaf shape and coloring and are safe around pets and people. My garden favorite is hydrangeas.
I've been at Tonkadale since 2019 as the office coordinator. I love my role working with the systems, seasonal design production, and supporting the whole team. One of my favorite jobs is coordinating the Grow and Give Donation Garden program. Outside of work I am passionate about my family, hiking, nature, gardening, houseplants, traveling, and design.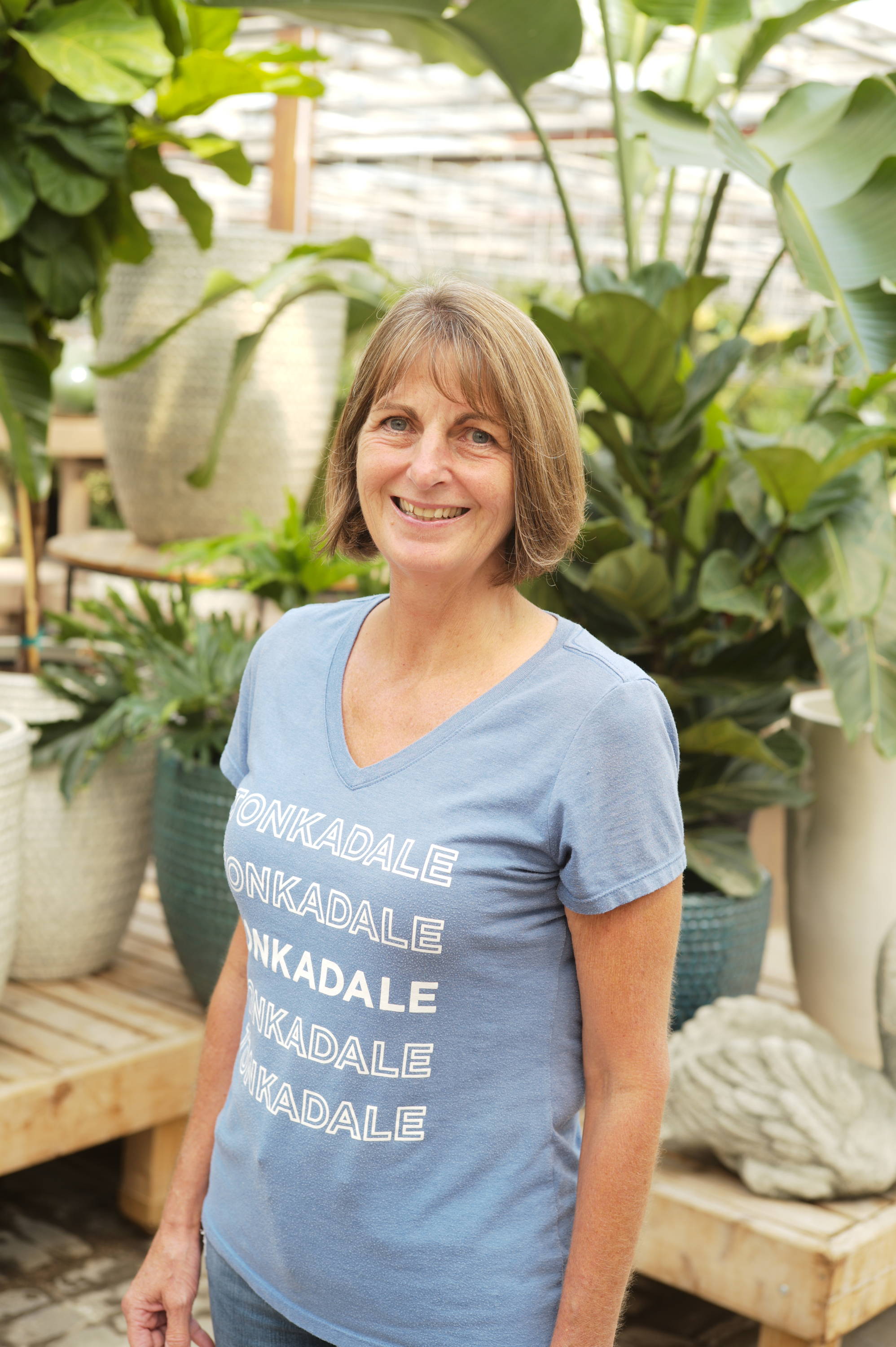 Favorite Plant: I love all plants! But mostly tomatoes - I have a pretty extensive tomato garden at home.
I have worked at Tonkadale for about 5 years, and prior to Tonkadale I worked at another greenhouse for 10 years. Gardening is my passion! Outside of work I enjoy spending time with my family, my gardens, and my friends. Soon I will be meeting my first grandchild, and I couldn't be more excited!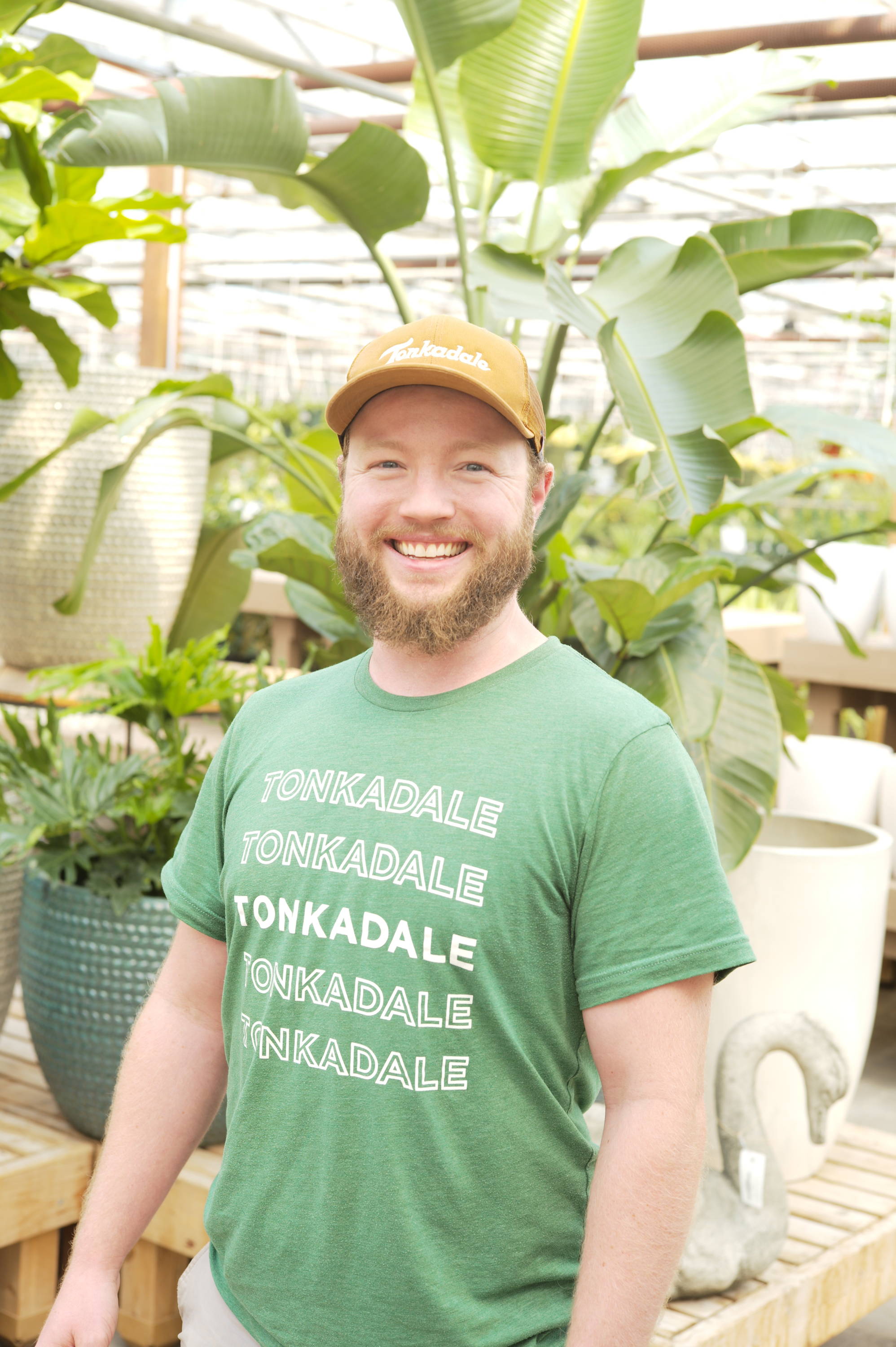 Favorite Plant: Monstera Thai constellation. It's a very rewarding plant and I checked it off my wish list at last!
I've been at Tonkadale for about 9 years. I started at a seasonal greenhouse assistant while I studied finance, then transitioned to greenhouse manager in 2018. I have always felt a strong connection with nature. Tonkadale invigorates this connection and I get to feed my soul every day I come to work! I also get to work with some of my favorite people so that's great too.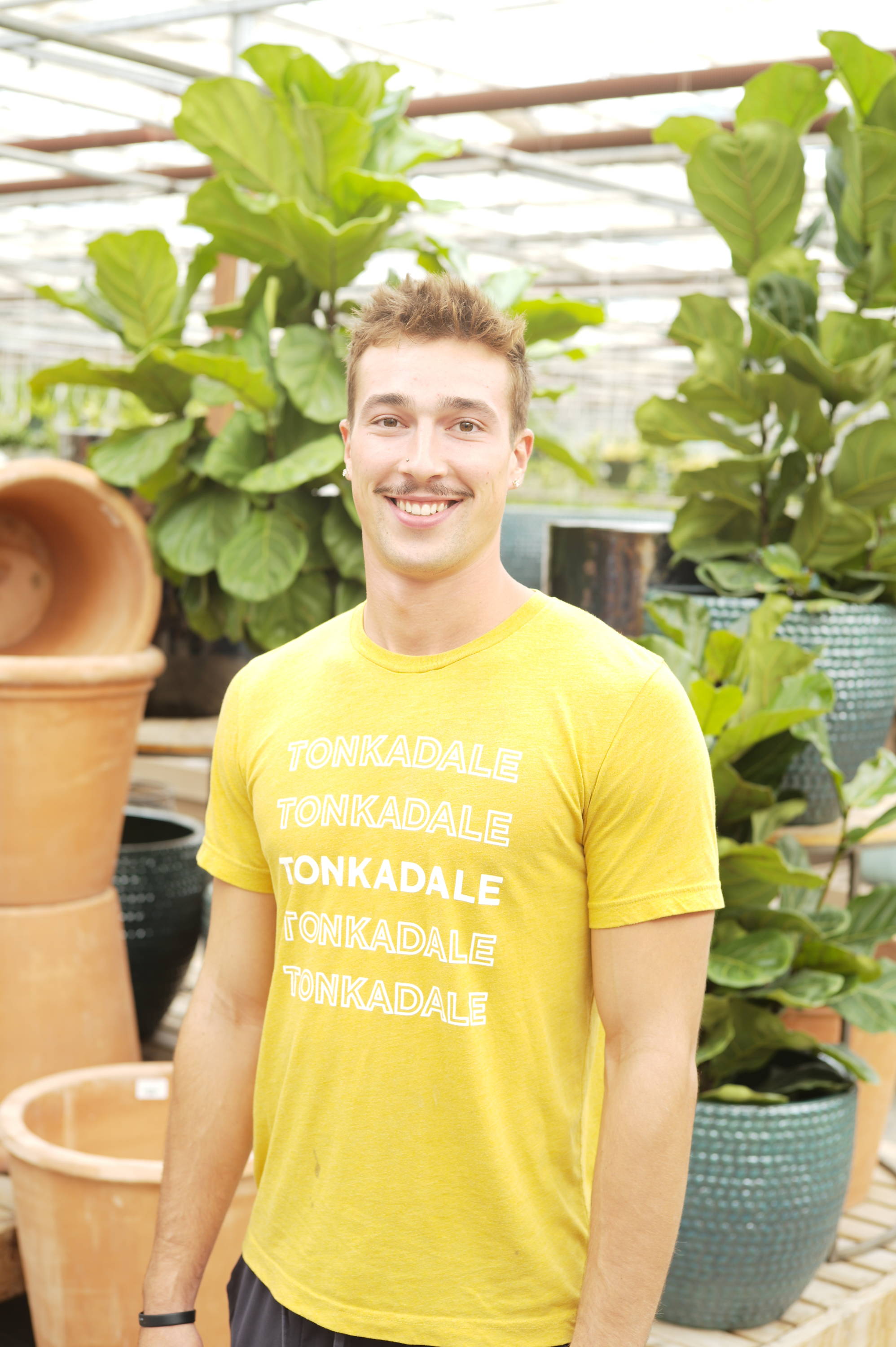 Breckendale General Manager
Favorite Plant: The Smoke Bush! I love the colors of this hardy shrub and its unique flower structure. This is one of the first plants I learned in college and is still my favorite!
I started working at Breckendale Flower Farm as the Head Grower and General Manager in February 2023. Our facility in Breckenridge, MN is the grows thousands of annual plants to be sold at Tonkadale! I oversee the growing of these annual crops sold at Tonkadale, as well as opening doors in May for retail! I fell in love with Horticulture and all the details it takes to have a grow the perfect crop. I am super excited to carry out my passion out here!"
Favorite Plant: Yarrow! It is native to our region and reminds me of where I grew up. I love the fine foliage accompanied with big umbrella shaped flowers.
I worked at our growing range as head grower and general manager for three years. I recently joined the leadership team at Tonkadale and made the move to the area full time. I enjoy collaborating with our talented team, and contributing to customer success. Outside of work love connecting with nature and learning about interior design.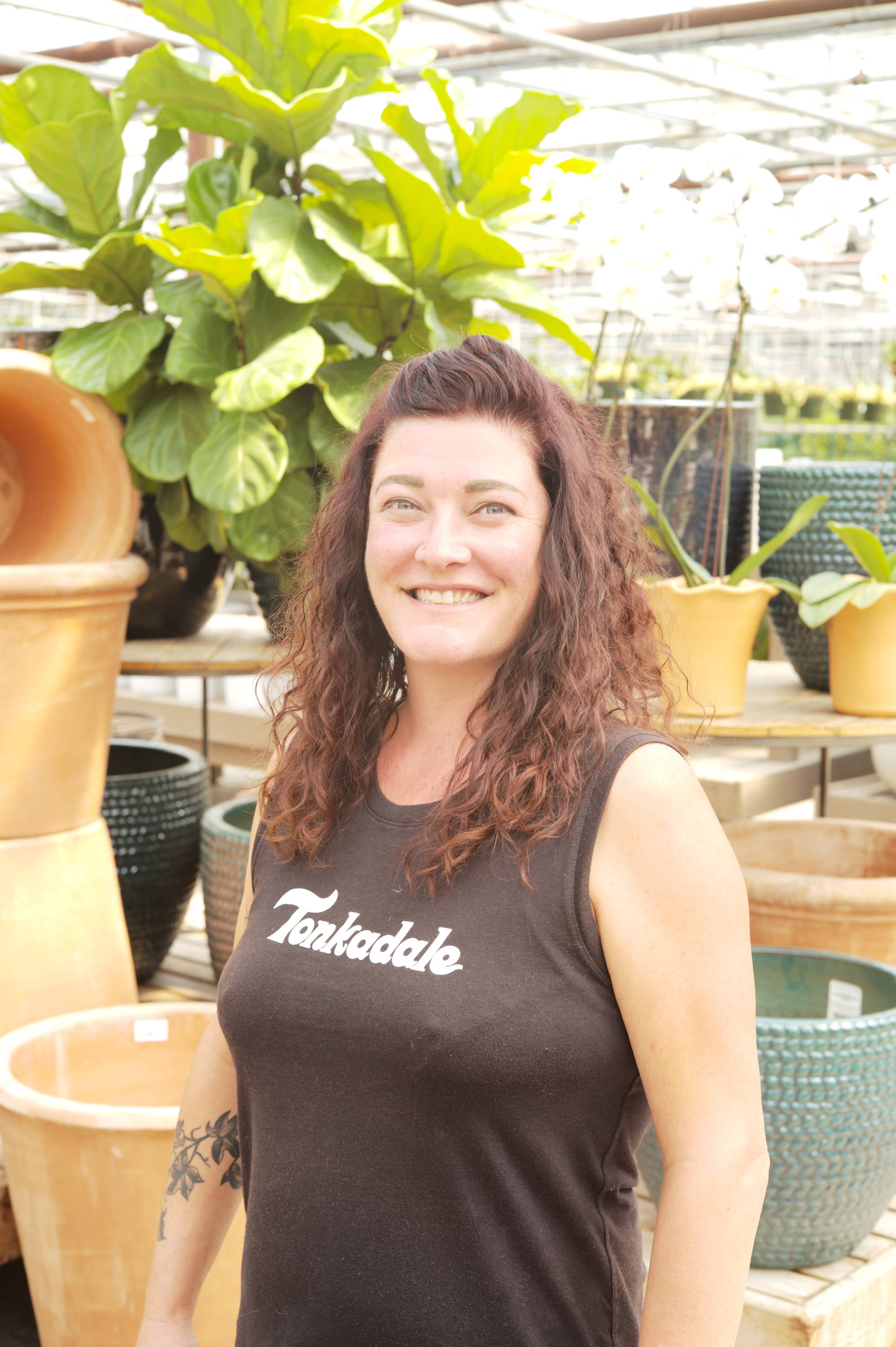 Favorite Plant: I would have to say Rudbeckia and Heucheras are my favorite perennias, and the Brazil Phildenron or Raven ZZs are my favorite Tropicals.
I started working at Tonkadale in June 2023 after almost a decade of owning a small-time gardening business. This has come to be a blessing to work here with such an amazing group of people and beautiful plants. With the guidance of my parents, I learned a lot about plants and helped create an oasis that will hopefully be enjoyed for many years to come. In my spare time I enjoy painting, hiking the North Shore, gardening , boating and spending time with family and friends.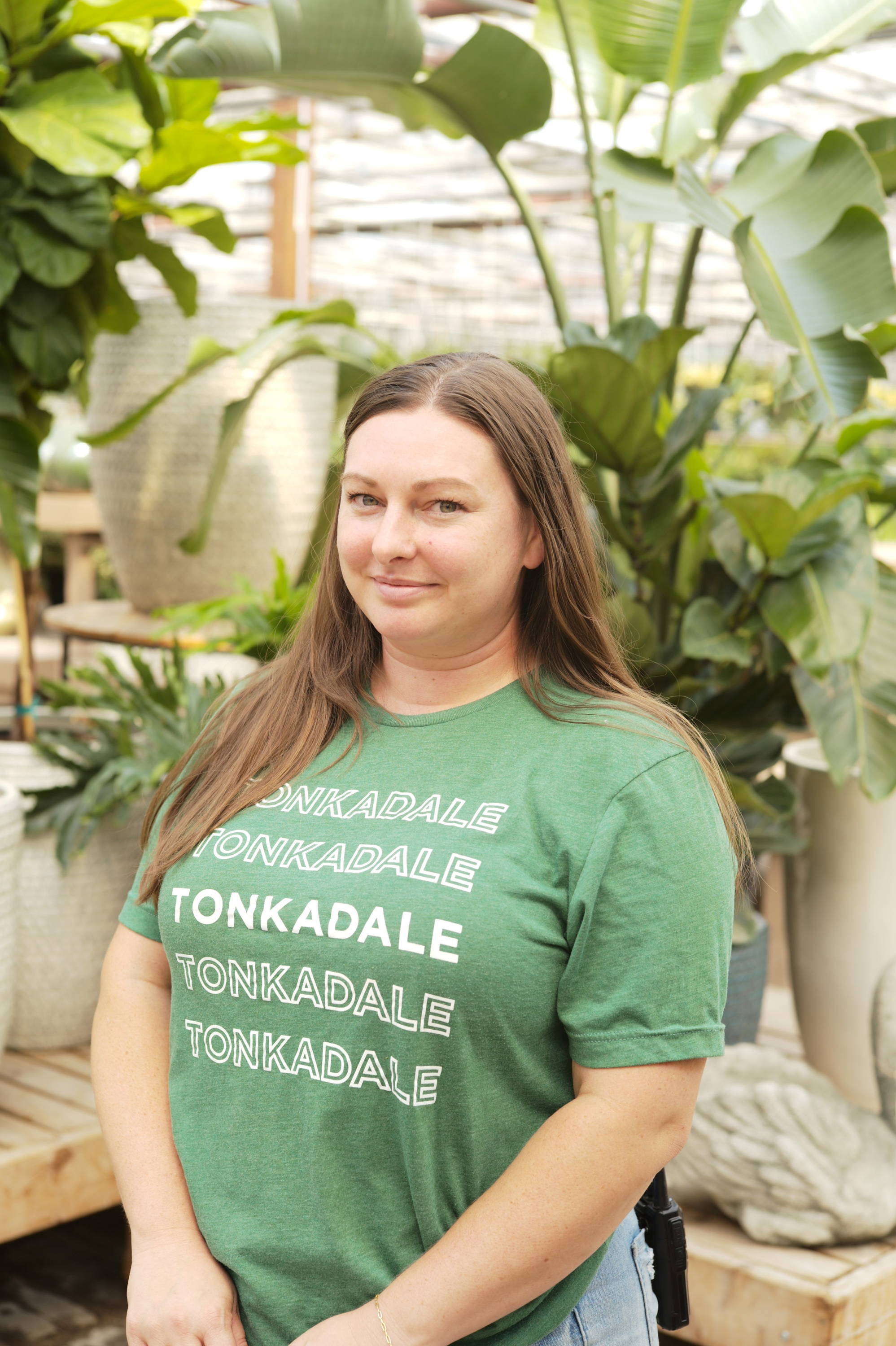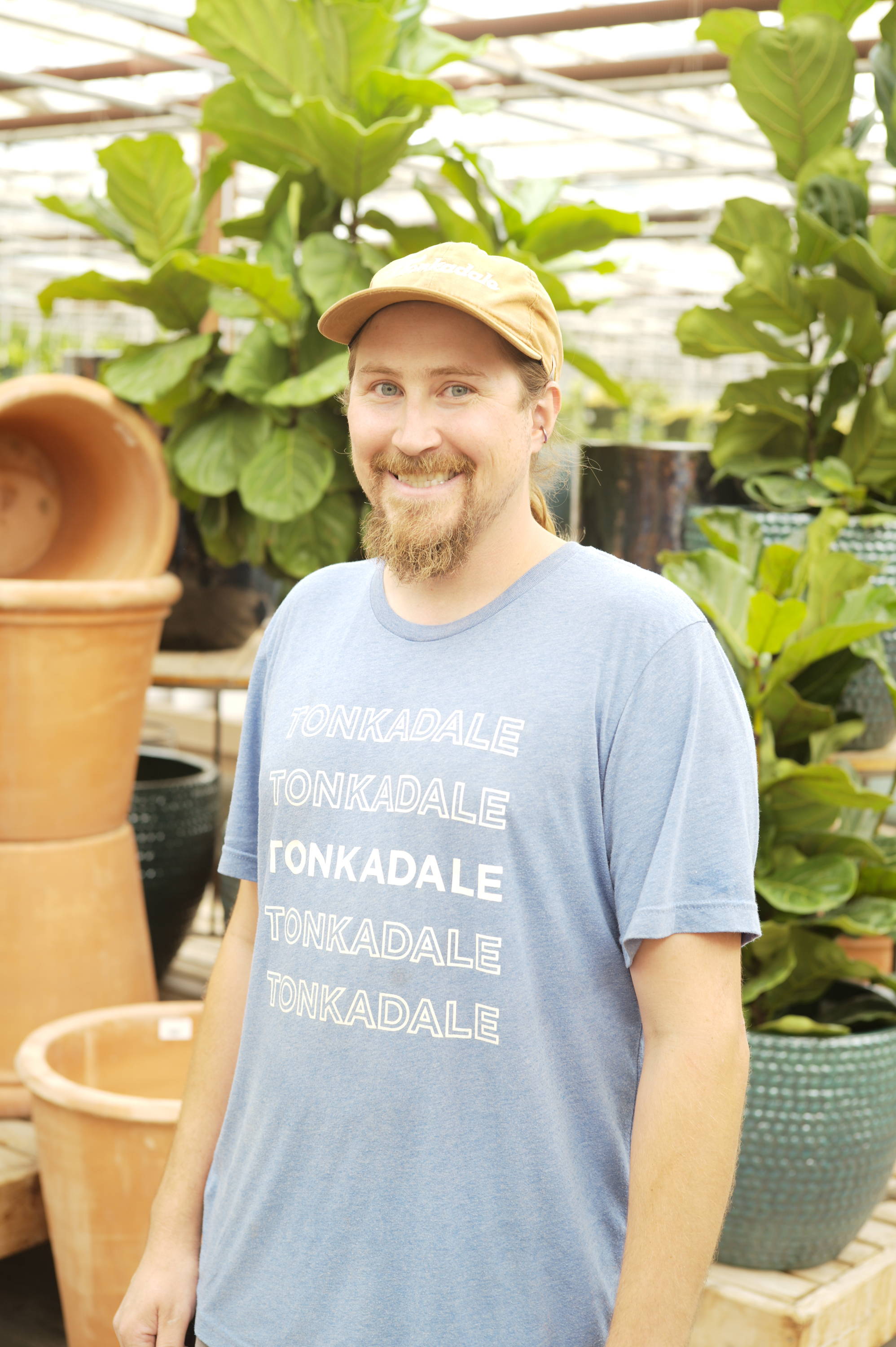 Favorite Plant: My all-time favorite is the ZZ plant. I love a reliable, low-light plant.
I've worked at Tonkadale since 2010. I started as an entry level custodian which didn't last long. Nowadays I work in facilities, running the bobcat and working closely with the visual team to make Tonkadale a unique and beautiful space. I'm a creative individual with a passion for the arts. With over 100 houseplants, I definitely consider myself a plant enthusiast.
Favorite Plant: All the weirdos. But mostly South African plants like Conophytum.
Transforming my plant passion into a journey, my roots at Tonkadale began in 2018 as a Customer Service Rep, and now I am the Greenhouse Lead. I am a plant enthusiast by day and a crazy plant lady by night. In my free time you can find me caring for and collecting rare or hard to find plants, obsessing over pottery, walking at the conservatory, collecting minerals/crystals, and spending time with my loved ones.
Favorite Plant: Hard to pick one but right now the Monstera Deliciosa is my favorite. I love the large, lush leaves that make my house seem like a little tropical oasis.
I have been working at Tonkadale since March of 2021. I work with the visual team to create beautiful seasonal pots and displays in the store. During my free time, I love to see live music shows, hang out with family and friends and our pets, Daisy, Pru and the chickens too.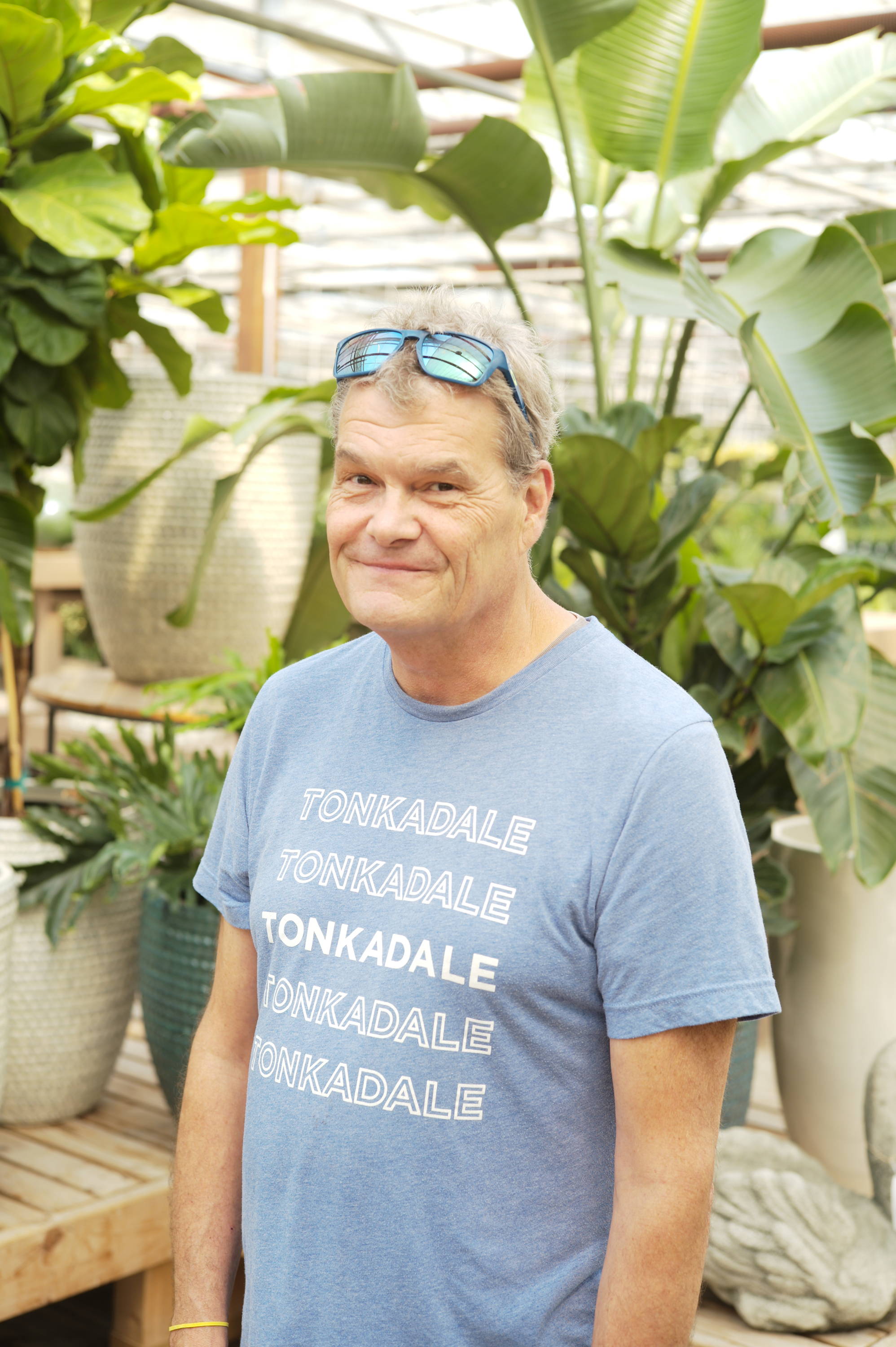 Logistics Coordinator &
Greenhouse Production
Favorite Plant: I have several, but my new favorite plant is the Pyramid Fern; they're just so lush and wild.
I've worked at Tonkdale for 6 years. I started as a greenhouse assistant and still do work in the greenhouse but am also in charge of deliveries and other tasks. I am passionate about family; my own as well as the great people I work with and the larger family of the customers in Tonkadale nation!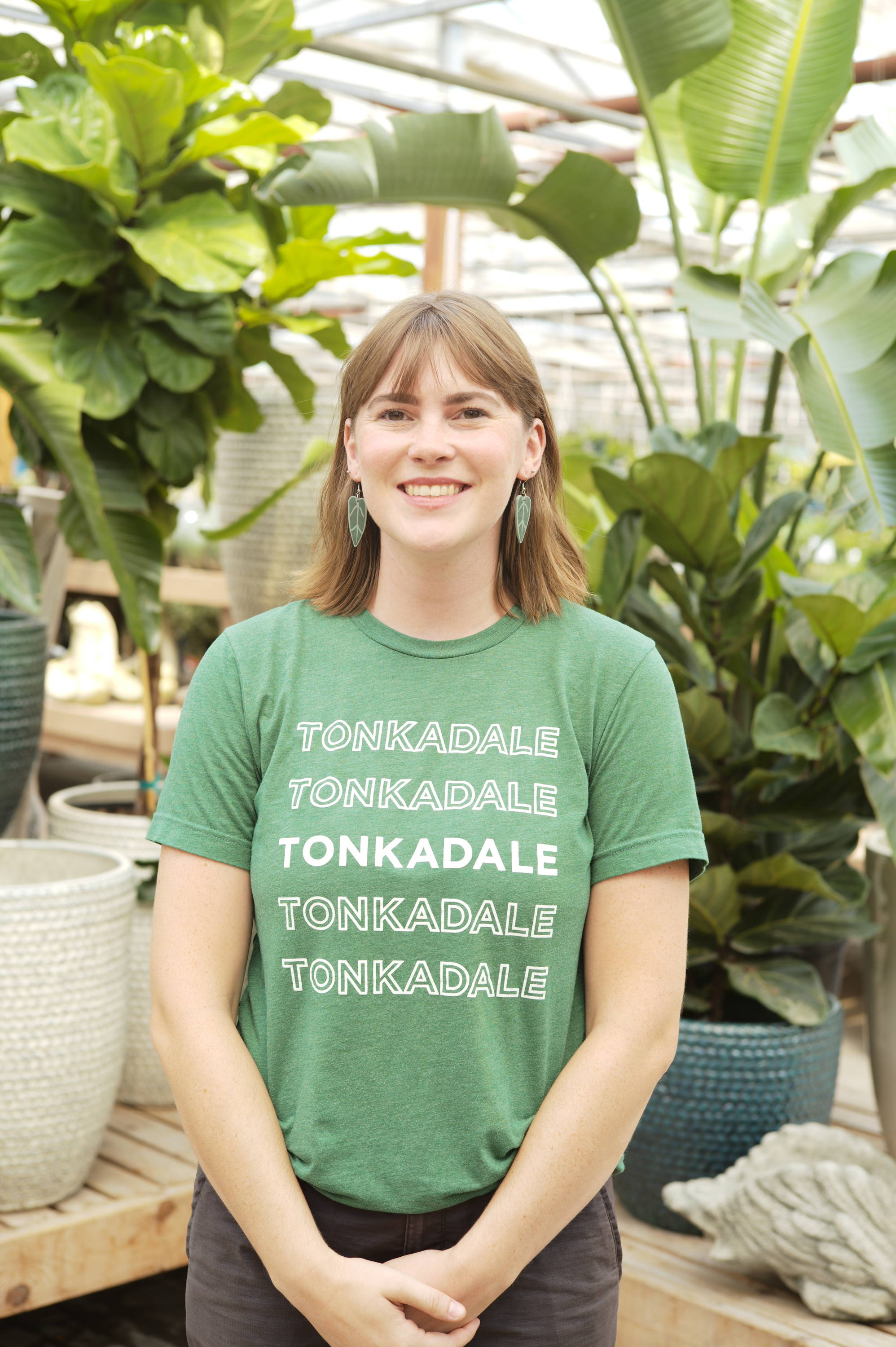 CSR Team Lead / Events Coordinator
Favorite Plant: I love Hoya! They are easy to care for, and there are endless varieties to collect. It is always such a reward when they bloom!
I started at Tonkadale in the fall of 2021 as a customer service representative. In my current role, I am leading our curbside pickup program and the customer rep team. I also oversee the planning and coordination of events. I have a background in Recreation and Outdoor Education, so nature has always been a big part of my life! My favorite part about working at Tonkadale is the seasonality of it. Things are always changing and I love being able to immerse myself in the seasons and all the unique beauty they bring! My passions (other than plants of course) are crafting, vintage shopping, hiking, paddle boarding, and spending time with my fur babies, Ziggy and Bowie!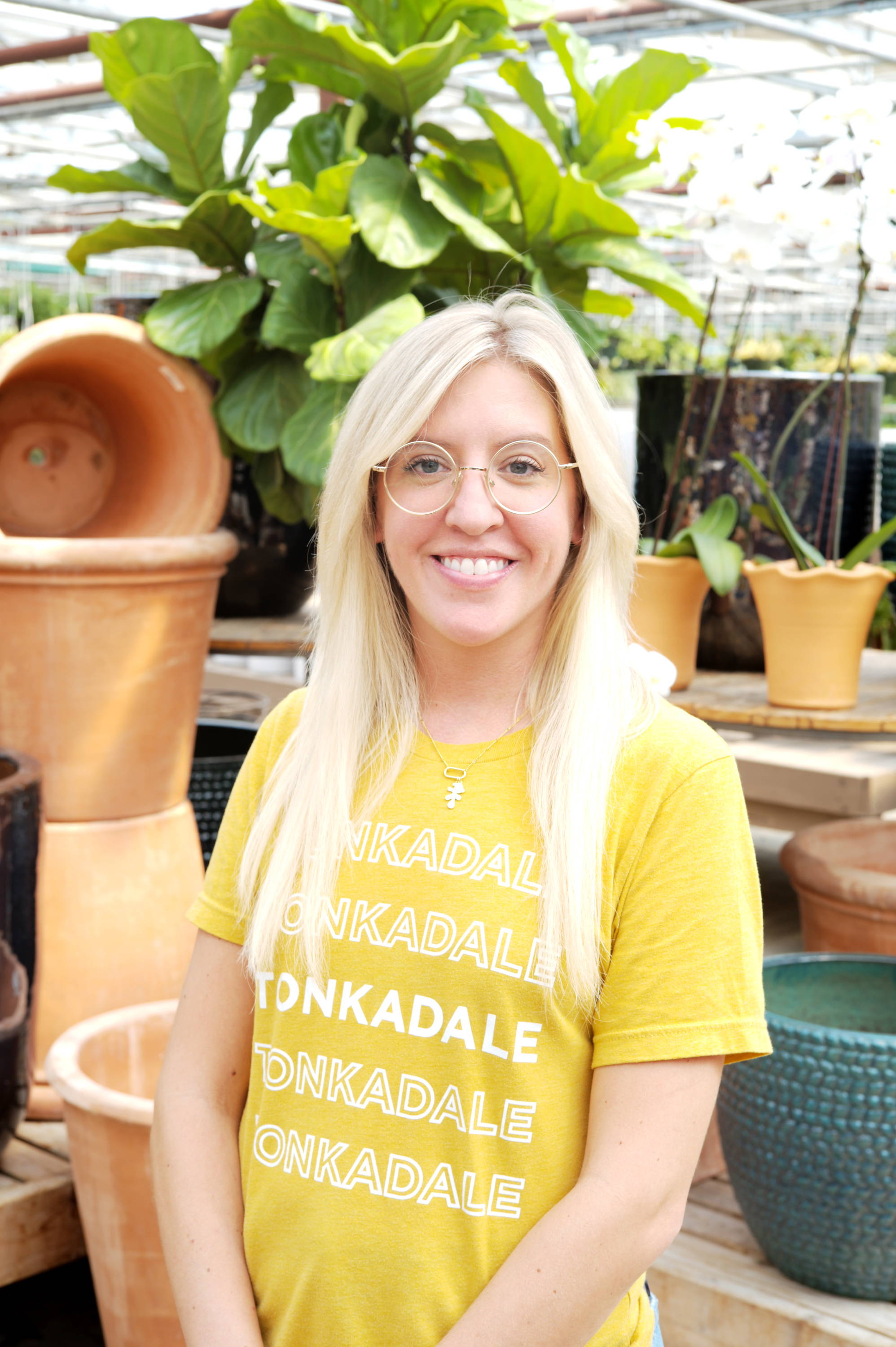 Favorite Plant: Current favs are my Thai Constellation, Euphorbia Ghost and all the Hoyas.
I started at Tonkadale in 2021. My role takes on many forms but my day to day tasks include design, content creation, video and social. I love documenting the behind the scenes greenhouse action! Outside of work I enjoy spending time with my kids. Always making, crafting and creating art! Listening to vinyl, gardening, cooking and being active. To name a few!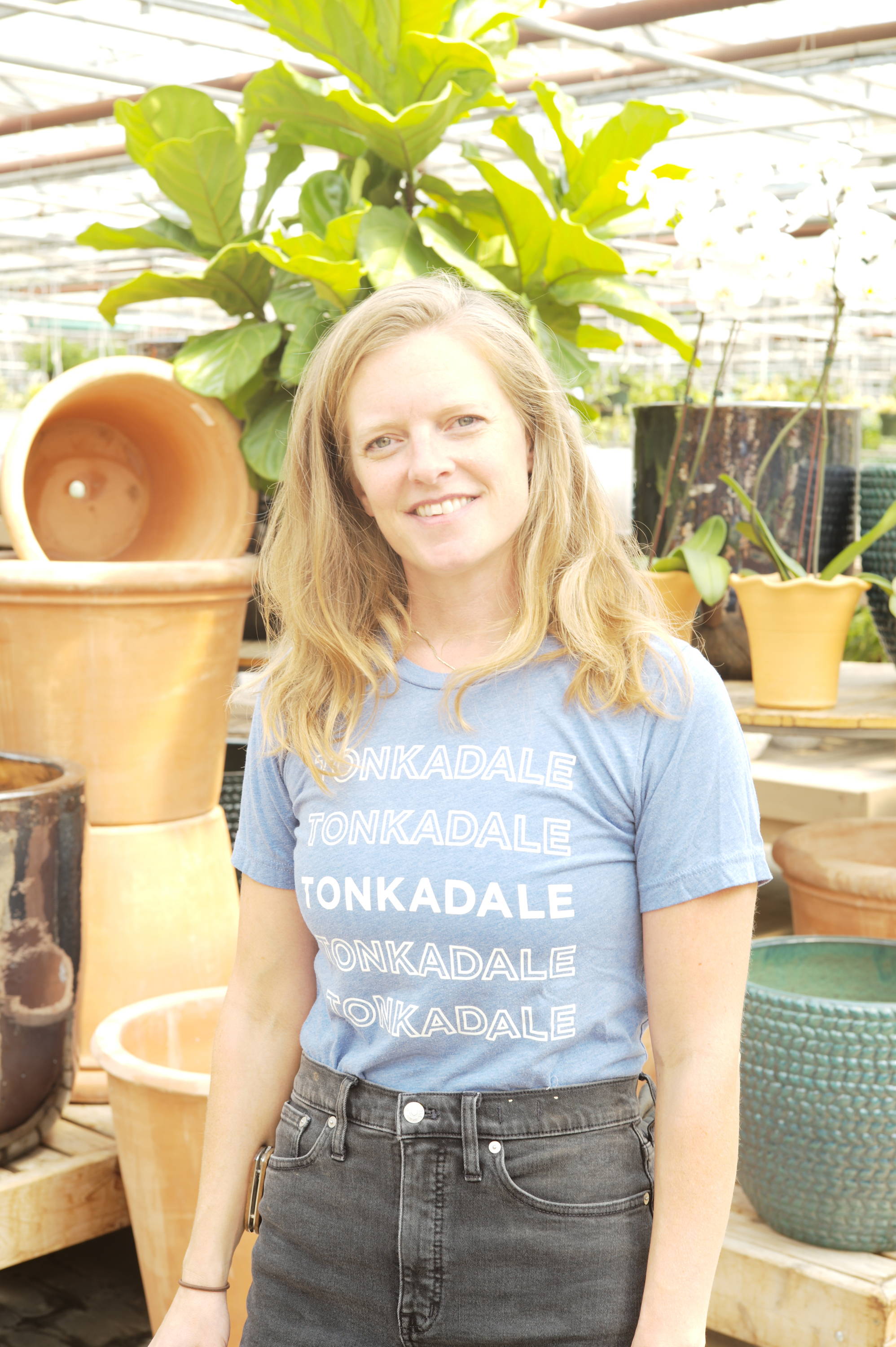 Favorite Plant: Favorite plant ever? Definitely Purple Coneflower. But for houseplants it has to be my Euphorbia Ammak.
I have been working for Tonkadale for almost two years. After spending a year and a half on the CSR team, I transitioned to the visual team last summer. I manage the plant care and merchandising of our plant shoppe, the merchandising and buying for our solution center, as well as managing our "soil room" (stock room). In my spare time I enjoy hanging out with my husband and dog, family cabin time, vegetable gardening, cooking, and decorating my home room by room.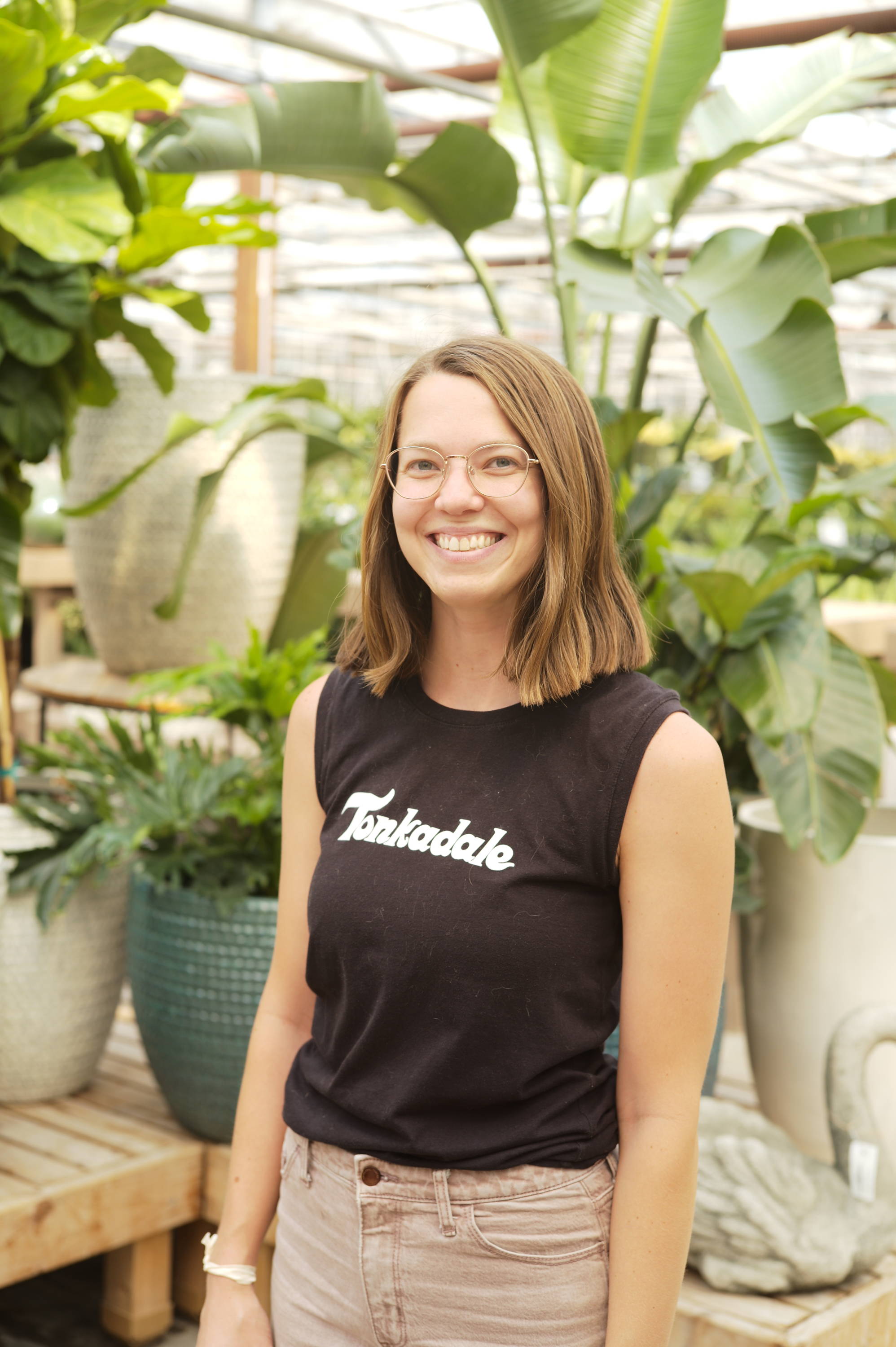 Greenhouse Production Assistant
Favorite Plant: I am especially obsessed with ferns and hoyas. There's nothing better than the little spiral of a new fern leaf unfurling, or getting a hoya to bloom.
I started at Tonkadale as a seasonal staff member in spring of 2022, and soon became a full-time greenhouse team member. I'm so fascinated with and passionate about plants so I feel lucky to work at a place like Tonkadale. There's nothing better than getting to be surrounded by plants and plant people every day. When I'm not working you can find me caring for my 100+ houseplants, cuddling with my two cats, and spending time with my loved ones.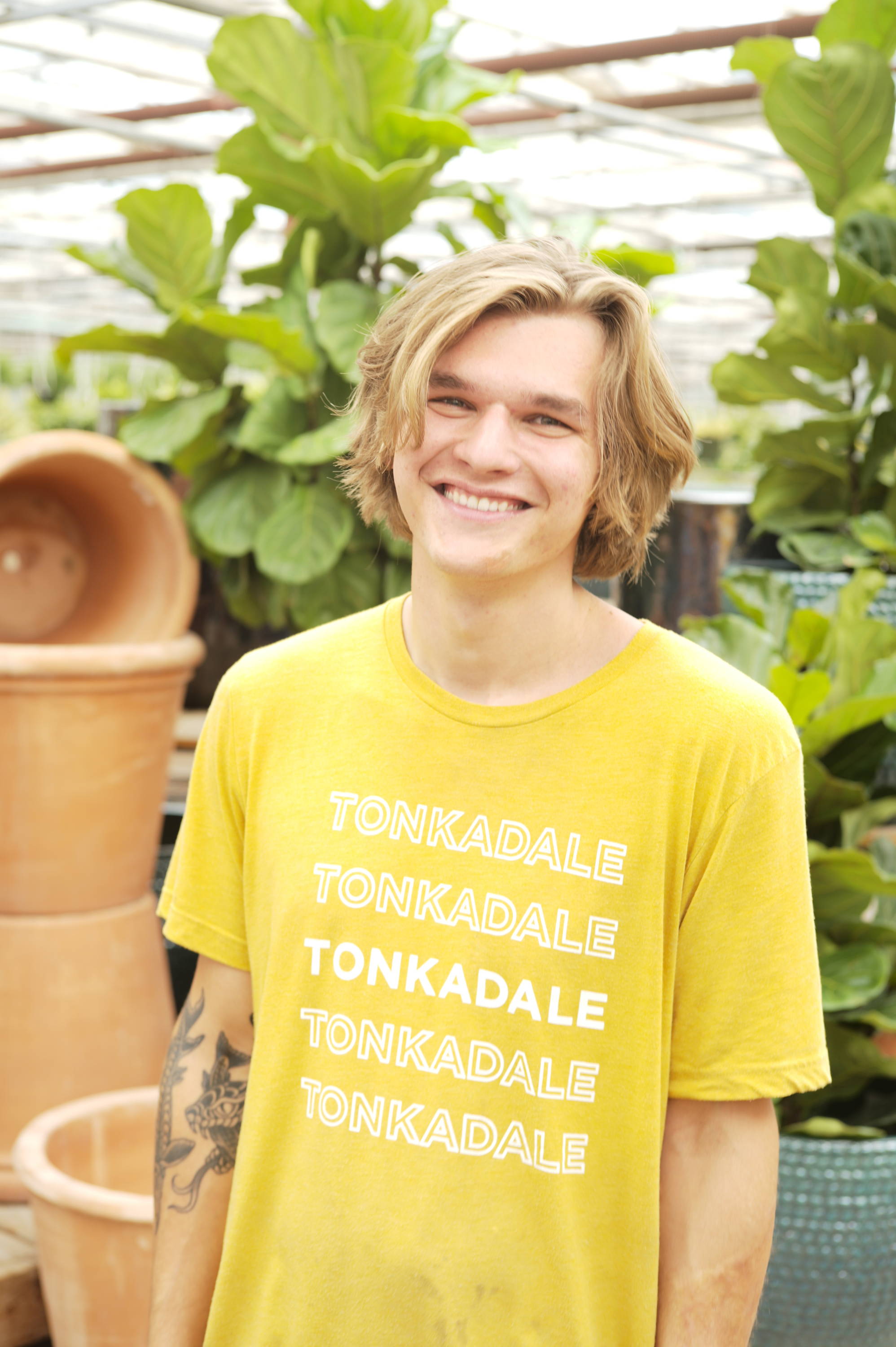 Greenhouse Production Assistant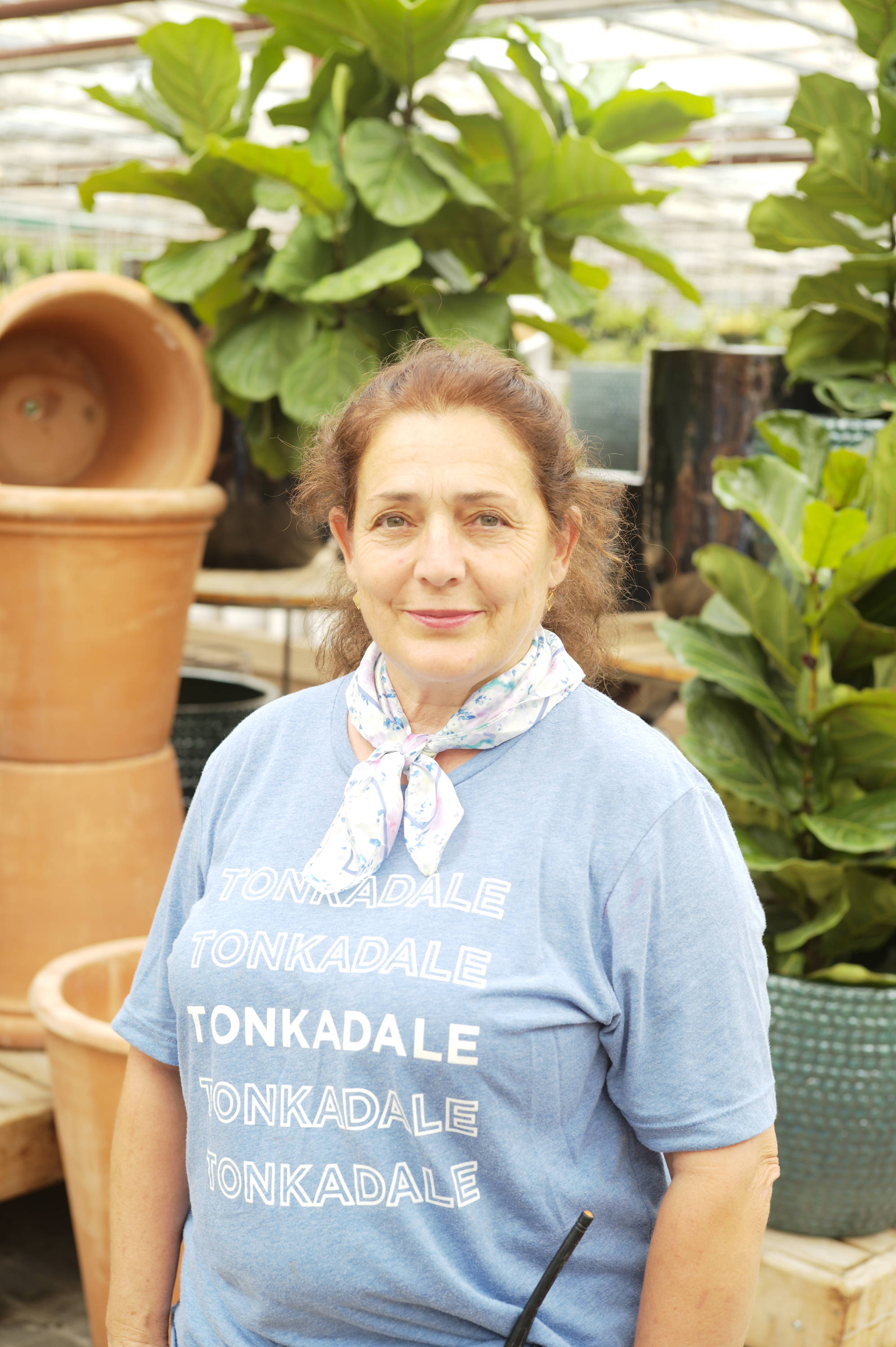 Greenhouse Production Assistant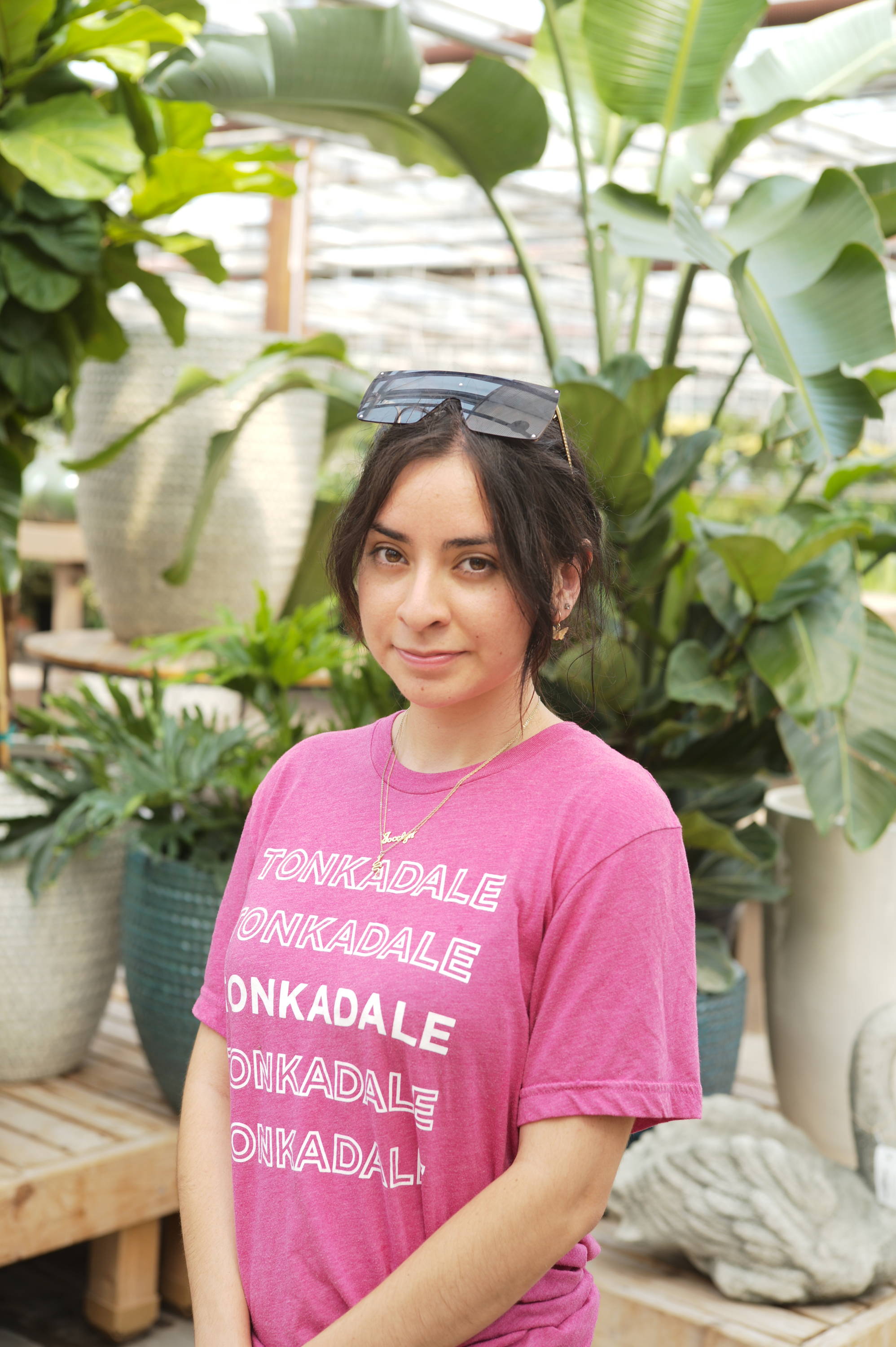 Greenhouse Production Assistant