Posted by Aaron Barton on Jul 23rd 2021
Grasses, all belonging to the grasses family, Poaceae, are a fantastic way to provide relief and variation in the landscape, serving as plants that can stand alone as focal points or accents dotted in the landscape, or massed together as a dynamic backdrop to highlight specimen plants or provide animal resistant contrast near colorful blooms in the garden. Grasses are exceptionally versatile perennials that offer a myriad of textures, colors, and habits, as well as multi-season interest, especially left standing through the long winter months. Often grasses are just the thing that's missing to bring designs together and transform good plantings into beautiful cohesive landscapes.
One of the most iconic grasses is the popular Calamagrostis x acutiflora 'Karl Foerster' (kal-a-ma-GROS-tis ah-KYOO-tih-flor-ah), also known as Foerster's Feather Reed Grass. Foerster grass is a very tidy, clump-forming grass growing four to five feet tall, while only two to three feet wide. Named after the late Karl Foerster who initially introduced the variety in 1939, this grass is a longstanding garden staple, known for its feathery bronze plumes that show up in the early summer and do not self-seed, only producing sterile seed that primarily serves as food for songbirds. Widely planted for its carefree nature and thriving in a variety of soil conditions in full sun, Foerster is a great low maintenance choice, especially popular massed in rows for formal landscapes and lower input designs.
Schizachyrium scoparium (ski-zak-EAR-ee-um sko-PAR-ee-um), or little bluestem, is another phenomenal grass that provides vibrant multi-season interest. Little bluestem, native to North America including here in Minnesota, and known for its beautiful powdery blue summer color, forms a dense mound reaching three to four feet tall and two to three feet wide, thriving in full sun environments in well-drained soil, and exceptionally drought tolerant once established. In the fall, their flowing blue stems take on striking shades of purple, red, and orange with slender white plumes that transition into seed heads great for winter interest and songbirds.
Providing showstopping shades of chartreuse green and yellow, Hakonechloa macra (hah-koh-neh-KLOH-ah MAK-ruh), also known as forest or hakone grass, is an excellent low-growing, part shade to full shade grass. Excellent in low shady borders, pathway edging, or massed as a vibrant, flowing shady groundcover, the bright foliage of 'All Gold' and the striking variegated foliage and pink hues of 'Aureola' golden forest grass are guaranteed to brighten up the darkest of garden spaces. Hakonechloa forms a low growing, tidy, flowing mound two to three feet tall and wide, and thrives in evenly moist, well-drained soils.
Happy Planting!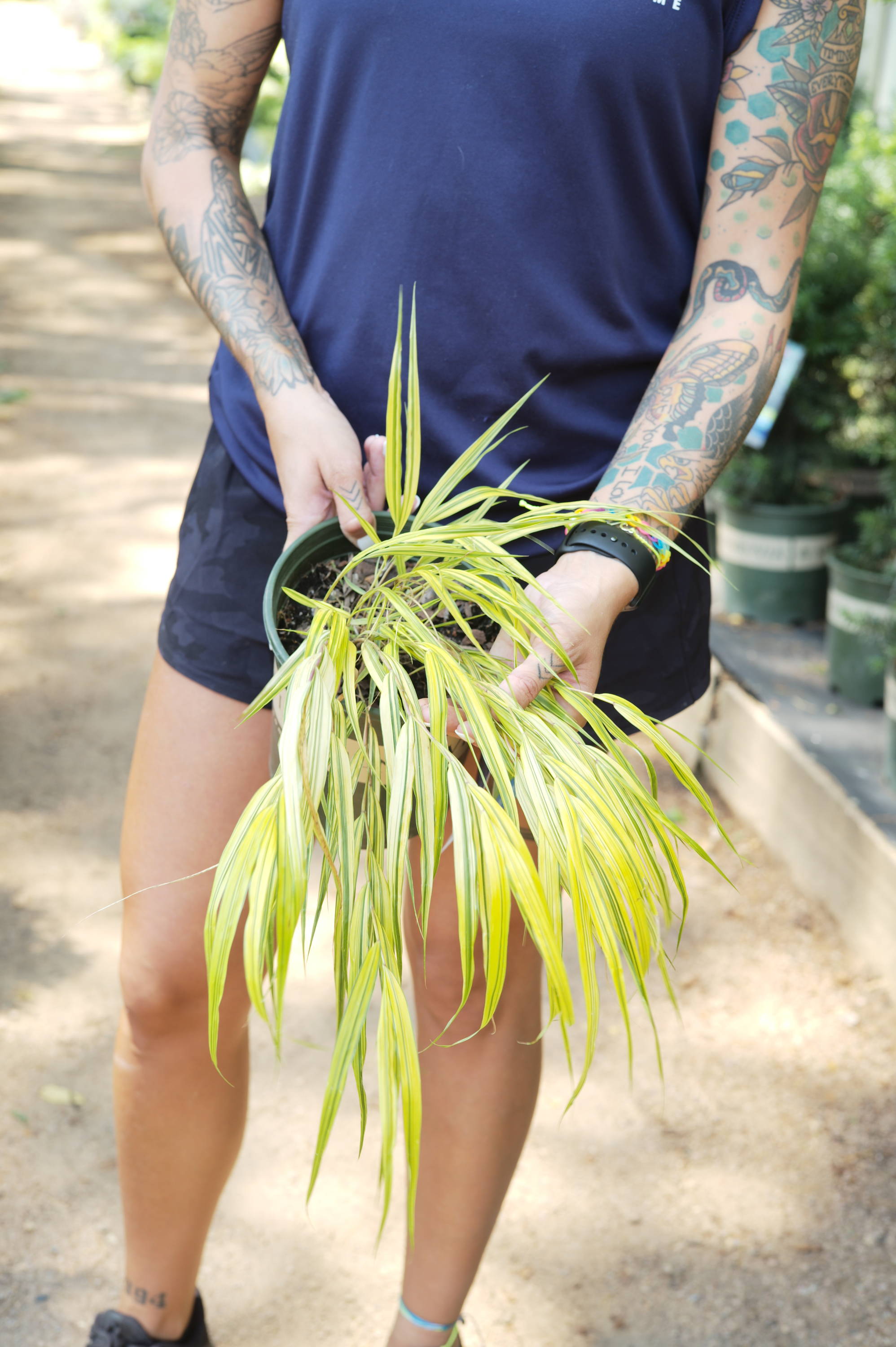 ---