Posted by Aaron Barton on Apr 4th 2023
A low maintenance, exceptionally hardy garden standout, Coreopsis, of the Aster family, Asteraceae, are bright bloomers perfect for adding lasting color to sunny summer landscapes. A genus of over 75 species, all native to the Americas, Coreopsis, commonly known as tickseed in reference to their small, round seeds, span a wide range of appearances, widely planted in landscapes as one of countless cultivars of either whorled tickseed, Coreopsis verticillata (kor-ee-OP-sis ver-tiss-ih-LAY-tuh), or large-flowered tickseed, Coreopsis grandiflora (kor-ee-OP-sis gran-dih-FLOR-uh).
Whorled tickseed, known also as threadleaf tickseed, forms airy mounds 24-36" tall and 12-24" wide, spreading gently through rhizomes to form attractive clusters over time. Native to eastern North America, Coreopsis verticillata is an exceptionally hardy species, with many varieties hardy to zone 3. Renowned for their fine-textured appearance, whorled tickseed produces thin, upright wiry stems punctuated with whorls of delicate three-part, thread-like green leaves. A tremendous low maintenance addition to foundation plantings, pollinator gardens, and sunny borders as a standalone feature or mass planting for amazing texture and color, Coreopsis verticillata are unbothered by deer and rabbits and are tolerant of drought, high heat and humidity, and salt exposure. Plants also tolerate and even prefer poor soils, performing best in drier sandy or rocky soils in full sun. Offering long-lasting color, whorled tickseed bloom prolifically from mid-summer to fall, typically in shades of yellow, or occasionally orange or red, including the classic sulfur blooms of the crowd favorite 'Moonbeam,' and bright yellow blooms of the more compact 'Zagreb,' benefitting from regular deadheading to keep plants tidy and promote reblooming. Plants may also be sheared back by half in late summer to tidy unkempt foliage and encourage a fall flush of blooms.
Large-flowered tickseed, also native to eastern North America with large populations throughout the south-central United States, is an exceptional clump-forming, full sun perennial, blooming profusely from mid-summer well into fall with large, bright yellow blooms, often with red or orange accents. Large-flowered tickseed generally mature to a tidy mound up to two feet tall and wide, comprised of lance-like green leaves along sturdy upright stems. Excellent in low sunny borders, there is a wide selection of large-flowered cultivars to choose from, including the red-centered, fringed yellow blooms of 'Solanna™ Bright Touch,' and the almost marigold-like bright yellow double blooms of 'Solanna™ Golden Sphere.'
Happy planting!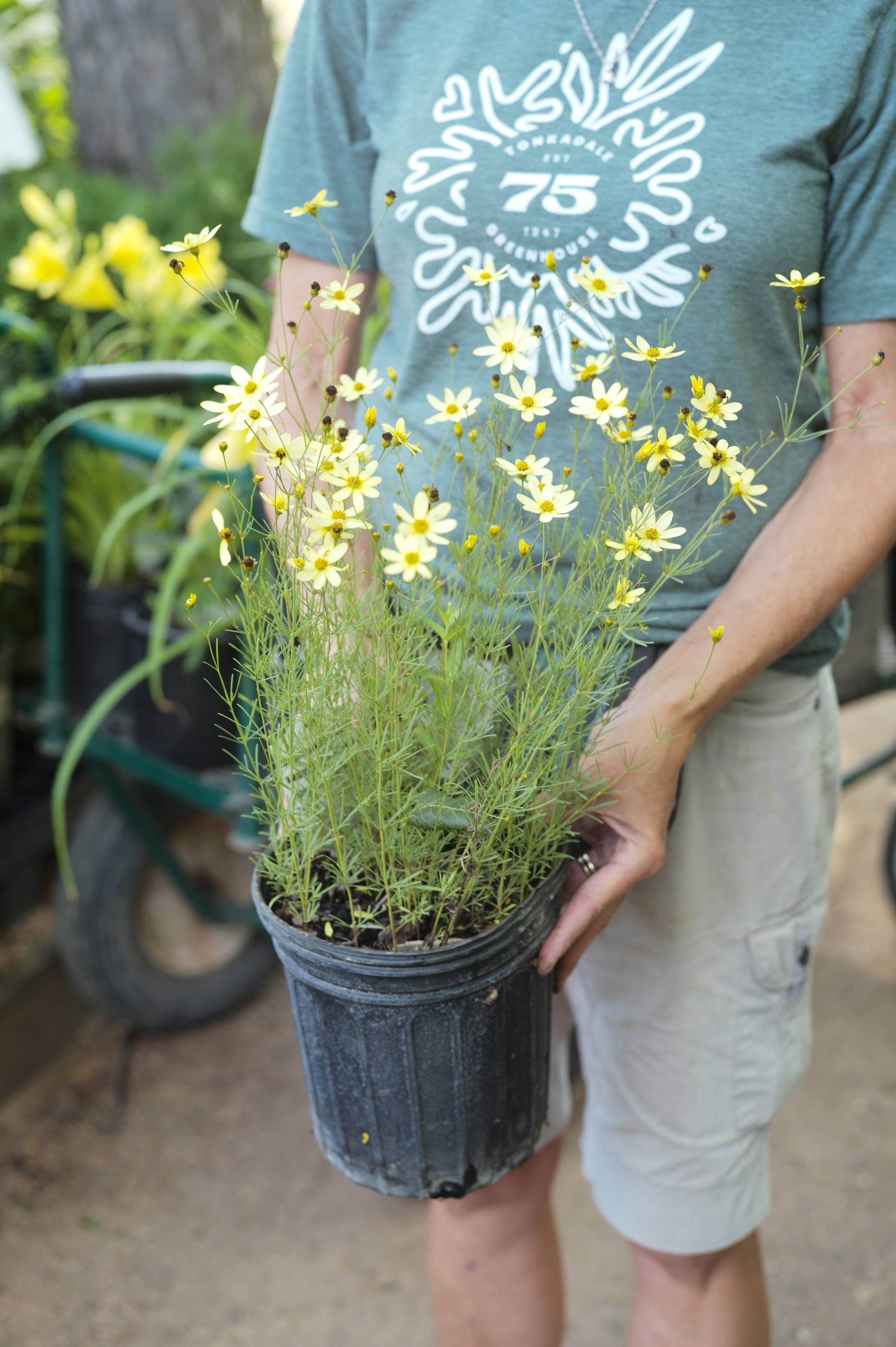 ---