Posted by Hannah Brand on Mar 13th 2023
Hey Plant Friends!
This week we are talking about Blechnum gibbum, more commonly known as the Silver Lady Fern. This Fern belongs to the Blechnaceae plant family and is native to New Caledonia and was introduced in Fiji. Silver Lady Fern has silky, silver foliage and grows as a "tree" in its natural environment. This Fern tends to be a bit hardier than its fragile frond friends making it easier to care for.
Let's talk about care. Ferns are shade loving plants but don't want to be put in the dark. Bright, dappled light is best. Be careful of direct sun as this will cause leaf burn. When it's time to repot, we recommend Espoma's All Purpose Potting Mix. This mix will retain adequate moisture while providing ample drainage. When it comes to watering consistency is key. Never allow ferns to fully dry out, but do allow the top 2-3" of soil to dry down before giving them a good soak. Check weekly for watering during the winter; increase watering during active growth. Ferns thrive with humidity. Use a Continuous Spray Bottle for misting ease. As you surely know, pests are common when dealing with houseplants. Check for pests during your weekly watering routine. Common pests to look out for with ferns are mealy bugs and spider mites. It's not a bad idea to keep Insecticidal Soap at the ready for easy treatment.
'Silver Lady' Fern is available at Tonkadale in 6" pots. If you have additional questions feel free to reach out by phone, Instagram, or email us at hello@tonkadale.com.
Happy Planting!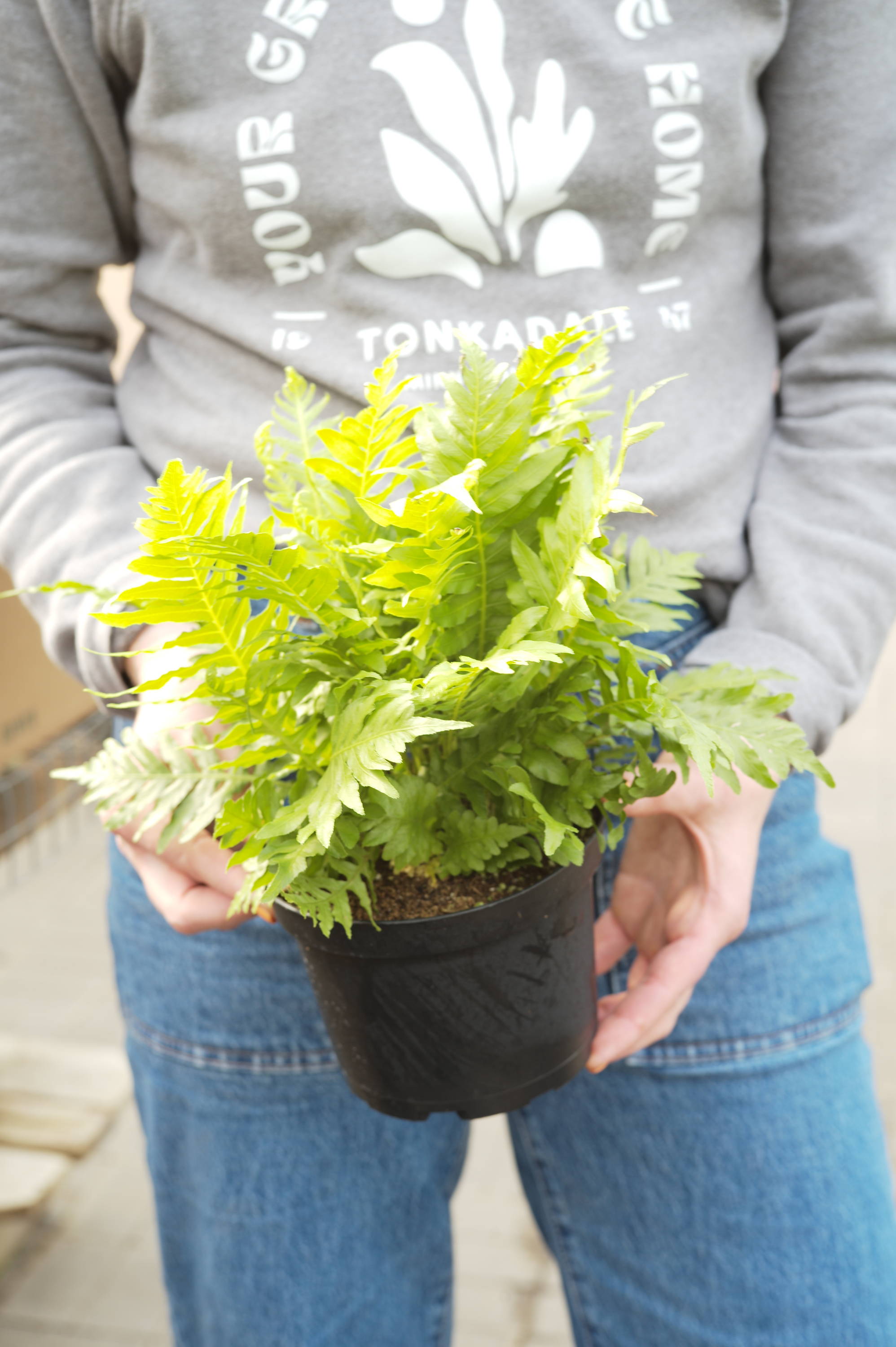 window.SHOGUN_IMAGE_ELEMENTS = window.SHOGUN_IMAGE_ELEMENTS || new Array(); window.SHOGUN_IMAGE_ELEMENTS.push({ hoverImage: '', uuid: 's-d519e28d-edf5-400a-a97e-8af75c956ffa' })
---
window.__shgProductInits = window.__shgProductInits || new Array(); window.__shgProductCallbacks = window.__shgProductCallbacks || {}; window.__shgProductComponent = window.__shgProductComponent || {}; window.__shgProductCallbacks["s-c81f676e-5465-4351-83ce-f0be69c0df4f"] = new Array();
window.__shgProductCallbacks["s-c81f676e-5465-4351-83ce-f0be69c0df4f"].push({ cb: "title", data: { uuid: "s-d0fa5c35-c5f9-4705-8cc7-0c75eb966b9d" } });
window.__shgProductCallbacks["s-c81f676e-5465-4351-83ce-f0be69c0df4f"].push({ cb: "image", data: { uuid: "s-813fe107-e58b-4c12-aded-f6d9737d1836", imageOffsetTop: 2802, LAZY_LOAD_OFFSET_TOP: 750, LAZY_LOAD_ENABLED: true } });
Sold out
window.__shgProductCallbacks["s-c81f676e-5465-4351-83ce-f0be69c0df4f"].push({ cb: "price", data: { uuid: "s-3c1ab440-7d12-48d5-9561-dea412145dde", hasComparePrice: false } });
window.__shgProductInits.push({ uuid: "s-c81f676e-5465-4351-83ce-f0be69c0df4f", platform: "big_commerce", currency: "USD", staticVariant: false, moneyFormat: {"USD":{"currency":"USD","currency_symbol":"$","currency_symbol_location":"left","decimal_places":2,"decimal_separator":".","thousands_separator":","}}, productUrl: "https://getshogun.com/api/products", authToken: "eyJhbGciOiJIUzI1NiJ9.eyJzaXRlX2lkIjoiYmI5YmNiZmEtY2MyNi00OWFmLThhMzEtYTY2NzIwMDgyZDhlIiwicHJvZHVjdF9pZCI6Ijg0MTEifQ.Lt8YSFUKacSEk2qj4bmQBwu3LDnujrYIDivLbEQ2reY", productHandle: "silver-lady-fern-6/", productVariantId: 18191 }); window.__shgProductCallbacks["s-c81f676e-5465-4351-83ce-f0be69c0df4f"].push({ cb: "box", data: { uuid: "s-c81f676e-5465-4351-83ce-f0be69c0df4f" } });
window.__shgProductInits = window.__shgProductInits || new Array(); window.__shgProductCallbacks = window.__shgProductCallbacks || {}; window.__shgProductComponent = window.__shgProductComponent || {}; window.__shgProductCallbacks["s-00844c94-16e0-466d-9b20-4daa7bf43fe0"] = new Array();
window.__shgProductCallbacks["s-00844c94-16e0-466d-9b20-4daa7bf43fe0"].push({ cb: "title", data: { uuid: "s-a1abbd48-a0a0-4100-83c2-e6d4da928559" } });
window.__shgProductCallbacks["s-00844c94-16e0-466d-9b20-4daa7bf43fe0"].push({ cb: "image", data: { uuid: "s-5947cce7-8a3b-4e1c-aa87-b992d015d3e5", imageOffsetTop: 2802, LAZY_LOAD_OFFSET_TOP: 750, LAZY_LOAD_ENABLED: true } });
Sold out
window.__shgProductCallbacks["s-00844c94-16e0-466d-9b20-4daa7bf43fe0"].push({ cb: "price", data: { uuid: "s-26fbfc61-98f3-417c-9919-ef6a849d7b5a", hasComparePrice: false } });
window.__shgProductInits.push({ uuid: "s-00844c94-16e0-466d-9b20-4daa7bf43fe0", platform: "big_commerce", currency: "USD", staticVariant: false, moneyFormat: {"USD":{"currency":"USD","currency_symbol":"$","currency_symbol_location":"left","decimal_places":2,"decimal_separator":".","thousands_separator":","}}, productUrl: "https://getshogun.com/api/products", authToken: "eyJhbGciOiJIUzI1NiJ9.eyJzaXRlX2lkIjoiYmI5YmNiZmEtY2MyNi00OWFmLThhMzEtYTY2NzIwMDgyZDhlIiwicHJvZHVjdF9pZCI6IjMwMCJ9.TFmlxWFgYCEXxzMVyYOic0FR1g6weqULYzJvraN8nwM", productHandle: "all-purpose-organic-potting-mix/", productVariantId: 575 }); window.__shgProductCallbacks["s-00844c94-16e0-466d-9b20-4daa7bf43fe0"].push({ cb: "box", data: { uuid: "s-00844c94-16e0-466d-9b20-4daa7bf43fe0" } });
window.__shgProductInits = window.__shgProductInits || new Array(); window.__shgProductCallbacks = window.__shgProductCallbacks || {}; window.__shgProductComponent = window.__shgProductComponent || {}; window.__shgProductCallbacks["s-4fa43997-ccf2-4ccc-88ea-57bb66be8a92"] = new Array();
window.__shgProductCallbacks["s-4fa43997-ccf2-4ccc-88ea-57bb66be8a92"].push({ cb: "title", data: { uuid: "s-a9ff4481-d3a8-4efb-98b8-f54179dfb5bc" } });
window.__shgProductCallbacks["s-4fa43997-ccf2-4ccc-88ea-57bb66be8a92"].push({ cb: "image", data: { uuid: "s-411ef6df-728f-4be7-ad68-49df2cdd54ec", imageOffsetTop: 2802, LAZY_LOAD_OFFSET_TOP: 750, LAZY_LOAD_ENABLED: true } });
Sold out
window.__shgProductCallbacks["s-4fa43997-ccf2-4ccc-88ea-57bb66be8a92"].push({ cb: "price", data: { uuid: "s-5f867bc0-a6be-488e-8ddb-01f5ab341592", hasComparePrice: false } });
window.__shgProductInits.push({ uuid: "s-4fa43997-ccf2-4ccc-88ea-57bb66be8a92", platform: "big_commerce", currency: "USD", staticVariant: false, moneyFormat: {"USD":{"currency":"USD","currency_symbol":"$","currency_symbol_location":"left","decimal_places":2,"decimal_separator":".","thousands_separator":","}}, productUrl: "https://getshogun.com/api/products", authToken: "eyJhbGciOiJIUzI1NiJ9.eyJzaXRlX2lkIjoiYmI5YmNiZmEtY2MyNi00OWFmLThhMzEtYTY2NzIwMDgyZDhlIiwicHJvZHVjdF9pZCI6IjMyMDcifQ.HdLcO5ZH40-8rDEsTxgnp2gjcl2P0tTlmlsundWvxTc", productHandle: "continuous-spray-bottle/", productVariantId: 9828 }); window.__shgProductCallbacks["s-4fa43997-ccf2-4ccc-88ea-57bb66be8a92"].push({ cb: "box", data: { uuid: "s-4fa43997-ccf2-4ccc-88ea-57bb66be8a92" } });