Posted by Jessie Jacobson on Dec 14th 2022
Jessie's Greenhouse Gift Guide
Giving gifts is the best, and this my friends is the time to do it!
When shopping this holiday season, make sure it's meaningful - something they will love, but also something you love to give. This is the way gifts communicate our care and gratitude for others.
Ya know, we can't talk about gift giving without feeling a bit stressed and overwhelmed. Buying gifts for everyone on your list is a big undertaking, and it can also be expensive. Believe me though, it really doesn't matter how much you spend. It is truly is the thought that counts.
I have a few strategies that might make gift giving more approachable. First, think of a theme. For example, you could say, this year eveyone on my list gets ______. Your theme could be thrifted items, locally made or locally purchased items, a grab bag of your favorite teas, snacks, and chocolates, only things you find at your favorite store, and always, something that brings you joy.
This week, I took a few minutes to shop in the greenhouse for gifts that check all of the boxes!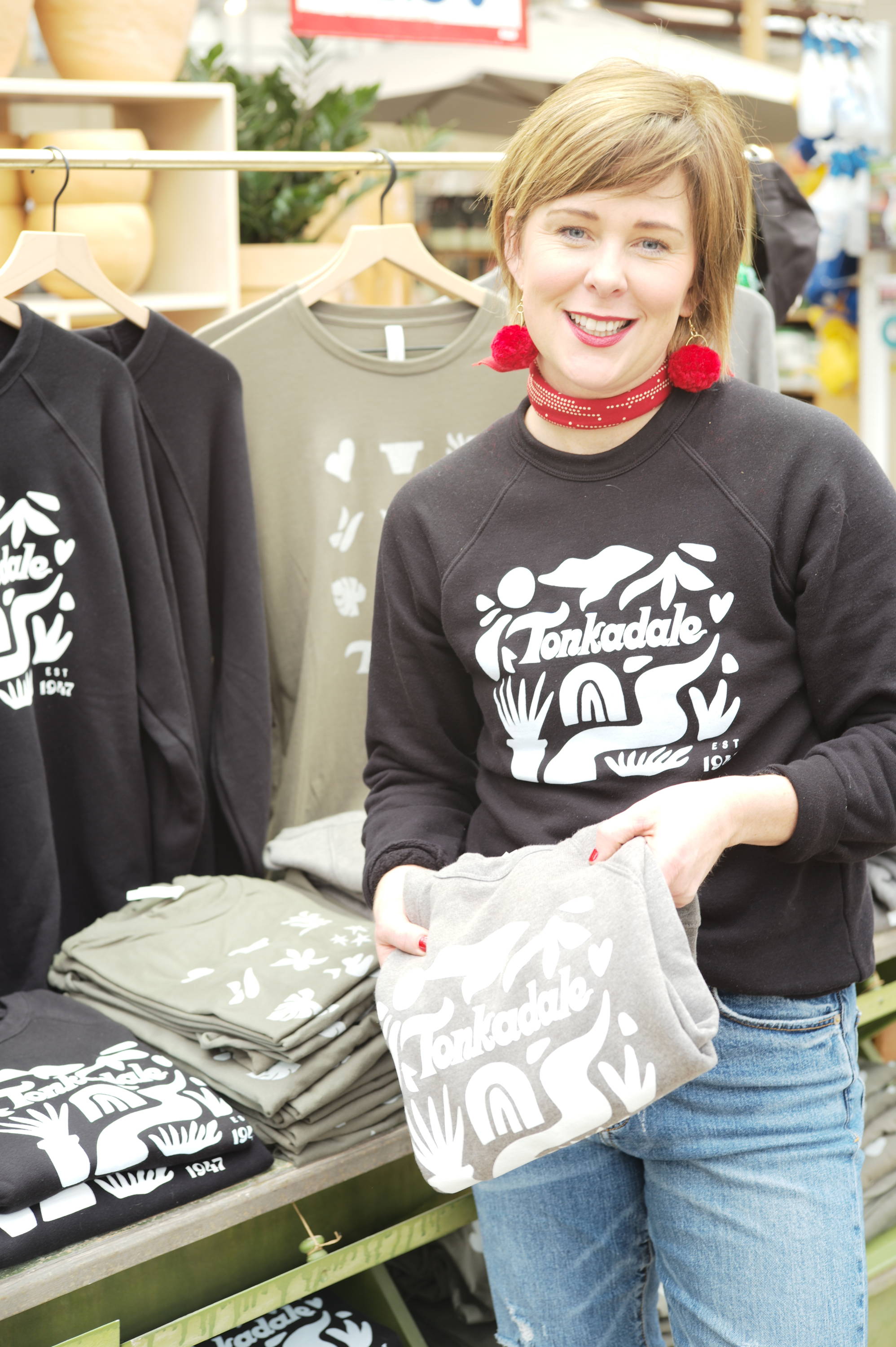 Tonkadale Merch
This year, Tonkadale is celebrating 75 years as a greenhouse. Spread the cheer with the gift of gear. What a great way to spread comfort and joy while shopping at your greenhouse home. All of our graphics are created by our talented team!
Our classic jersey tee-shirt fits like a well-loved favorite, featuring a classic crew neck, long sleeves and 100% ring-spun jersey cotton. Unisex sizing, S - 3XL. Olive-green with original artwork in soft-white screen print.
The sweatshirt is super soft with ribbed cuffs and waistband, a crew neck, and fashion-forward fleece fabrication. 52% Airlume combed and ring-spun cotton, 48% polyester fleece. Available in medium grey or black, unisex sizes XS-2XL.
The Carhartt beanie is stitched with Tonkadale's retro logo in white. 100% acrylic. One size fits most.
We love our large jute tote as a gift bag or for transporting plants. So many fun ways to use and re-use!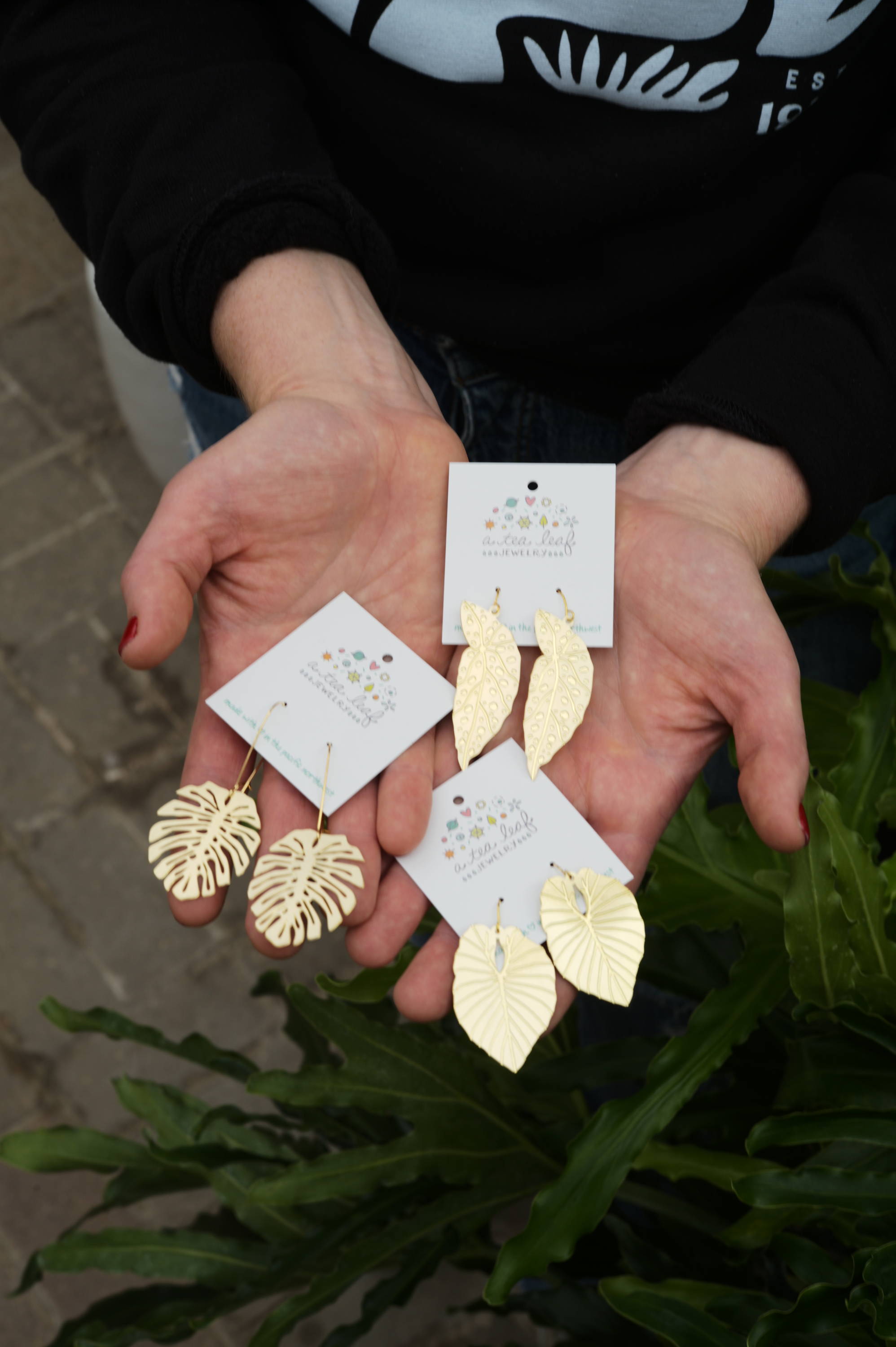 Planty Earrings by A Tea Leaf
Made from cut-out brass, these plant inspired earrings are the perfect way to dress to impress. Made in Portland Oregon. We have 8 styles to choose from. Currently loving the Begonia maculata, Monstera deliciousa, and the Alocasia leaves. 19.99 each. Available in-store only.
Splurge on the card, then splurge on a gift card.
Yes, sometimes it's fun to buy a beautiful card. We brought in just a sampling of planty pop-up cards for this holiday season with more coming this spring! Pair with a gift card and you are GTG (good to go).
You can purchase a digital or physical gift card in our online shop. Digital gift cards arrive in your inbox right away. Plan a few days ahead if you are ordering a physical gift card 'cause we gotta stick a stamp on 'em.
But wait, there's more. If you shop in-store this holiday season, we have a dazzely deal for you. When you purchase $100.00 in gift cards, December 17-24, 2022, receive $20.00 Dazzle Dollars. Redeem your Dazzle Dollar in-store January 1-March 31, 2023. Gift card for them, Dazzle Dollars for you!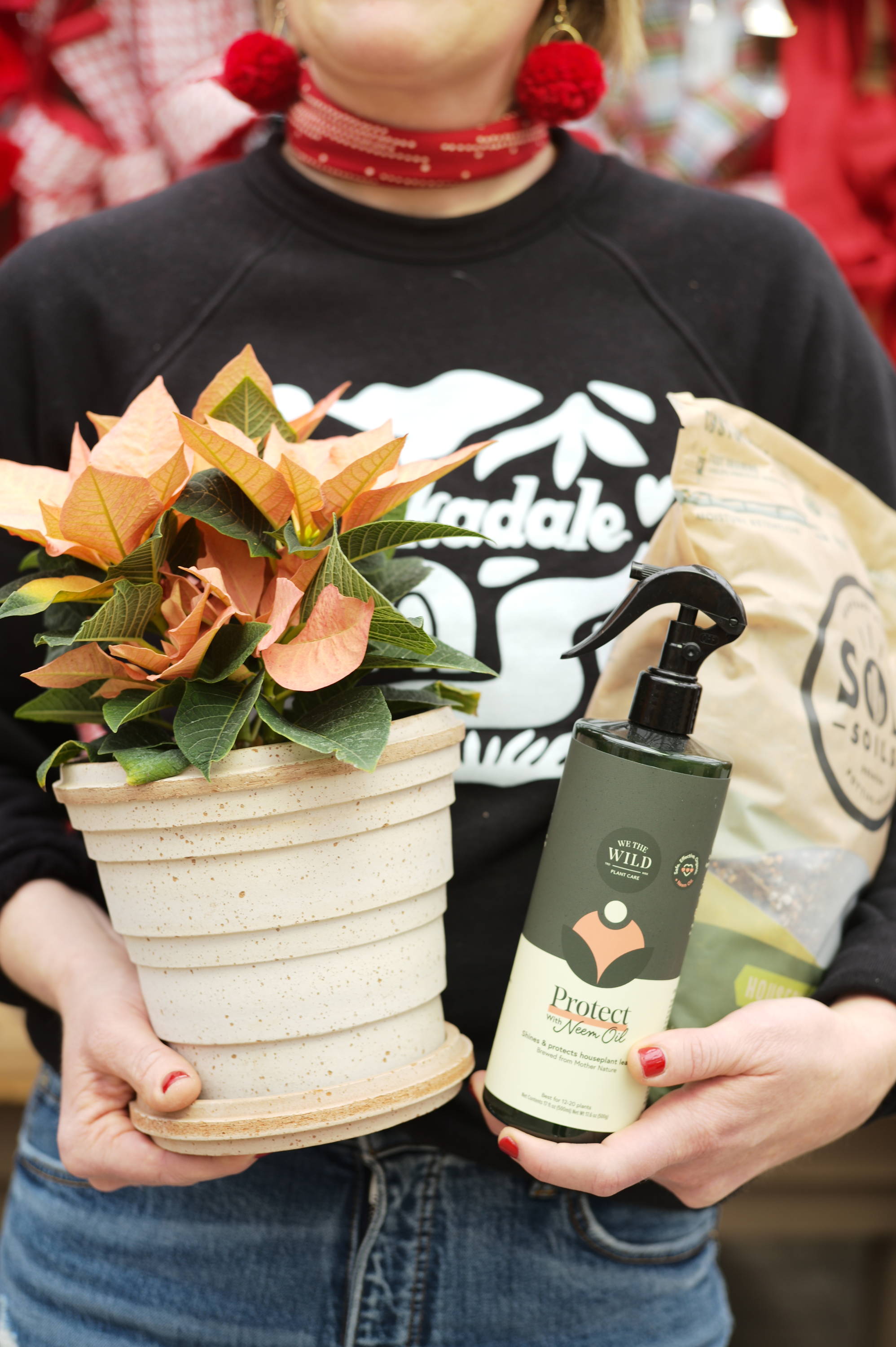 An Assortment of Sorts
I love a good gift pairing. The fun never ends!
Stay seasonal, yet distinctive with our peachy keen home-grown poinsettia placed in the Planets Pot by Bergs Potter. So classic and clean.
Give them the goods when it comes to potting soil and plant protection. We the Wild's Neem Oil protects and shines. This really cool formulation not only repels and smothers insects, it also tamps down fungal infections while offering a unique blend of nutrients derived from vermicastings. Vermicastings are basically worm waste which contain all sorts of beneficial bacteria that increases your plants natural immunity. Essensial oils make this product smell just like lemons while giving your leaves a nice sheen and shine.
The Chunky Houseplant Mix was developed by our friends at Sol Soils right here in Minneapolis. This mix contains the perfect amount of organic matter to ensure your houseplants get all the moisture and nutrients they need to thrive and also utilizes recycled coconut chips and coir, an otherwise wasted byproduct of the coconut industry. As a soil component, the ground husks offer excellent aeration and moisture retention properties while providing a fast drainage to reduce the risk of soggy soil and root-rot. Perfect for aroids like monstera, anthurium, alocasia, ZZ plants, as well as dracaena, snake plants, pothos, calatheas, etc.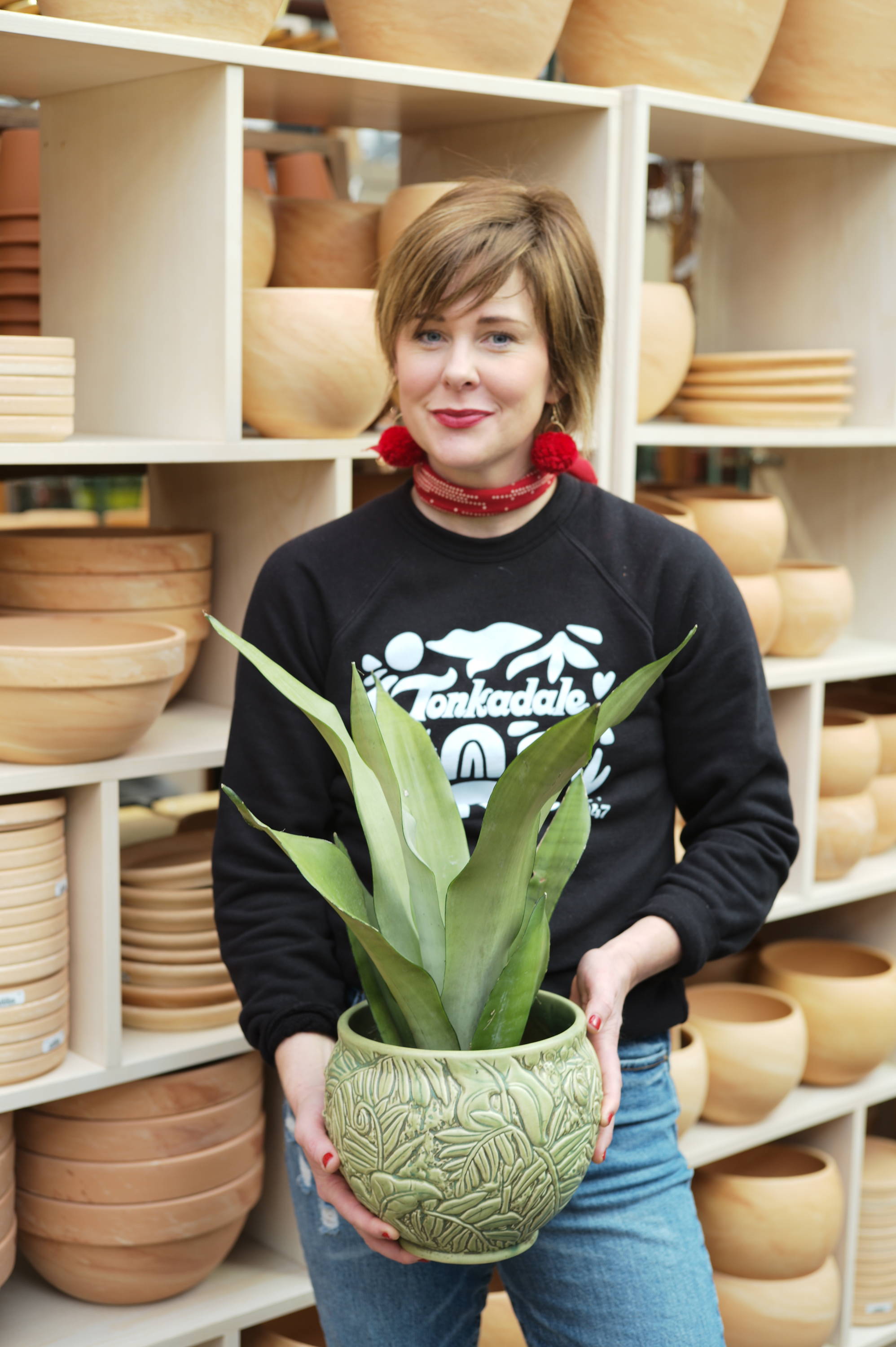 Founds Items Forever
I absolutely love a good vintage find. Shopping for vintage pottery is a natural high for me. The thrill of the find is so real, and when you put that kind of energy into picking out an item, the recipient will feel it too. Vintage pots hold a story that are all their own and when paired with a plant, gift giving magic occurs. I'm not sure the orgins of the pot shown here, but it is one of my favorites of all time. Has anyone else noticed that monochromatic everything is in style right now?! I mean, I can see myself in a sage sweatsuit on a Saturday after this match-up was made. I just love the leaf detail of this jardinare. Plop in a 6" Sansevieria Moonshine, and you are all set. Just don't forget to winter wrap if you are heading over the river and through the woods.
Happiest of Holidays to all. Give more than you get. Be merry, be bright.
Jessie