Posted by Jessie Jacobson on Sep 7th 2023
We love Fall because it feels so good! Ahhhh. Cool, crisp mornings and that warm glowy sunshine in the afternoon. Glorious. And the colors - deep hues of orange, rust, red, and gold. You can almost taste them. What's not to Fall in love with?! While we look forward to the fall, take a look back at your containers and garden beds. Many of your spring annuals are tired and need a rest. It's time to plug in our favorite fall annuals and enjoy the bounty of fall as we move towards our first hard frost!
Grab a fresh bag of Tonka Terra and a 12-14" pot
Pick your Mum. The first, and easiest choice should be the color of your mum. Build your container design around that. Hot tip: always choose a plant with tight buds so you can enjoy your mums well past the first frost.
Keep the design simple and just make everything chunky. Chunk of Mum, chunk of grass…chunk of this, chunk of that.
Add height with birch twigs or birch poles, or with faux fall leaves or berry stems.
Pack it tight. There is not much grow time in the fall, so pack your containers full.
Stick a pumpkin in it! Just tuck it right in among the plants.
Fall containers will do well in either sun or shade. The more sun your planters receive, the faster your mums will open. However, in too much shade, you mums might not open at all. A nice balance of bright light to full sun is best.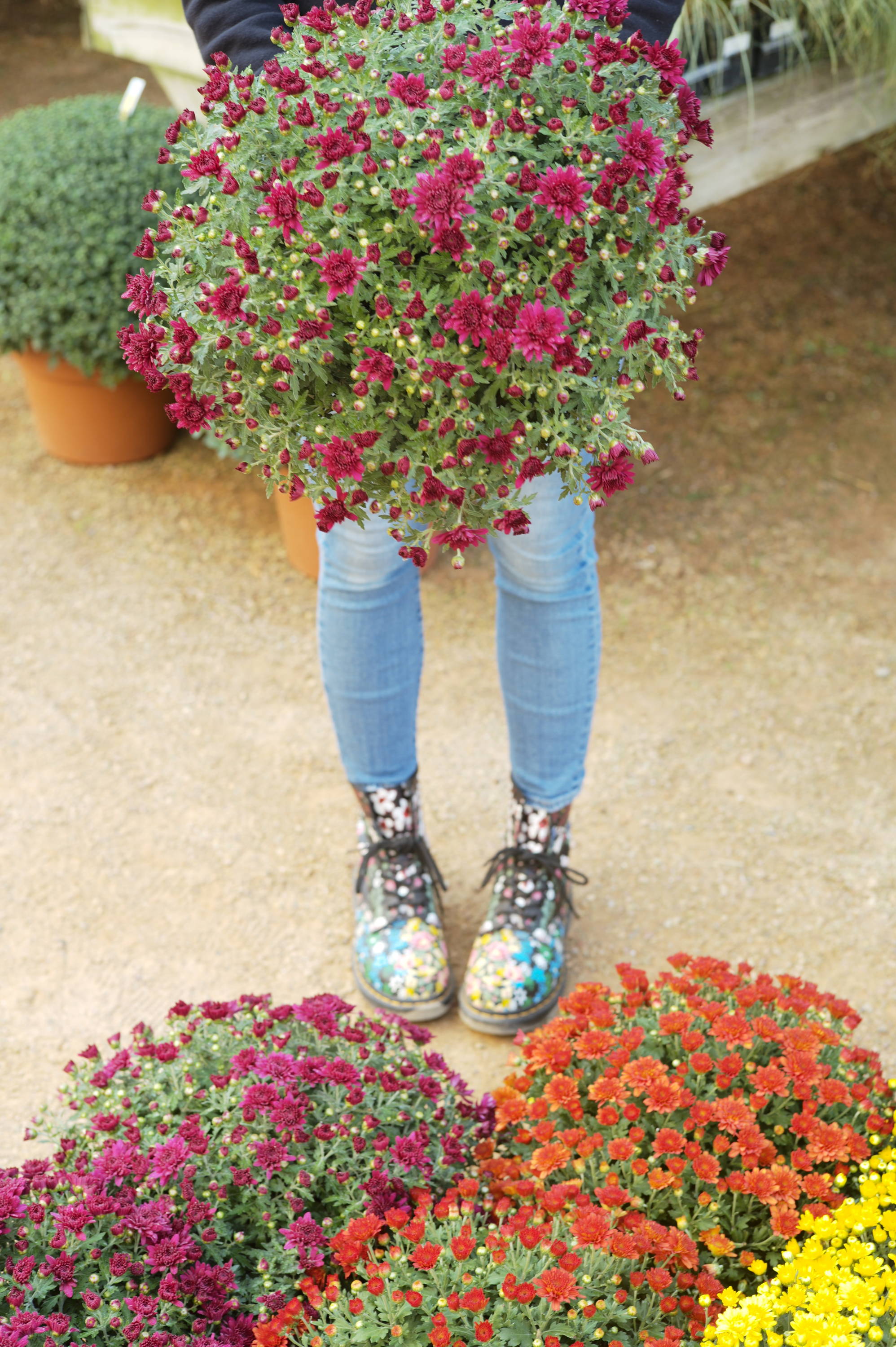 Mums are phototropic meaning they flower in response to day length, specifically short days and long nights. Buds form when the photoperiod drops below 12 hours and continue to develop as the days get shorter and the nights get longer. Cool temps are a bonus too because it helps hold blooms longer. Think about a ripening fruit – fruit will ripen more quickly on the counter than in the refrigerator. Mums come in a variety of colors – yellow, orange, red, white, purple, and even pink. At Tonkadale we grow our mums at our growing range and offer several beautifully plump varieties including. Shop them here!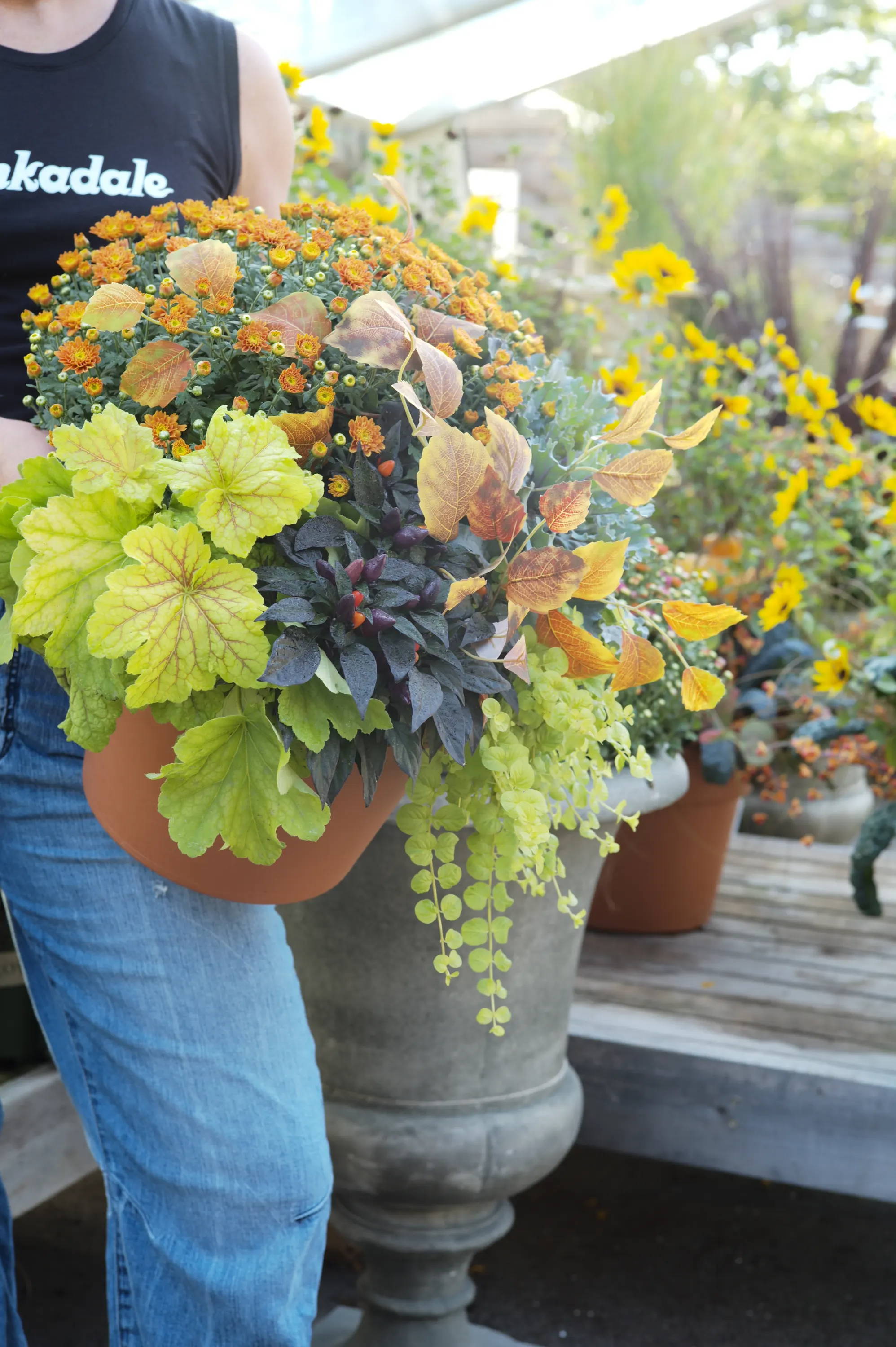 Starting from bottom left and moving clockwise: Coral Bells, Mum, Ornamental Cabbage, Lysimachia, Ornamental Pepper
Ornamental Kale and Cabbages

Choose from leafy cabbages and ornamental kale to liven up your fall designs. Leafy kale is upright adding height to containers and garden beds. Cabbages are lower growing and more crown like. The colors of kale and cabbage range from whites to pinks, to purple, and deep bluish green. And major bonus, as the nights get cooler, their color deepens right before your eyes. Shop cabbages and kale here!
Some herbs such as basil cannot handle cool temps, but herbs like sage, parsley, and rosemary can even handle a frost. Add herbs for fall containers for an aromatic pick-me-up!
Sedums respond to cooler temps by deepening in color. Though they seem like they could be fragile, they stand up well to the cold and can withstand a light frost. Lemon Ball Sedum is an annual in our area, but also consider adding perennial sedum to the mix to change it up!
Also called Creeping Jenny, the bright, chartreuse coloring and pretty, trailing habit will lighten and liven up any design. Shop here!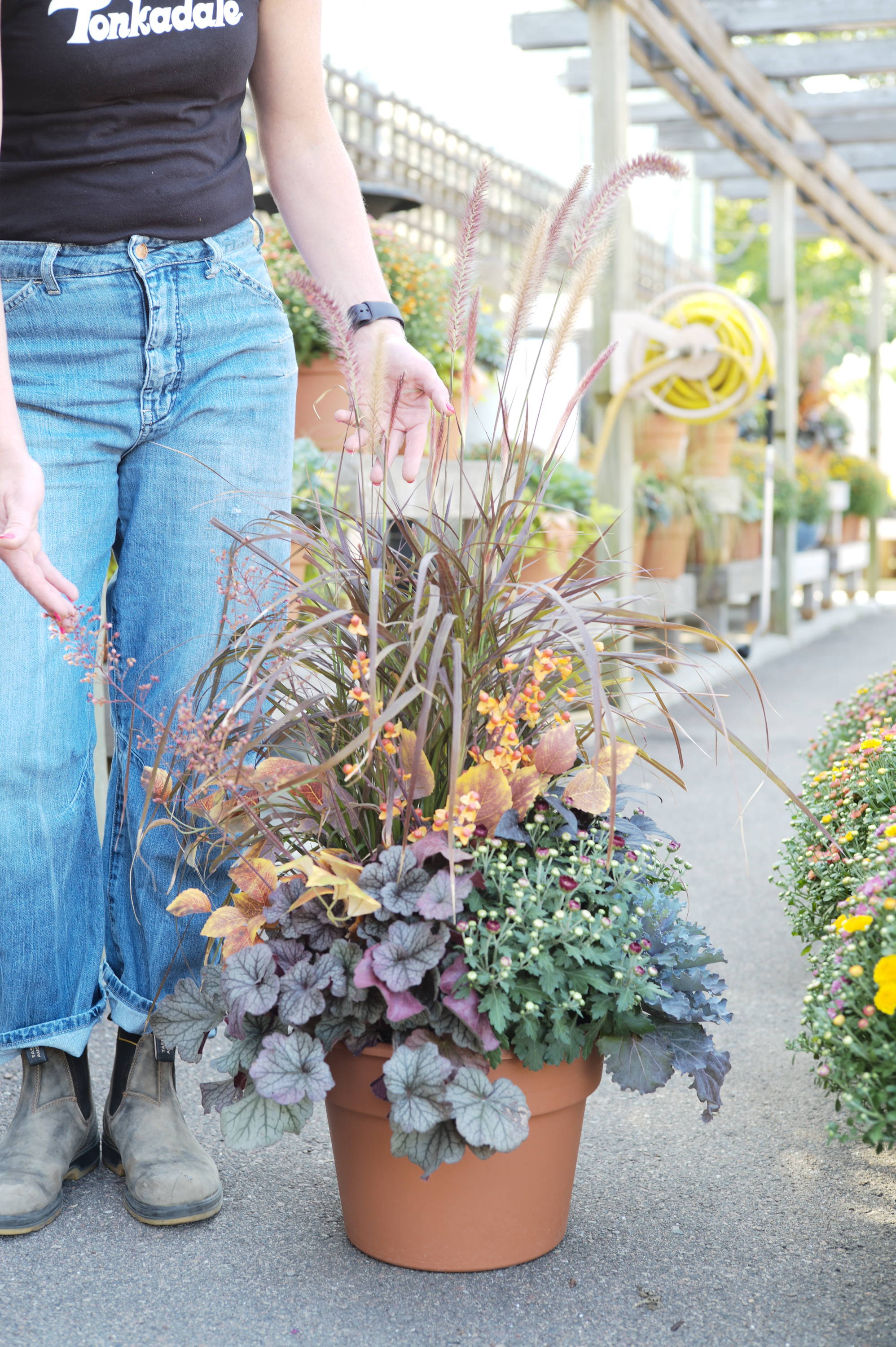 Starting from bottom left and moving clockwise: Coral Bells, Purple Foutain Grass, Ornamental Pepper, Ornamental Cabbage, Mum
There are a wide variety of grasses that are an excellent choice for fall containers. The unique, tawny brown coloration of leather-leaf sedge is a perfect upright choice while the same coloring can be found in Toffee Twist, which is best for cascading over the edge of a container. Try perennial grasses for added height and interesting seed heads. Shop here!
Coral Bells (also called Heuchera) add interesting texture and a touch of Fall color to containers. Choose from golds, reds, and purples. They are a perennial in our area, so if you get the chance, plant them in your garden before the ground freezes solid.
Ornamental pepper plants are such a fun addition to Fall containers. Cute little peppers come in yellow, orange, red, and purple. Shop here!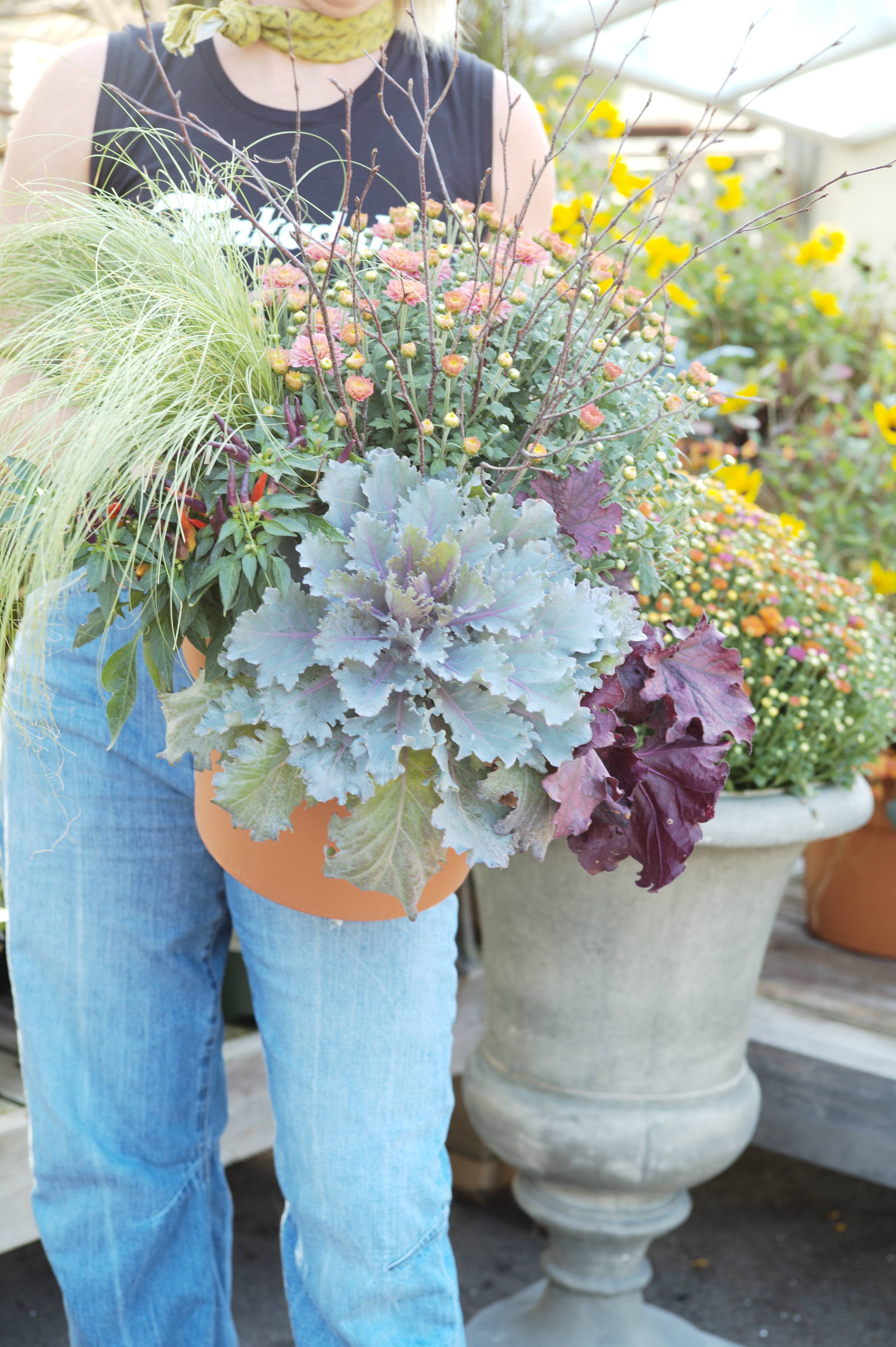 Starting from bottom left and moving clockwise: Ornamental Cabbage, Ornamental Pepper, Annual Grass, Mum, Heuchera
Add faux leaves, berries, pods, and other fun elements to your Fall designs. And, they're all available on a stick, so it's easy to just tuck them in among the living plants for an extra dose of Fall.
Really, any of these plants and elements can be arranged together in any way you choose, you can't go wrong if you keep it simple.
Happy fall planting!