Posted by Jessie Jacobson on May 9th 2022
Container Gardens for All Season Color
Container gardens greet your guests, set the mood on the patio, and give us sunshine all season long. At Tonkadale, we are busy cooking up containers for your grab and go pleasure, but if you'd like to create your own, do it to it!
Shade
4 hours or less of direct, morning sun, dappled light, or intermittent light throughout the day. Usually in a covered area or the North side of the house. Indirect light.
Part Sun
4-6 hours of morning sun, or late day sun. Not the heat of the day. Usually the East side of the house.
Full Sun
6+ hours of direct sun. Usually in an exposed area or the West and South sides of the house.
Drainage is a must for all container gardens. If your container doesn't have a hole, you can drill one, poke one, or cut one. Another option is to use a drop-in pot. Simply a plastic pot that fits the depth and diameter of your container. The benefits of using a drop-in are many:
Provides drainage if your decorative pot does not have proper drainage.
Reduces the risk of damage to your pots due to freezing and thawing temperatures in the winter.
Drop-ins make it easy to change your containers from season to season. All you need to do is simply lift and dump and you are ready to start again for the next season.
We recommend Tonka Terra, our organic, house blend potting soil when planting outdoor container gardens. It has all the good stuff to anchor and keep your plant thriving all summer long! Each bag is 1 cubic foot of soil which is enough to fill 2 standard sized 12" pots.
Check pots, window boxes, and hanging baskets daily until you are comfortable with the rate at which they dry out. Water when the top 1-2 inches of soil are dry or if plants show wilt. Planters, boxes, and baskets in the shade will require less water while those in the sun will require more. Wind can be very drying. Do not count on a rain event to give good watering coverage. Best practice is to water long and deep to provide adequate moisture. Extreme heat will increase watering needed. Check twice daily during the heat of the summer.
Fertilize your pots, window boxes, and hanging baskets at least 1x per week to encourage robust blooms and green growth. Combination planters in deep shade will require dramatically less fertilizer.
At Tonkadale, we recommend an all-purpose liquid fertilizer like Miracle-Grow. For containers planted with petunias, calibrachoa, hibiscus, and mandevilla, use an acidic fertilizer such as Mir-Acid. For containers that are difficult to reach, use a slow-release fertilizer such as Osmocote.
Check out our guide to fertilizing outdoor gardens and containers!
Foliage first. Use foliage as the architecture of your container. Foliage is the color and structure you can depend on if blooms fade in and out throughout the season. Big and chunky, fun and funky - choose a few key elements to highlight in your containers. This creates more impact and drama.
At Tonkadale we rely on a few quintessential recipes, a place to start when you feel overwhelmed.
For shade: Fern, begonia, ivy.
For sun: A spike, cordyline or grass, geraniums, coleus, petunia, potato vine.
No two containers will look the same!
If you are stuck, start at the coleus table. They will lead you in the right direction. And of course, Tonkadale always has a plethora of sun and shade containers all planted up and ready to go! A great place to draw inspiration or just grab and go. We won't tell your neighbors that you didn't plant it.
Check out what we are planting this week in the greenhouse!
Eugenia, 2-ball Topiary
Heimalis Begonia Sandrine x 3
Calathea ornata x 3
Hypoestes Pink Splash x 3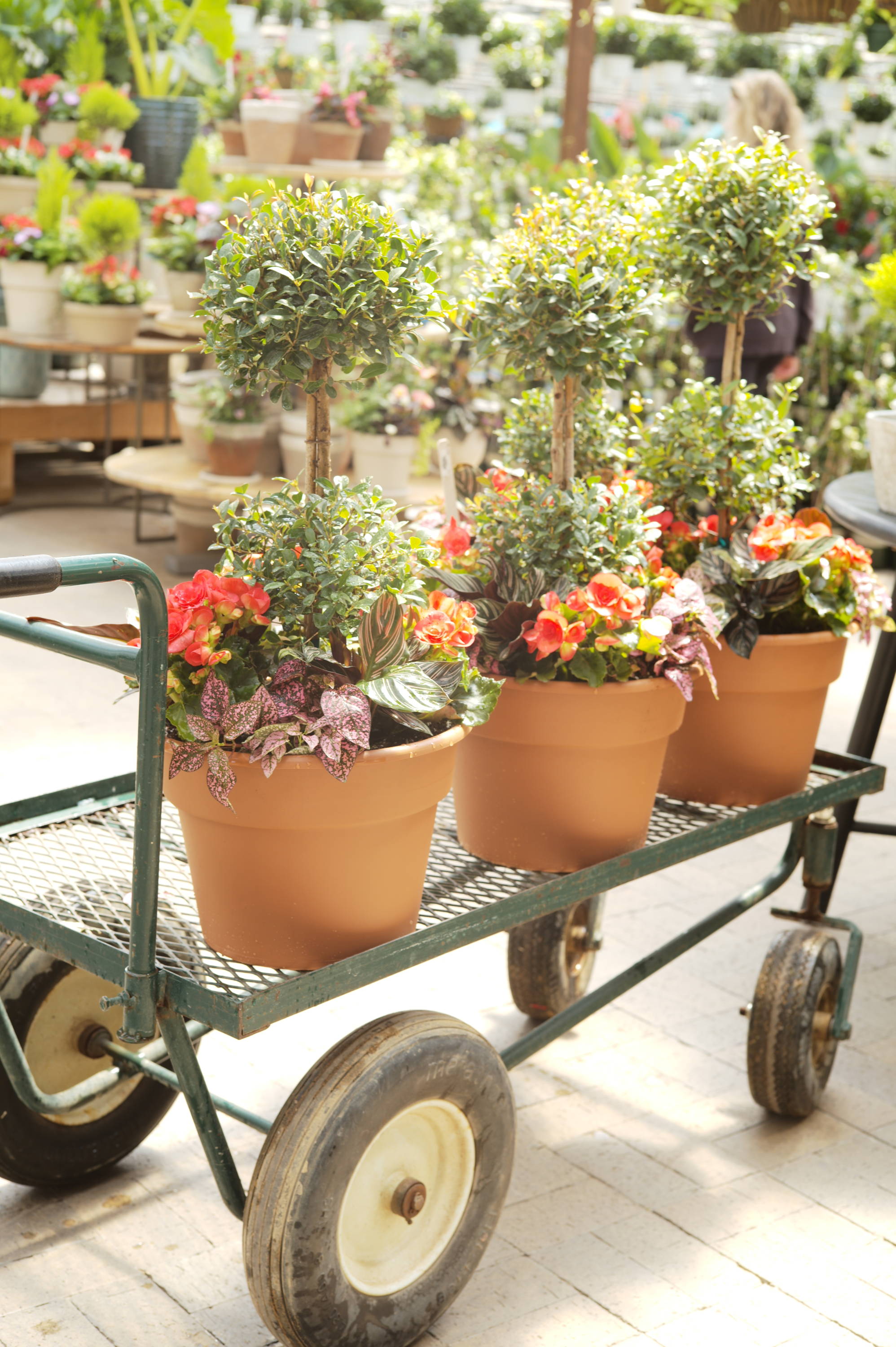 Cypress Grass Prince Tut

Geranium Dynamo Violet

Coleus Orchard Road

Lantana Bandana Cherry

Angelonia Raspberry

Lysimachia Lemon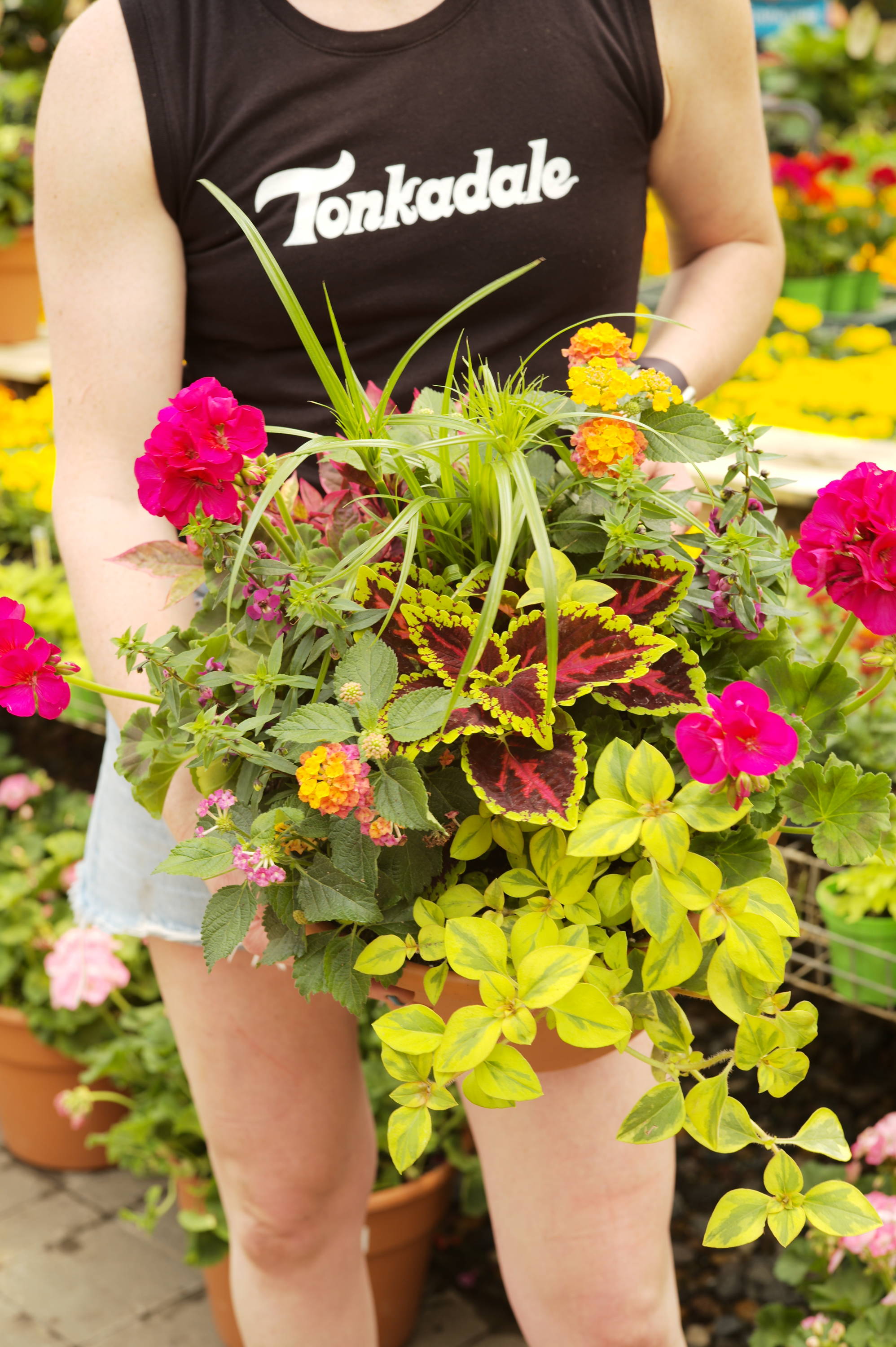 Fern Kimberly Queen

Caladium Red

Begonia Sandrine

Torenia Amethyst

Sunpatiens Compact Orchid

Algerian Ivy

Coleus Orchard Road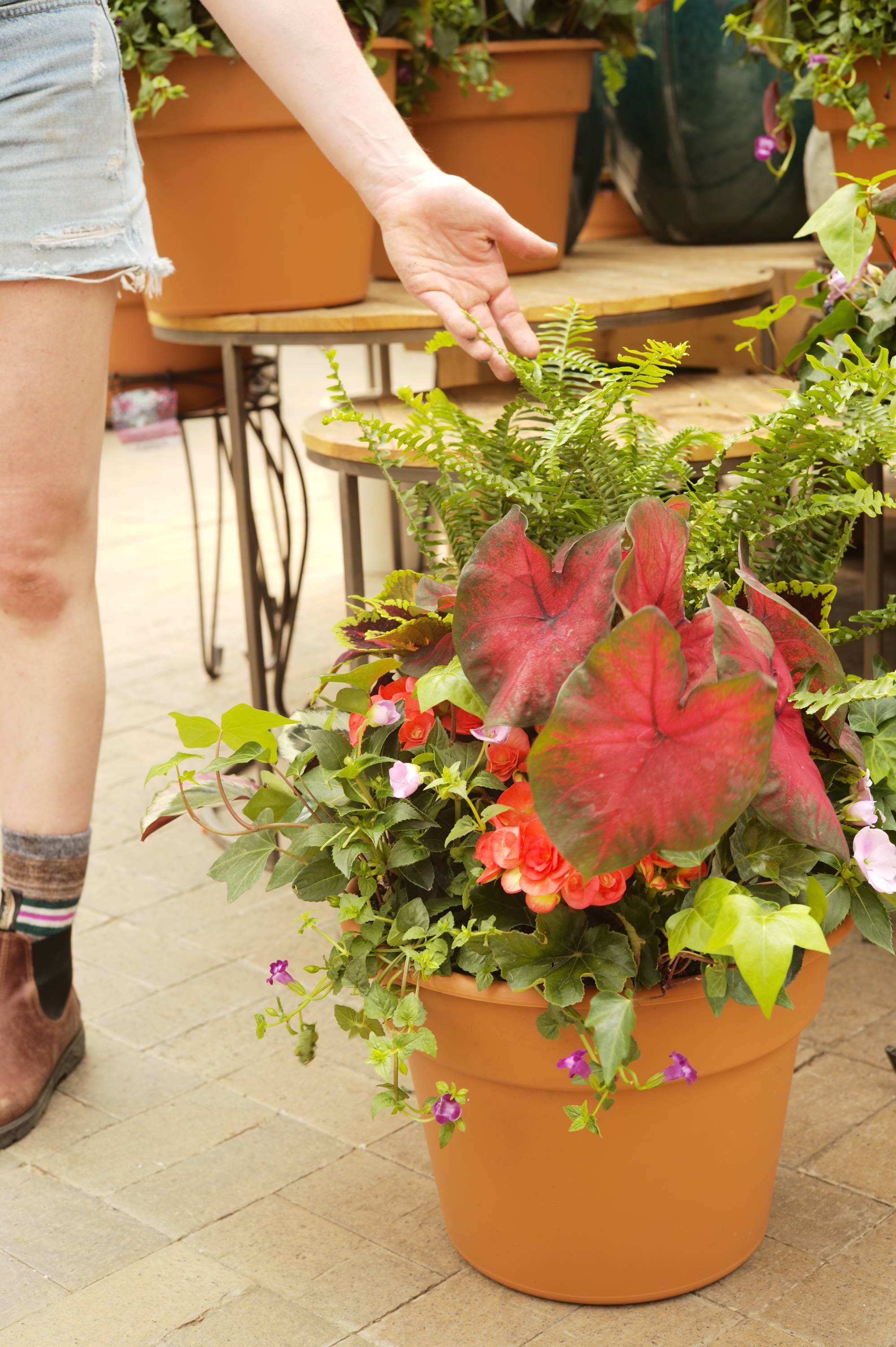 Canna Tropicana

Geranium Dynamo Orange

Lantana Bandana Gold

Alternanthera Red Hots

Angelonia Dark Purple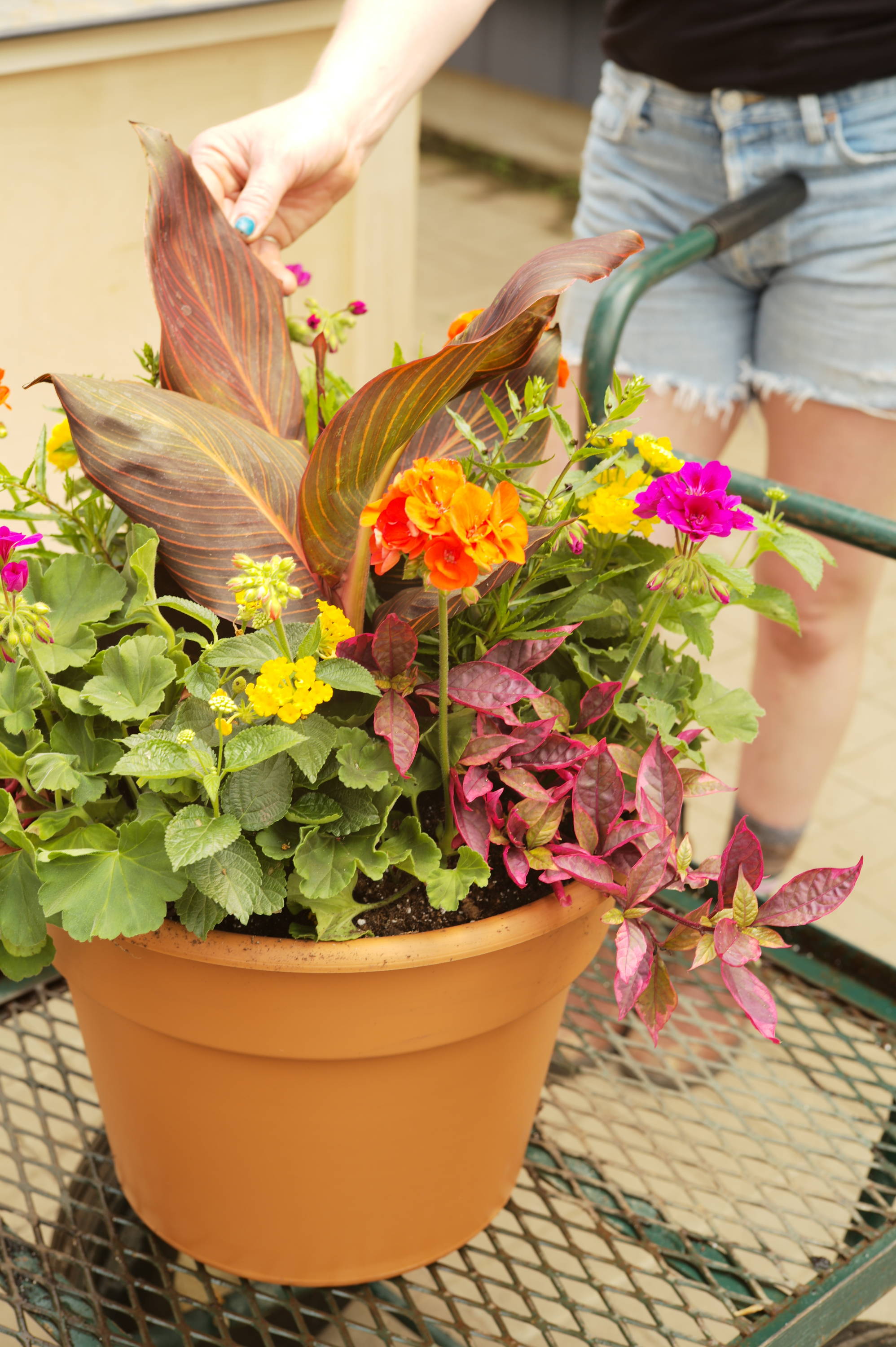 Lemon Cypress

Begonia Sandrine

Euphorbia Breathless Blush

Coleus Chocolate Cherry

Sunpatiens Compact Orchid

Lysimachia Goldilocks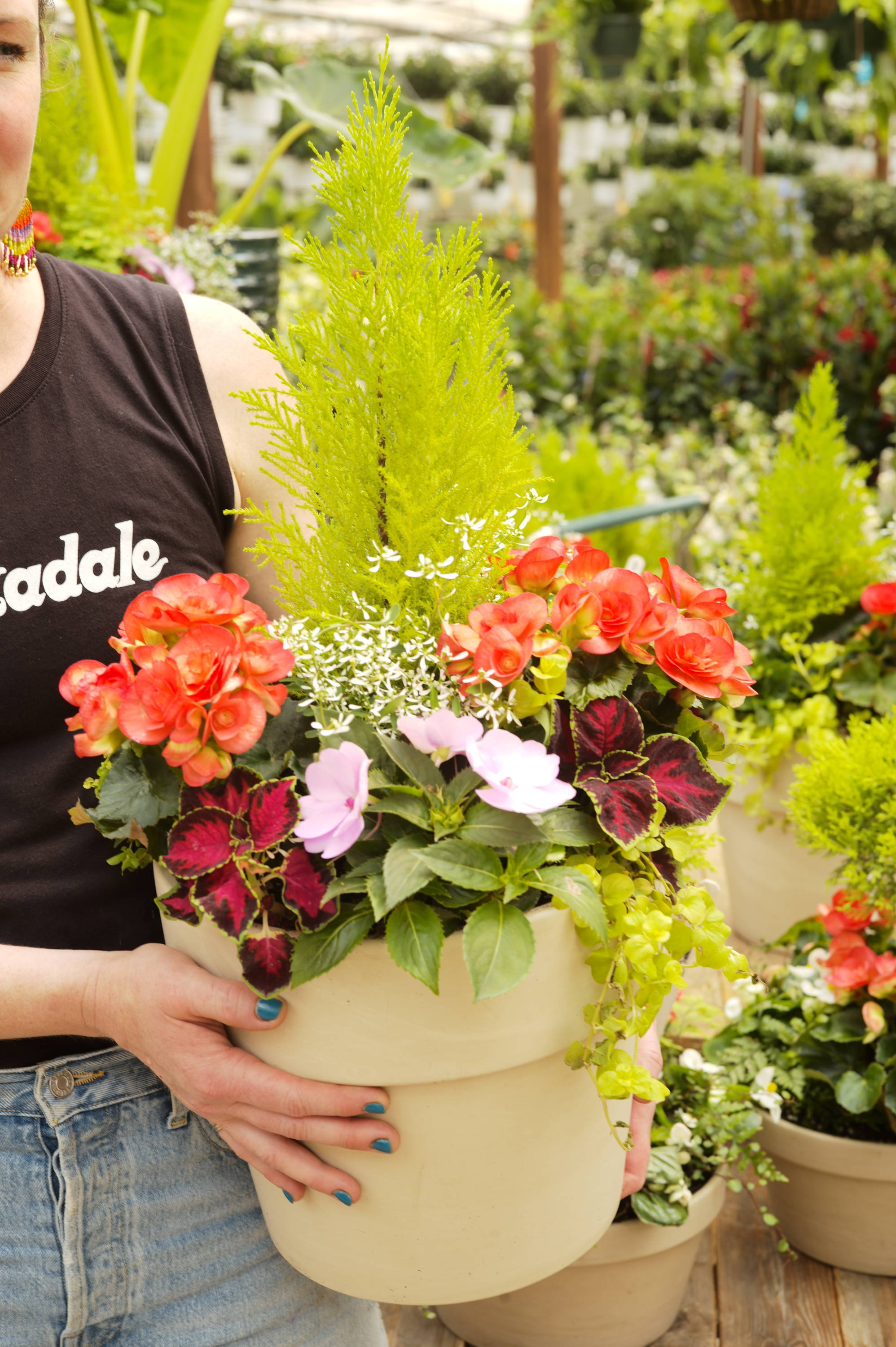 Your containers, window boxes, and hanging baskets will enjoy some extra love and care. Make sure to dead-head spent blooms, pinching back all the way to the stem - petunias, calibrachoas, geraniums, and begonias. Prune and pinch foliage of vining plants to encourage fullness and a shapely appearance - vinca vine, sweet potato vine, ivies. Pinch back taller plant such as coleus to keep their height in check and to create a fuller plant.
---
---