Posted by Megan Nichols on Dec 5th 2020
We love this time of year! The holidays are just around the corner, pretty snow is on the way, and all the festive colors and decorations bring us joy! 'Tis the season for all things merry, and what better merry-making than gifting a plant? Plant gifts make the best gifts!
Indoor plants let us enjoy something green and growing even while the world outside is asleep. Plants help bring calm and focus into our lives and give us something to nurture and care for, and more of that in our lives and the lives of those we love is always a good thing.
Here's a quick guide to top plants and pots to gift, as well as pre-gifting care.
Start a Collection
When curating a collection of plants think about the shape, size, and texture of leaves. Choose contrasting elements to make each stand out when grouped together. Add quick interest and variation with this collection of easy plants. Aglaonema Silver Bay's chunky, silvery leaves make a statement and pair well with the thinner leaves of Aglaonema Mondo Bay, while Dieffenbachia Star Bright has stunning, speckled variegation on the leaves, making it stand out. The Ramos Pots (limited supply, available in store only) allow the plants to be the star of the show. Grow this collection in bright indirect or medium light and water when top inch of soil is dry. Humidity keeps them happy, so grow in a humid room or mist occasionally.
Easy Peasy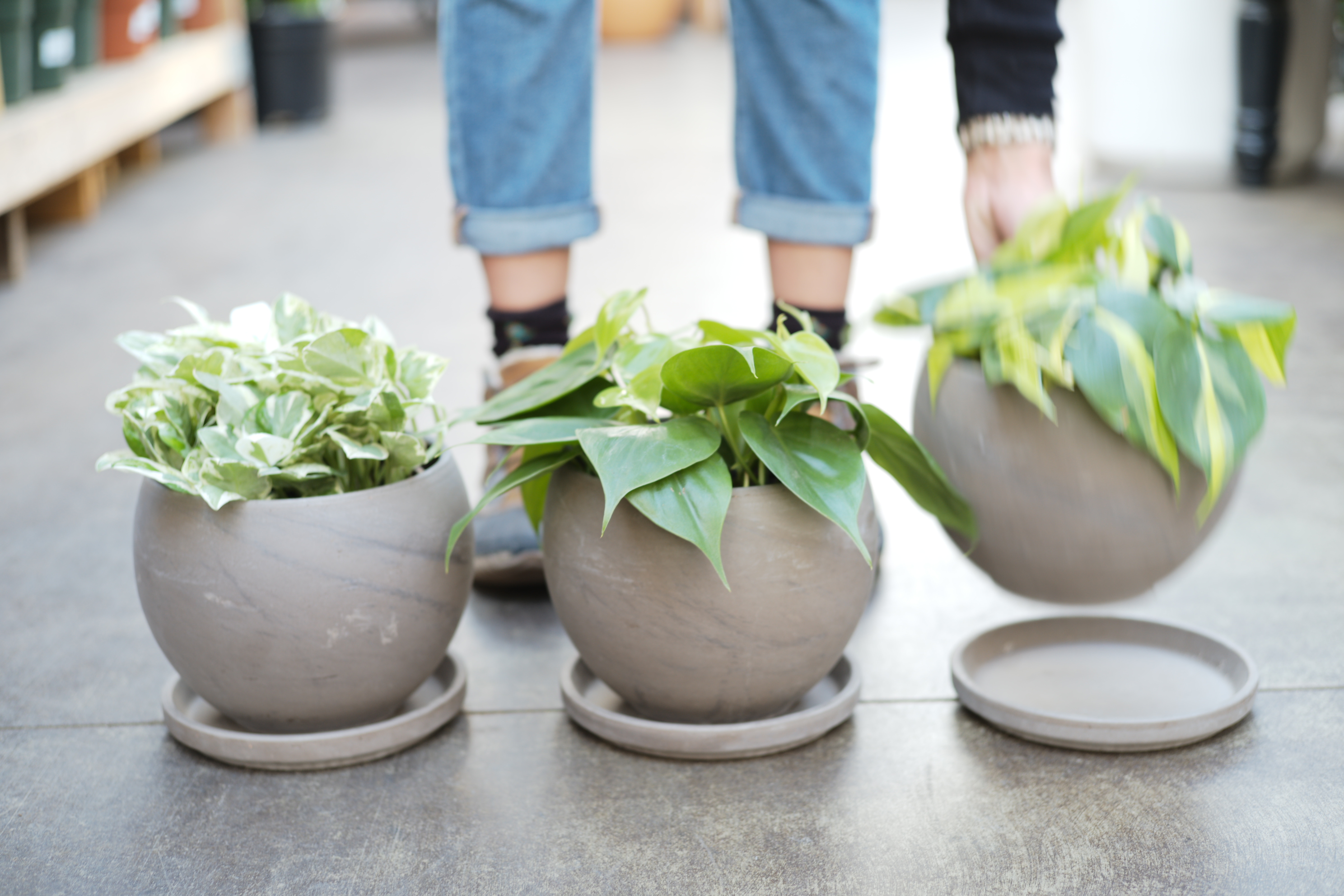 Have a new or aspiring plant parent on your gift list? Choose plants that are easy-care and very forgiving. Try Philodendron Cordatum, Philodendron Brazil, and Pothos Pearls and Jade.
They are a great start or addition for the new or busy plant parent. Pop them into the Luna Sphere Basalt planters for a look that goes with any décor.
Easy Breezy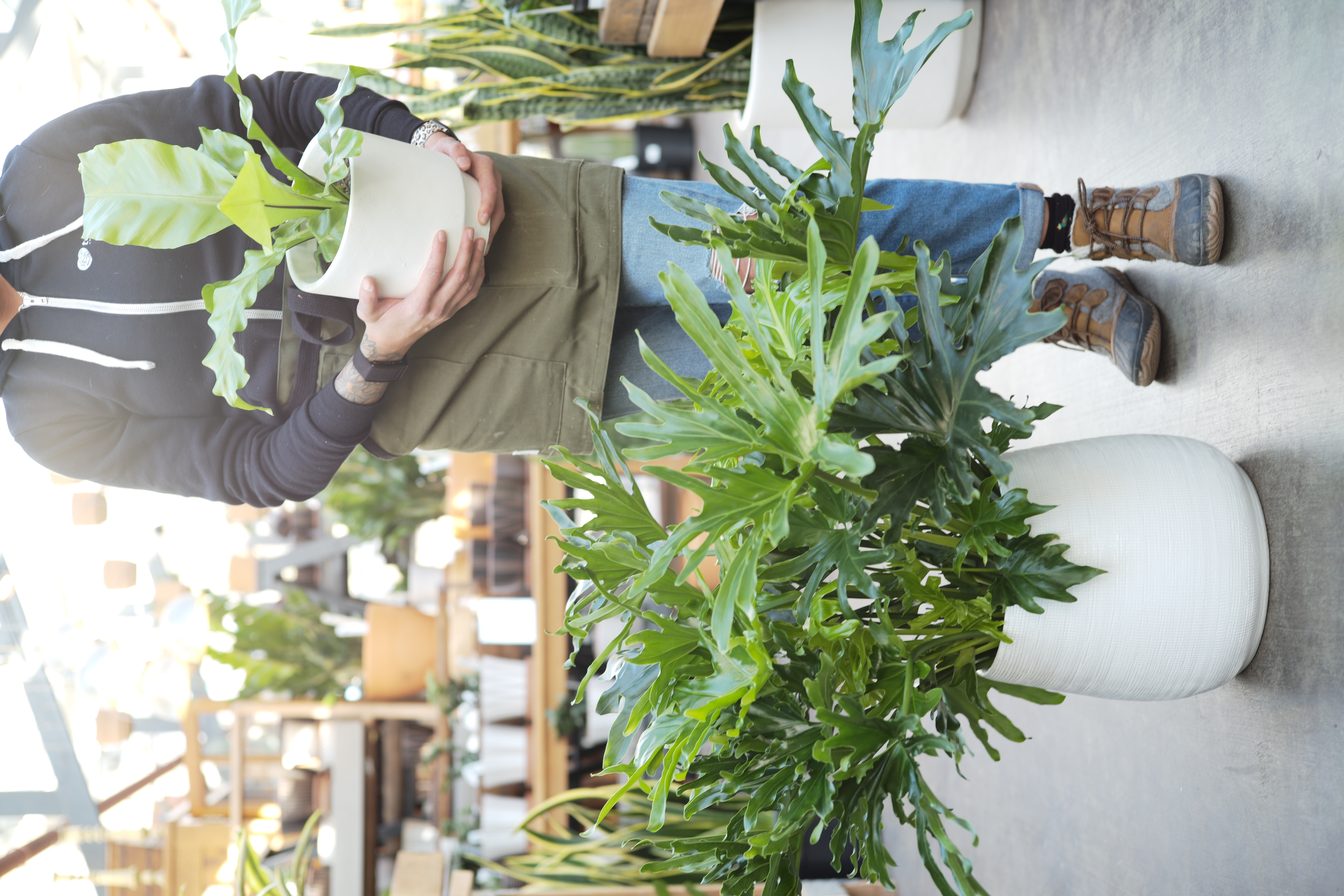 Another pair with easy care! Even the experienced plant parent will appreciate easy plants. Not everyone needs to be a diva! Philodendron Hope (in White Benji Pot) and Japanese Birds Nest Fern (in Glendale Pot in White) add a touch of island paradise during the cold days of winter. Grow in medium or bright, indirect light and water when top inch of soil is dry.
Low Light Loft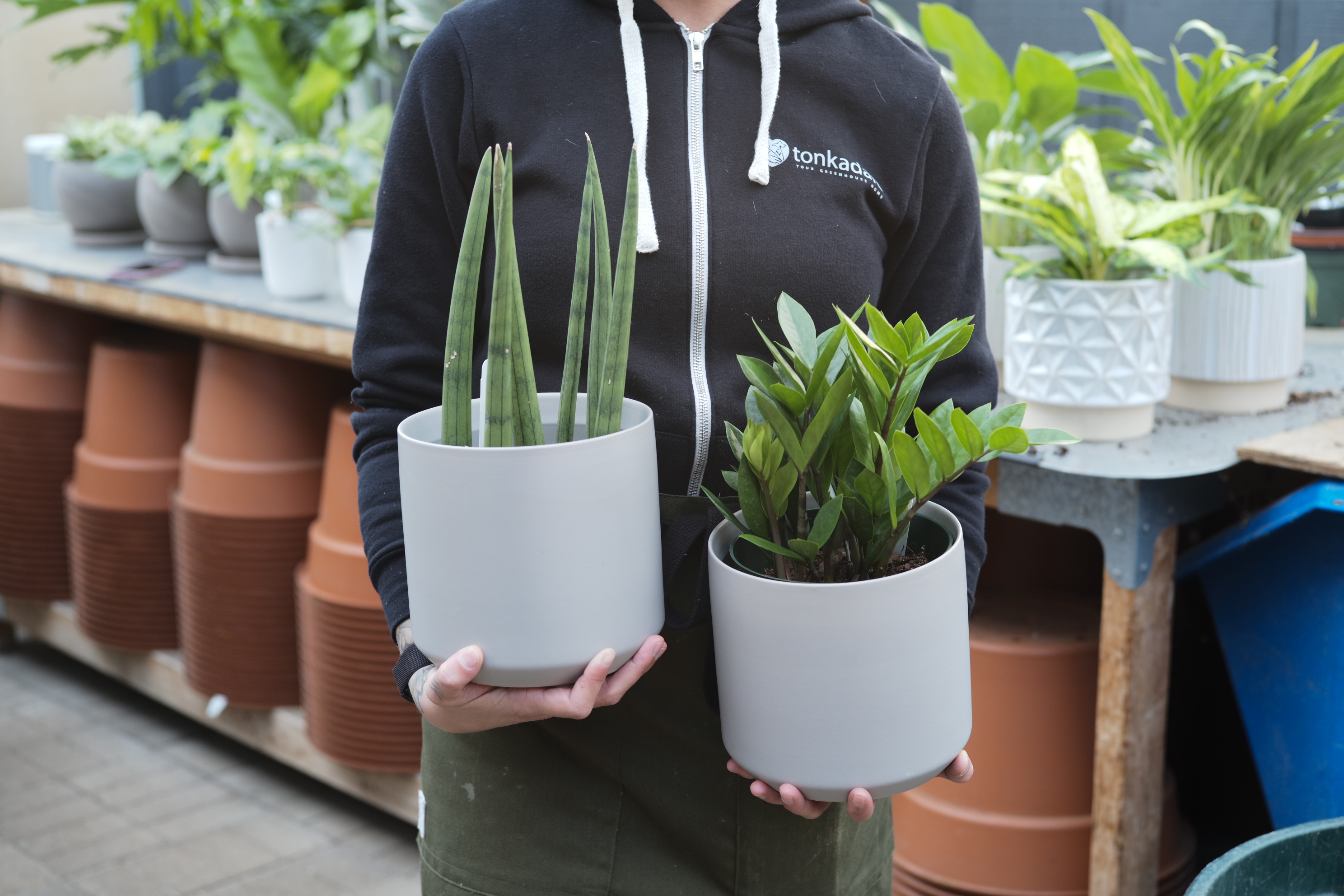 Got a plant-loving friend with a low light situation? Help them add some green to those dark corners.
Sansevieria Cylindrica and ZZ Plant can handle growing in rooms with North facing windows or being placed several feet from a window. The Kendal Pot in Grey is the perfect, elegant pairing for this pair of plants!
Floor Plant Favorites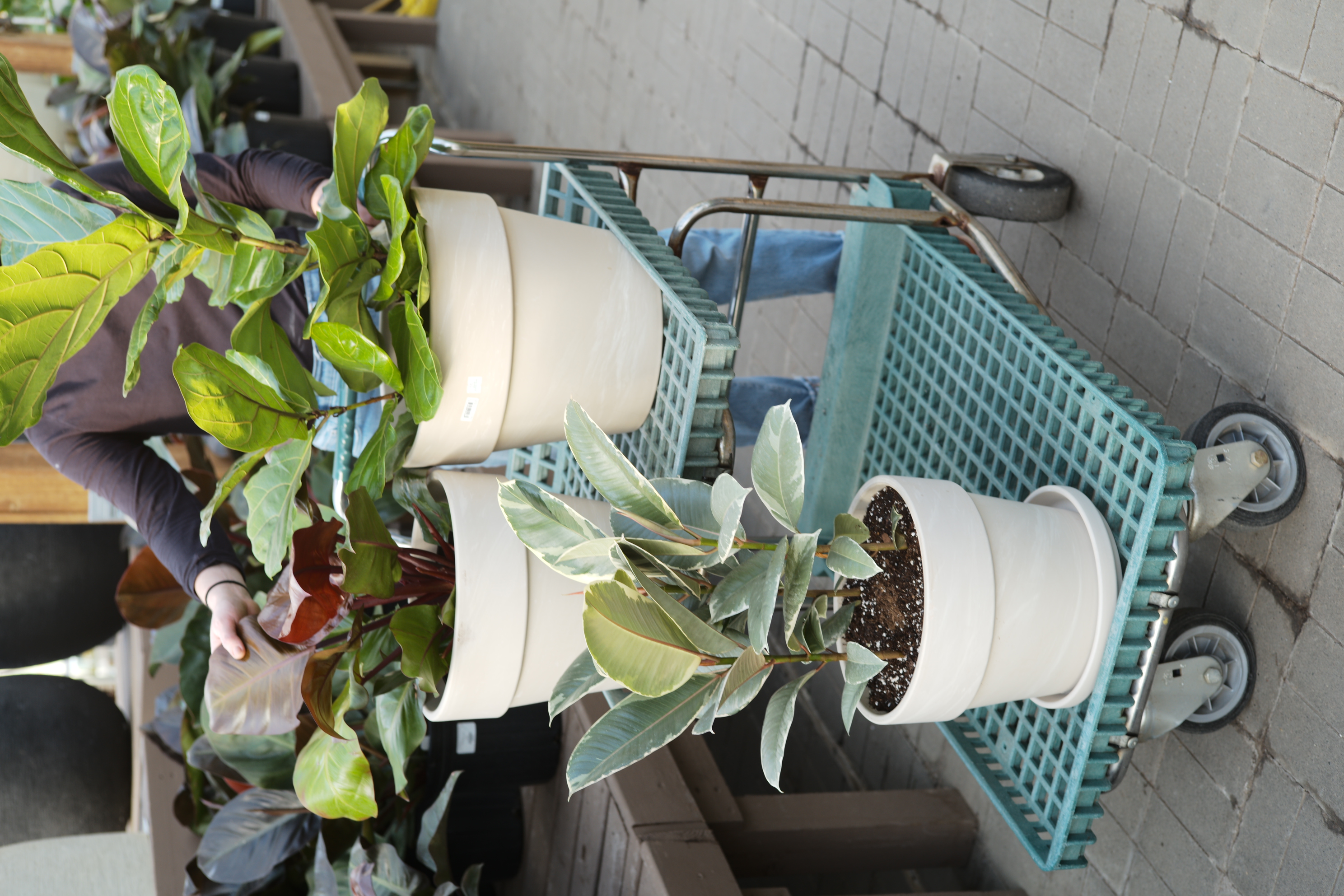 A short statured version of the tree, the Fiddleleaf Fig Bush is the perfect little plant for the floor that boasts the same bold leaves as it's big brother.
With its large green and burgundy leaves, Philodendron McColley's Finale is a stunning floor plant that maintains a small profile and fits well into any space.
Ficus Tineke, also known as a rubber plant, is a variegated version that brightens up any corner.
With it's weighty look and handsome shape, the Calima Pot in Granite is an excellent choice for plant housing.
Grow in bright, indirect light and water when top inch or two of soil is dry.
Hanging Around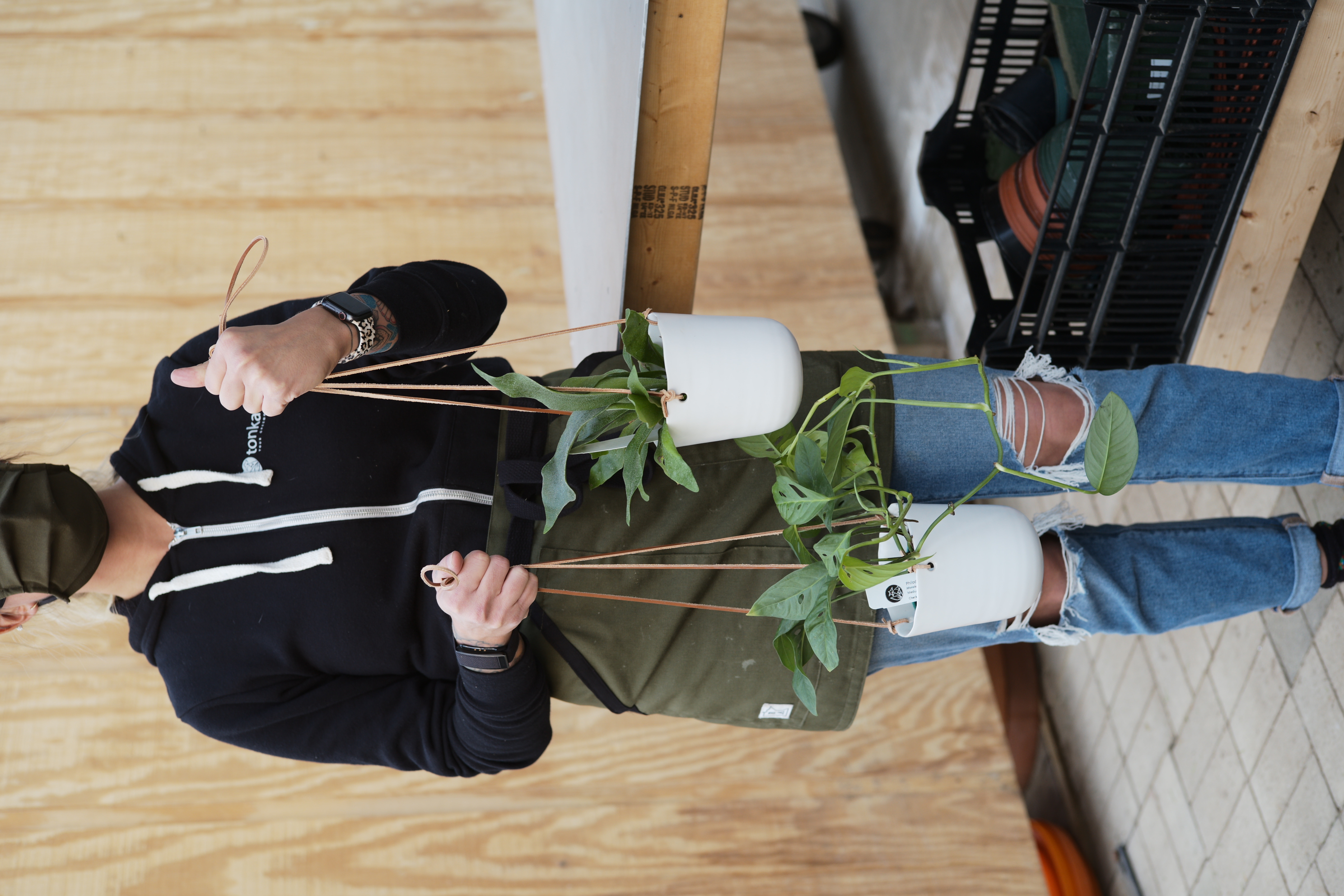 Whether space is at a premium or purely for decorative purposes, think up when gifting a plant and pot!
Staghorn Ferns and Monstera adansonii make excellent hanging plants and are especially pretty in the Doni Hanging Planter.
Keep It Local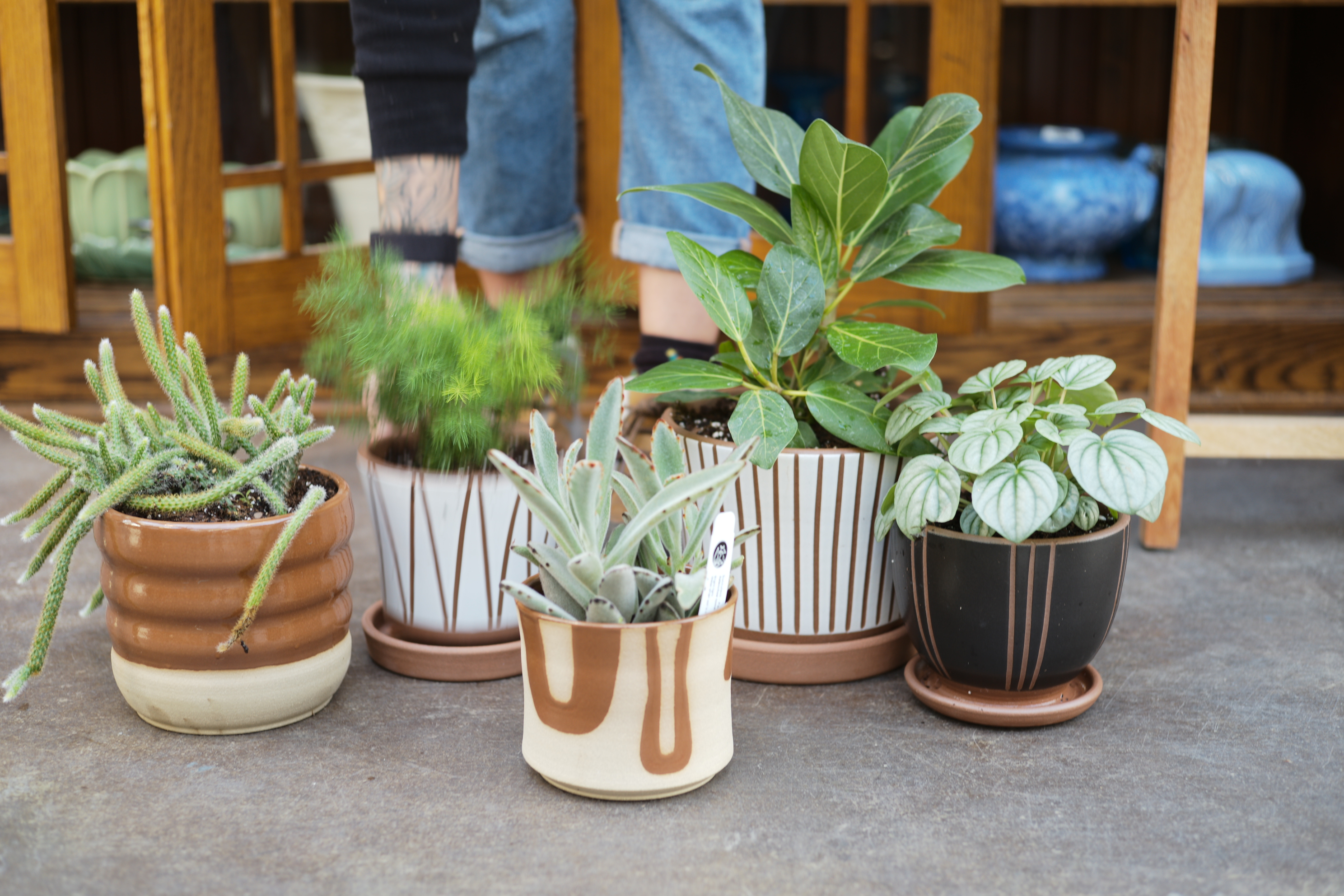 Choose a gift with ties close to home. Locally created pottery is not only beautiful, it allows us to support our neighbors!
Both texturally interesting, the Rat Tail Cactus in Wave Planter in Walnut and Panda Plant in Column Accented Planter in Walnut are perfect pairs in both plants and containers.
Pottery by Brett Monohan is another great local choice. Pair with Ficus Audrey in 6" White with Vertical Stripe,
Ming Fern in White with Wave, and Frost Pepperomia in 6" Black with attached saucer.
Vintage Ventures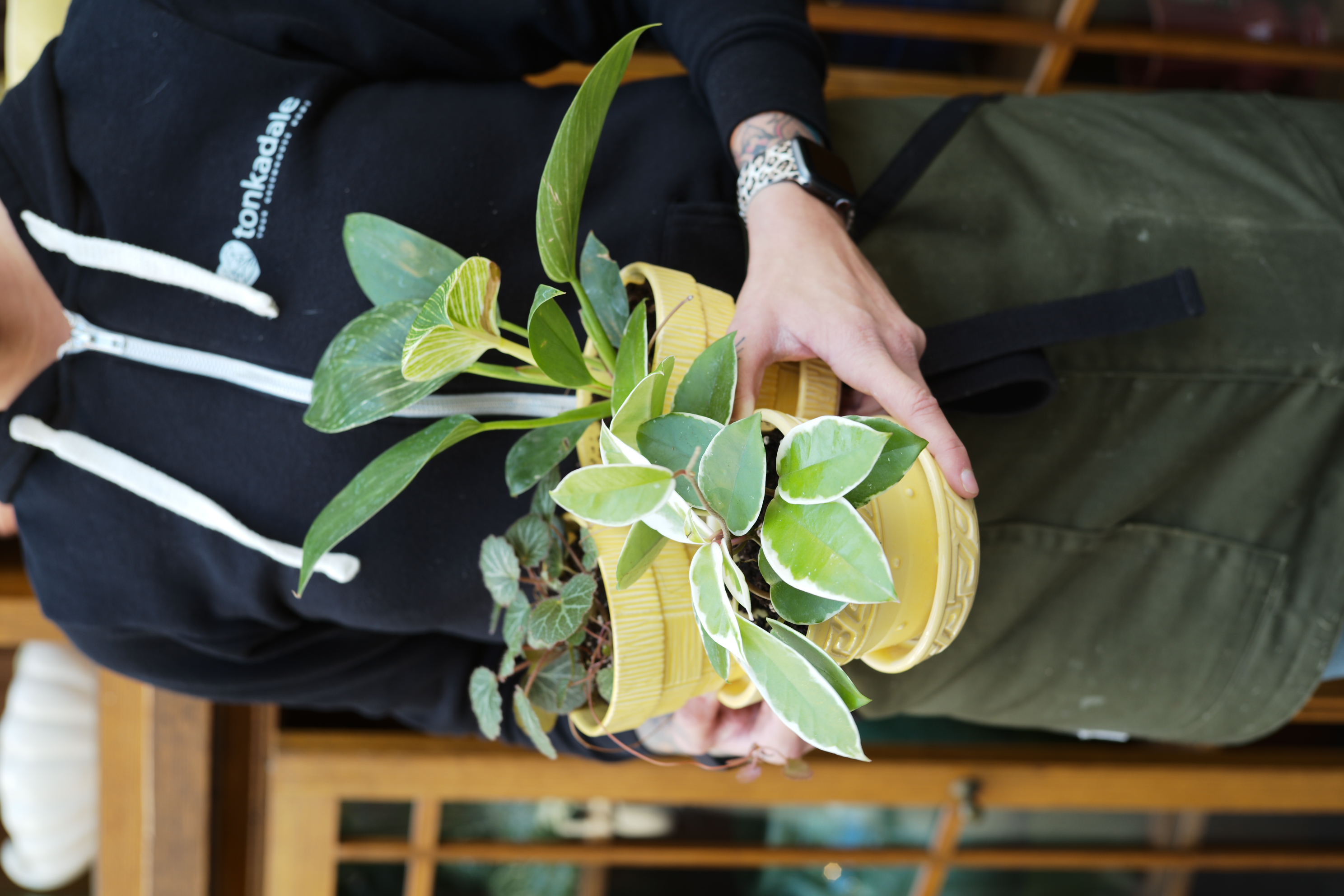 Make it unique and gift a plant in a vintage pot!
Hoya Krimson Queen, Philodendron Birkin, Strawberry Begonia are interesting, easy, and make cute little additions to these yellow, vintage McCoy planters (in store only).
For the Collector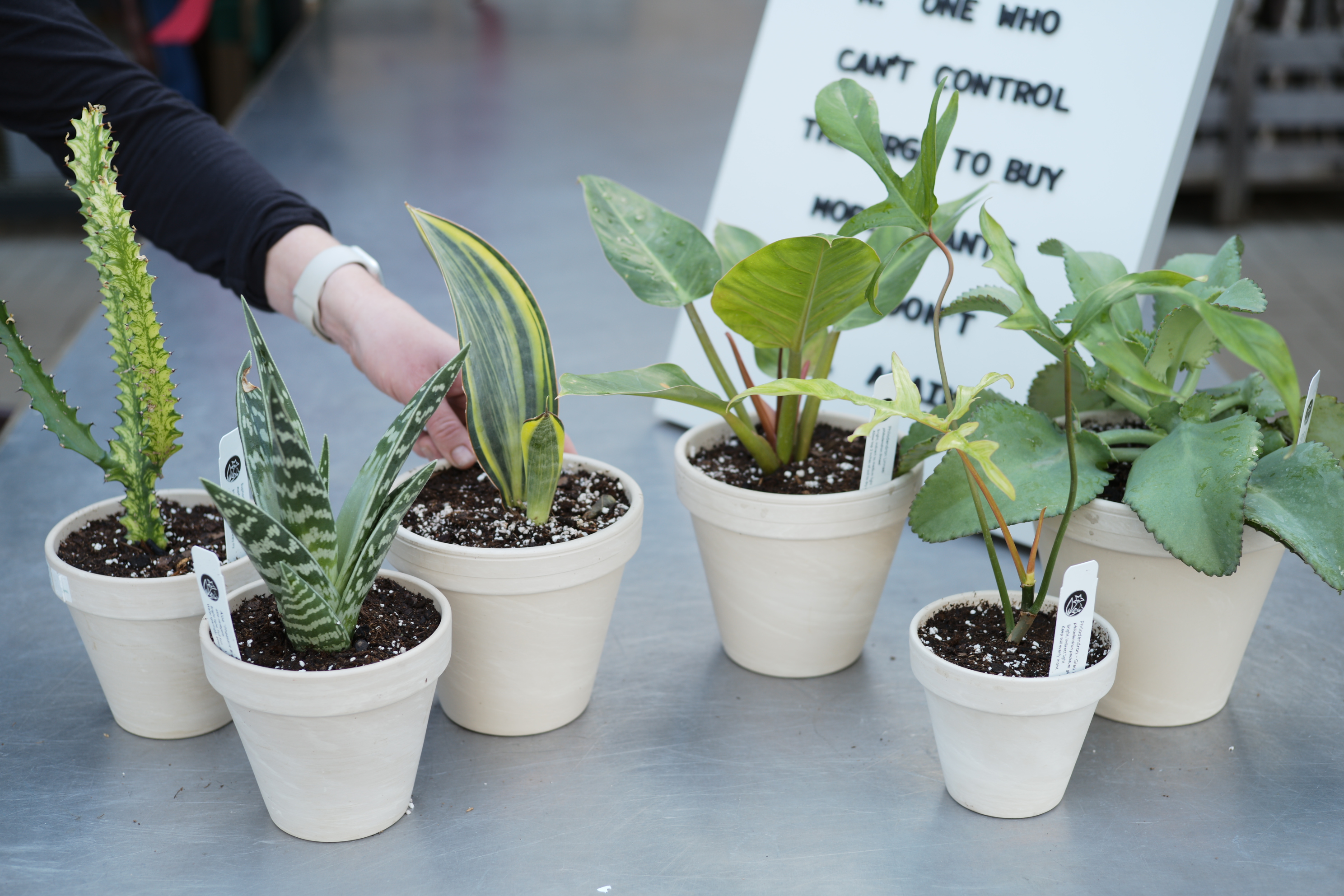 Know someone who has a green thumb and is always on the lookout for those rare, hard to find plants? This section is for them! These plants are a little harder to come by, and all are creating quite the stir in the houseplant community.
Euphorbia Dragon Bone Triangular branches and mottled variegation make this Euphorbia particularly interesting. Grow in bright light and let soil dry between watering.
Aloe Pheasant Breast The unique variegation on this dwarf aloe represents the breast feathers of a pheasant. Grow in bright, indirect light. Let soil dry between watering.
Sansevieria Variegated Whale Fin The extremely wide leaves of this Sansevieria make it an interesting addition to any plant collection. Grow in bright light to low light, water when soil is dry throughout.
Philodendron Linneai To put it mildly, aroids are "in" right now. This rare Philodendron grows pretty rosettes on runners. Grow in medium or bright, indirect light and water when top inch or two of soil is dry.
Kalanchoe Mother of Thousands Little plantlets grow all along the edges of the leaves on this unique succulent. The plantlets drop off the leaves in large quantities and begin growing a new plant on the soil surface, hence the common name. Grow in bright or bright indirect light. Let soil dry between watering.
Philodendron Glad Hands The narrow lobes of
No matter which hot item plant you choose, they all stand out in a Standard Terra Cotta in Granite which also goes with any décor.
So you've chosen the perfect plant and pot combo, but the gifting is still a couple days away… here's how to be a good plant foster parent until you pass it along to it's forever home!
It's cold out, so your plant will be wrapped before leaving the greenhouse.

If gifting the plant the next day, there is no need to take the wrapping off. If its going to be longer, the plant would like to breath. Remove wrapping so the plant can breath.

Make sure there is adequate light, and water if needed to keep it happy and growing.
Happy plant and pot gifting!