Posted by Jessie Jacobson on Jun 9th 2022
Tree Selection and Planting

Planting trees in the landscape not only looks good but is good!
Adding trees to the landscape service your yard with benefits beyond beauty. Trees create a focal point in the yard or as a part of a garden, create habitat for birds and wildlife, increase curb appeal and even your home's value, and can reduce energy costs by mitigating heat sink and creating shade. Planting a tree is an investment in the future. When you select the right tree for the right space and take care in planting you will ensure it has a long, healthy life in your landscape.
Decide Which Tree is Right for You
When looking for a tree, consider:
Mature size - height and width
Size constraints - overhead wires, neighboring homes, fencing
Site conditions - sun, moisture, hardiness
Purpose - flowers, fruit, structure, color, shade, winter interest
The most important thing to consider when deciding which tree to plant is mature size. Pay close attention to the listed mature height and width for the tree selected and assume that your tree will eventually reach this size. Planting a tree that is ill-fitted to your space will lead to frustration and future decline in the health of the tree, whether from crown competition, shading, excessive pruning to manage size, or girdling roots. Another important consideration is your tree's surroundings. Be sure that whatever tree you decide to plant has room to grow without interfering with overhead power lines, fences, or your home. Also consider the vigor of the selected tree's root system and account for nearby septic systems and other plumbing or piping that may be impacted by an extensive root system. Be sure that your planting abides by local guidelines set for tree size, placement, and setbacks to avoid issues down the road.
Once you have determined your site dimensions, you must consider your site conditions. Most trees prefer evenly moist, well-drained soil in a full sun exposure; however, some understory trees or shoreline trees may have different sun or moisture requirements. Adequate light and moisture are the key to longevity. It is critical that the tree you select is hardy to your zone so that it will survive the winter. All trees offered at Tonkadale are hardy to zone 4 or lower.
Lasty, consider what you are looking for in your tree and what its purpose is in your landscape. Are you looking for a smaller tree to provide spring color? Bright fall color? Delicious fruit? Large shady coverage? Are you looking for a wide branching tree or a columnar habit? Whatever your site calls for, ensure that the tree you select will fulfill the role you are seeking. Consider factors such as growth habit, spring blooms, fruit and seed production, fall color, and winter interest when deciding which tree is right for you. Once you've found a tree that ticks all the boxes, it's time to plant.
Planting Your New Tree

Keep root ball moist at all times. Dry roots could die before planting is complete.
Remove tree from container by holding trunk with one hand and pushing away or down on the container with the other.
Remove excess soil to top of first woody root. This will ensure that the root flare is planted above the soil level.
If encircling woody roots (pencil size or larger) are found, remove by sawing off sides of root ball.
Dig a hole two times the width of the root ball and as deep as the distance from the bottom of the root ball to the top of the first woody root
Carefully place tree in hole, making sure it stands straight while the top of the first woody root is at ground level. Lay roots straight so that they are not bent or doubled back on themselves to avoid root girdling.
Backfill hole with ½ native soil and ½ Planting Mix or Premium Compost to first woody root.
Heel in soil with foot over entire backfill area to remove air pockets in the soil.
Water root ball and entire backfill area.
Layer 2-4 inches of mulch over backfilled area, keeping mulch away from trunk, avoiding the dreaded soil volcano. Use the 3:3:3 rule – 3 inches of mulch, 3 inches in diameter, and 3 inches away from the trunk of the tree.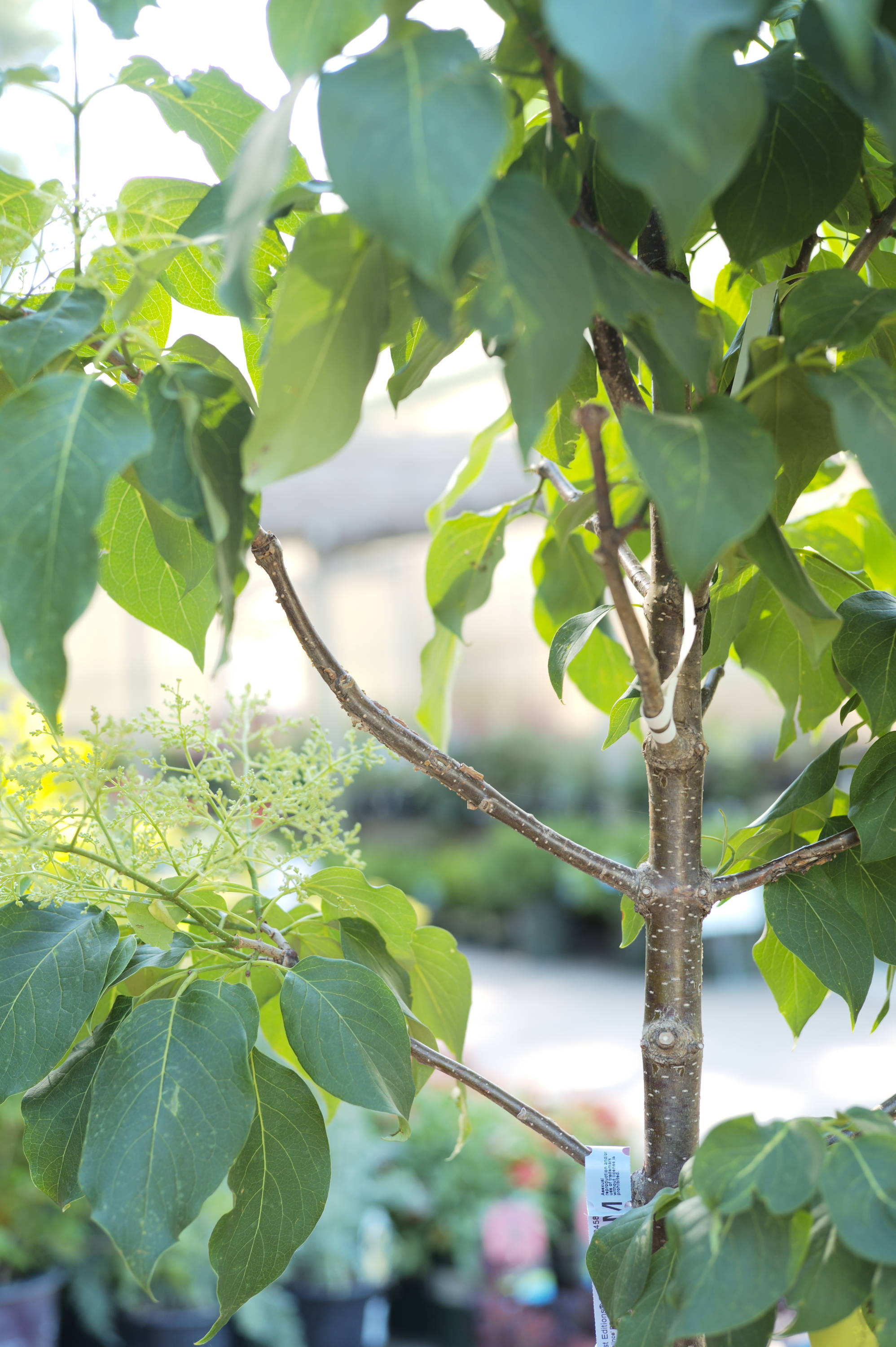 WATER, WATER, WATER. A sprinkler is not sufficient; thorough, deep waterings at the base of the tree are needed for adequate soil saturation and development of deep roots. To water long and deep, place a hose on slow flow for 10-15 minutes at base of tree.
Trees need ample moisture until the first hard frost in the fall. Protect bark with hard plastic, caging, and/or burlap wrap to prevent animal feeding, winter scald, and bark splitting, especially on thin-barked trees (ex. crabapple).
Trees for Your Consideration
#10 Clump River Birch
This easy, fast-growing tree prefers medium to wet soils. Drooping flowers, or catkins, appear in spring followed by dark green toothy leaves which turn yellow in fall. Known for its salmon-pink to reddish brown bark that peels to reveal an inner light-colored bark adds interest to bleak winter landscapes. An excellent choice for landscapes with low wet areas and along ponds or streams.
Size: 40-70' H x 40-60' spread.
Light: Full sun, partial sun
#10 Honeycrisp Apple
This fruit tree produces very crisp, juicy red apples with intense sweet flavor. Excellent storage life. White blossoms ripen to fruit in late September. Yellow fall color. Attracts birds, butterflies, and hummingbirds. Two apple trees are required for pollination – one can be a crabapple.
Size: 18' H x 18' W
Light: Full sun, at least 8 hours
#10 Amur Chokecherry
This tough, hardy, ornamental deciduous tree bears masses of white flowers in the spring. Later in the summer, small dark purple cherries emerge. Fruits can be used to make jams and jellies. Gorgeous coppery, bark shimmers in winter light. This pollinator favorite also attracts songbirds who delight in a fruity snack.
Size: 15-25' H x 15-25' W
Prefers partial sun, full sun.
#10 Sucker Punch Chokecherry
An improved chokecherry that does not sucker. This drought-tolerant, medium sized tree boasts dark reddish-purple foliage that starts out green. Abundant, fragrant, white flowers emerge in early spring. Small fruit ripens to deep purple in July – a favorite food for songbirds which can be used for jams and jellies if you get there first.
Size: 20-25' H x 15-20' W
#10 Pink Sparkles Crabapple
An upright ornamental tree known for its soft pink flowers in spring. Produces bright, cherry-red crabapples in late summer which remain into winter attracting birds and wildlife. Yellow fall color.
Size: 12-15' H x 10-15' W.
Light Needs: Full sun
#10 Louisa Weeping Crabapple
A weeping tree with cascading branches. Red buds open to fragrant, pink flowers in spring, followed by yellow and rose-blush fruit in late summer. The fruit remains into winter attracting birds.
Size: 12-15' H x 12-15' W.
Light Needs: Full sun
#10 Ginkgo 'Autumn Gold'
A deciduous tree that is graceful and beautiful in all seasons. In fall the fan-shaped leaves turn a stunning deep yellow. Makes a good shade tree in both urban and suburban settings.
Size: 30'-50' H
Light: Prefers full sun.
#10 Japanese Lilac 'First Editions Snowdance'
A deciduous large shrub or small tree with profuse fragrant creamy-white flowers in early summer. Dark green leaves in summer and reddish-brown exfoliating bark. An attractive year-round specimen. A pest and disease free lilac.
Size: 18' H x 20' W
Light: Full sun
#5 Toka Plum
This fruit tree is a cross between the American Plum and the Japanese Plum. Know by those who love it as the Bubblegum Plum. Beautiful bright, red fruit with Apricot flesh are a delicious treat. A pollinator magnet. Enjoy burgundy leaves in the fall. Good disease and pest resistance. Extremely hardy to Zone 3 (-40 F).
Size: 15-20' H x 12-18' W
Light: Full sun
#5 Montmorency Cherry
A cold hardy, tart cherry tree that ripens early in the season. White flowers in early spring yield bright red fruit in late June. This variety is self-fertile, but planting two will ensure ample pollination and fruit production. Birds will flock to this cherry tree. Drape trees with netting to keep some for yourself!
Size: 20' H x 18' W
Light: Full sun