In keeping with best state health department advisements, Tonkadale Greenhouse will implement the following steps while fulfilling customer holiday requests:
Holiday Spruce Top Pots and Window Boxes will be delivered to your doorstep and left for preferred eventual placement by the customer. If further assistance is needed, please maintain social distance, and wear a mask.
Christmas Trees can be delivered to the customer's home and set-up. We require that customers maintain social distance protocols and wear a mask. If possible, a slightly opened window or door during the installation would be optimal. The delivery crew will be equipped with masks, gloves, and foot covers.
---
---
How do I use my Loyalty Points?
How do I shop at Tonkadale during COVID-19?
Tonkadale is currently allowing walk-ins. Please make sure to wear your mask!
You can also shop our online store anytime. We offer curbside pick-up and delivery to select locations. Please see delivery charges chart above for locations offered.
1. Create an online account to receive online loyalty points
2. Order online for local delivery OR curb side pick-up
3. Current turnaround is up to 2 days for all orders
What are Tonkadale's shopping guidelines?
Walk-in shopping available as we closely monitor capacity and customer flow.
Safety Guidelines:
1. Shop in groups of 1-2.
2. One child and one adult may shop together. Please keep your child with you at all times.
3. Please leave furry, fuzzy, and feathered friends at home.
4. Wear a face covering and maintain 6 feet of social distance at all times.
5. Restrooms will not be available to the public, so please plan accordingly.
6. Please do not consume food or drink during your visit, including coffee while shopping.
7. Cash and checks will not be accepted at this time. Please use credit, debit, or mobile pay options.
8. All plant sales are final. Returns or exchanges will be accepted for hard good materials within 14 days of purchase.
Your attention, patience, and kindness is all that we ask as we continue to navigate a new way of doing business.
What do I do if I can't find what I'm looking for online?
If you are not finding what you are looking for, try the search bar on the top right of the screen. You can also email us at orders@tonkadale and we would be happy to assist you!
Perennials, do you carry, or can you order, this plant?
Let us know what you're looking for and we'll see what we can do!
What is Tonkadale's return policy?
At this time, all plant sales are final.
Hard goods items are non-refundable after 14 days of purchase.
Can I schedule a photo shoot in the greenhouse?
What are your store hours?
---

---
What is the hardiness zone in Minnesota?
We are in Zone 4. This means we can grow plants hardy to Zones 4, 3, and 2. Zone 5 is warmer in the winter, so Zone 5 plants will need extra winter protection to survive and even then these conditions are questionable.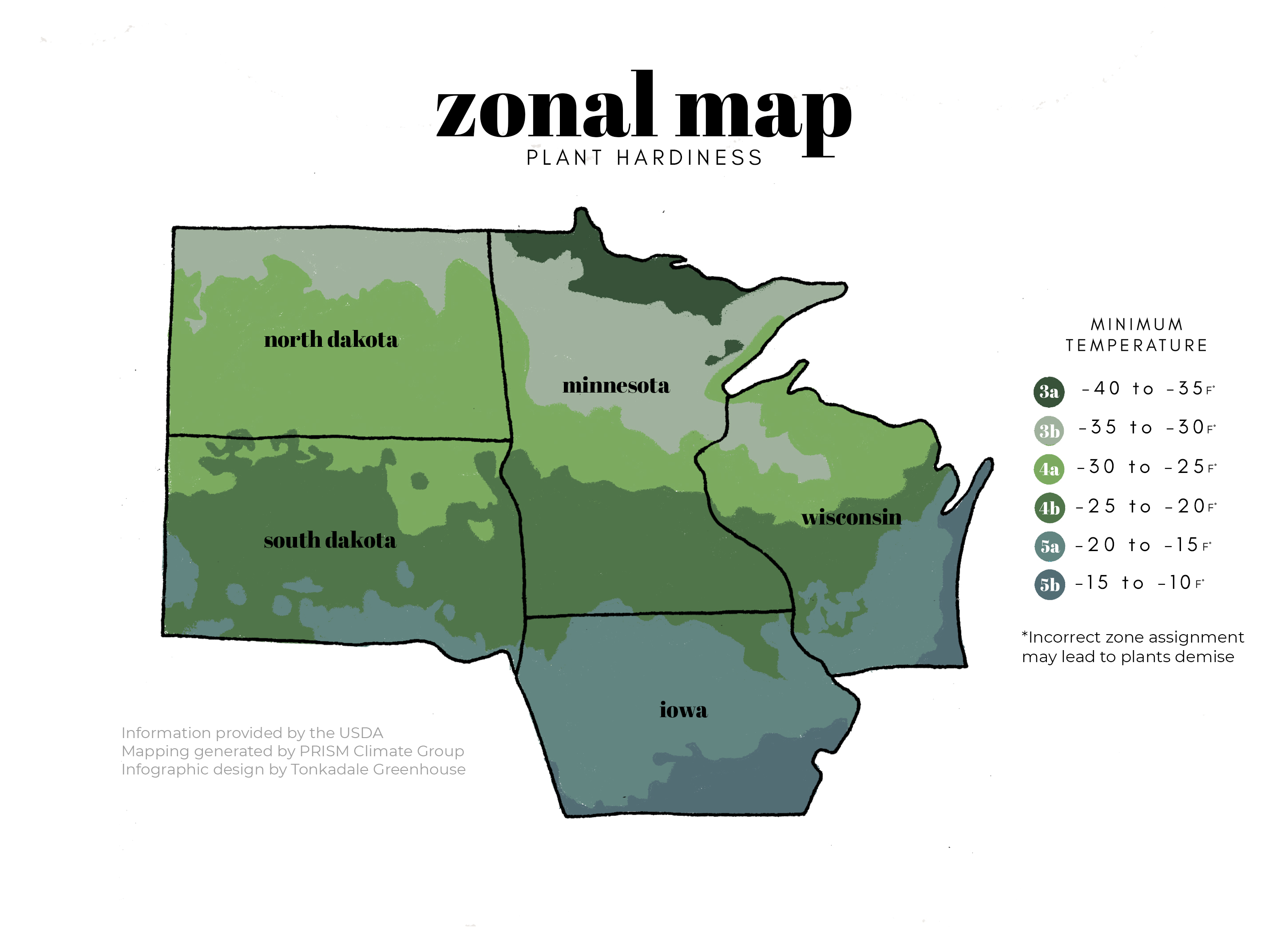 How much sunlight is full sun?
Full sun is 6+ hours, usually in a south or west facing area.
What is considered shade?
Any area that does not receive at least 6 hours of sunlight within a day.
When can I plant for spring?
We suggest waiting to plant annuals once temperatures have reached above 50 and 60 degrees, this way the soil is thawed and your plants have room to grow. However, there are early blooming annuals that can be outside prior, like pansies and violas. A popular time in Minnesota to plant annuals is around the end of May.
How much light does my houseplant need?
Every houseplant is different, and each species may prefer different amounts of light. Explore our blog on light requirements below to get a head start.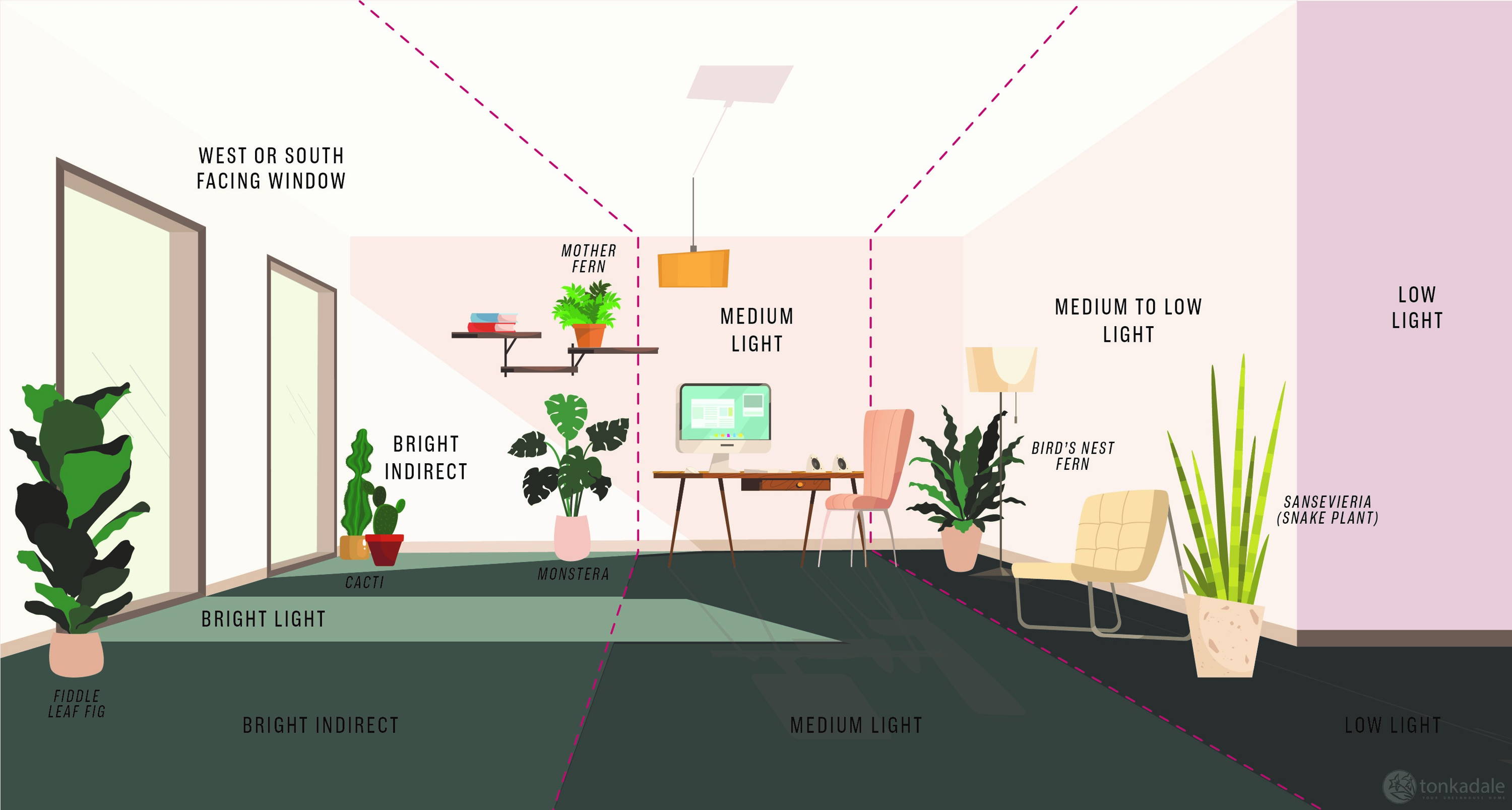 Where can I learn how to properly care for my plants?
View our Blog Index for a wealth of information regarding all things plants. You can also check out our YouTube Channel for fun how-to's and informational videos.
---

---
Can I bring in my own pots?
Currently, we are not accepting vessels outside of the greenhouse due to precautions of COVID-19.
Can I call to order a design?
Typically, no. We prefer that you meet with our design team in-store to receive the best possible advice and to work out your ideas with us in person. However, if you are requesting something small and simple, feel free to give us a call or contact us via email at orders@tonkadale.com
---

---
Does Tonkadale deliver Christmas Trees?
Yes! However, we do charge a set up fee.